---
The products I've found useful
As mentioned before, the only criteria for choosing these websites or products is a dedication to quality that goes beyond the ordinary. In the case of products, we've tested them ourselves before recommending them to you.
You'll find this to be a resource you can trust. I have just put up a few. These are the general categories. As I get more time, I will sort them in a friendlier fashion and add more reviews.
If it feels like I'm talking about old friends, it's because many of them have become just that. This is not a buddy recommending buddy section. It's a purposeful, deliberate action on our part to get to know these people. And once you get to know them too, you'll see why.
Please also note, that we do not indemnify any of these products or services. While we take extreme care to make sure that everything is above board, it's up to you to take your due diligence. Do so intelligently, and you should be ok.


Sean D'Souza
---
Website-based resources & tools
---
StressLessWeb
Would you rather have a website you could control ? Or a website that holds you hostage?
(Why do developers insist on creating websites in a way that makes you feel trapped in your own website?)
When you ask a developer to create a new website for you, the most important feeling is to take "ownership" of the website. And "ownership" means you should be able to do whatever you want; to be able to control the website like you want. StressLessWeb is about creating websites that reduce stress. Websites that aren't about the developer, but about you.
Find out how you can have a website that works for you—without all the stress.
Here is the link to StresslessWeb (Web Design Company
---
We've been online since 2000 and we've been with Aweber since 2004. It's a solid company that's stood the test of time. We have continued to have our e-mail list and sent our weekly newsletters through AWeber. They sure have a strange brand name, but their service has helped us grow and sustain our business over the years. I'd recommend their service (note: it's an affiliate link).
Have a look for yourself at this link.
---
Grammarly (Grammar and spellchecker)
Grammarly is a useful tool for anyone who wants to perfect and clarify their communication. It is an automated proofreader. Grammarly uses powerful algorithms that check for more than 250 types of spelling, grammar and punctuation errors. It is like having a "second pair of eyes" for their important emails, blog posts, and newsletters. I now use it all the time.
Have a look and judge for yourself: Click here
---
IdeaBook (Graphic Design)
Ideabook is a very cool graphic design site. Run by the very warm-hearted and generous Chuck Green, it's a great resource for design. Check it out and I think you'll be more than happy with a detour to Ideabook.com
---
A Bluetooth (tiny microphone)
I've said this many times over: I own six microphones.
Not because it's a boast, but because I do.
So why buy the seventh?
Check it out for yourself. I've bought it, tried it and it's really cool. This microphone helped me record all the testimonials at our workshops in Europe, Asia and the US. It's so tiny that I can carry it in a pocket in my satchel so that I have it wherever and whenever I need it.
Plus you need no batteries and fiddly wires (Note: affiliate link)
https://goo.gl/GQKdgj
---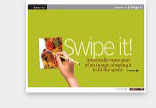 Guess who was the first person on the planet to use desktop publishing software? If you answered JohnMcWade, you're spot on. John has depth in graphic design that's hard to find elsewhere and his explanations are incredibly elegant.  A lot of what I know about graphic design, I learned from John.
Here's his site at ww.bamagazine.com
---