Yummy Recipes
When we travel, we first check out the food. If the place is well-known for its food, that's where you'll find us. However, when I'm at home I like cooking Indian food. If you have just six spices—and possibly a pressure cooker—you can make some lip-smacking Indian food. Some recipes are complex, but most are relatively simple. You need just a few spices, though! So arm yourself with these powders: cumin, chilli, coriander, turmeric and garam masala (the sixth is a wildcard, depending on the dish itself).
Not your grandma's recipe format
What you're about to see isn't the traditional format of a recipe. The traditional linear format drives me crazy, so I had to invent this unusual, visual way of looking at a recipe. Nonetheless, some of you may still like the traditional format, so yes, you can have both. If you're on a computer, right click and choose "save as" to save the recipe to your desktop. If you're reading this on a device, simply save the graphic to your photos.
Oh and one more thing: get your curry facts straight 🙂
Curry is not "Indian food". Curry is what you'd call gravy, sauce. Yes, it's that runny liquid, not the food itself. Which means if you were to ask someone (in India, for example) for more curry, you'd get more gravy. Hence an egg curry is an egg in gravy/sauce, fish curry is fish in gravy/sauce, and so on. Now that we're done with that "other thing that bothers me", we can go on.
Let's get cooking.
1: Batata Nu Shaak (Potatoes in a tomato curry)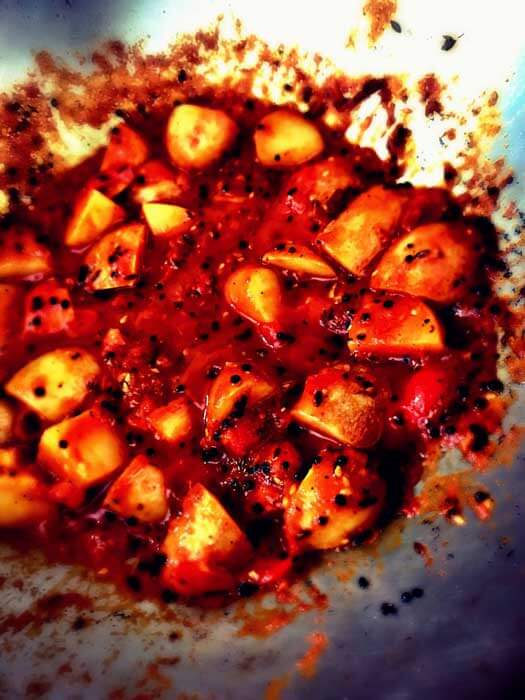 Batata nu shaak: visual recipe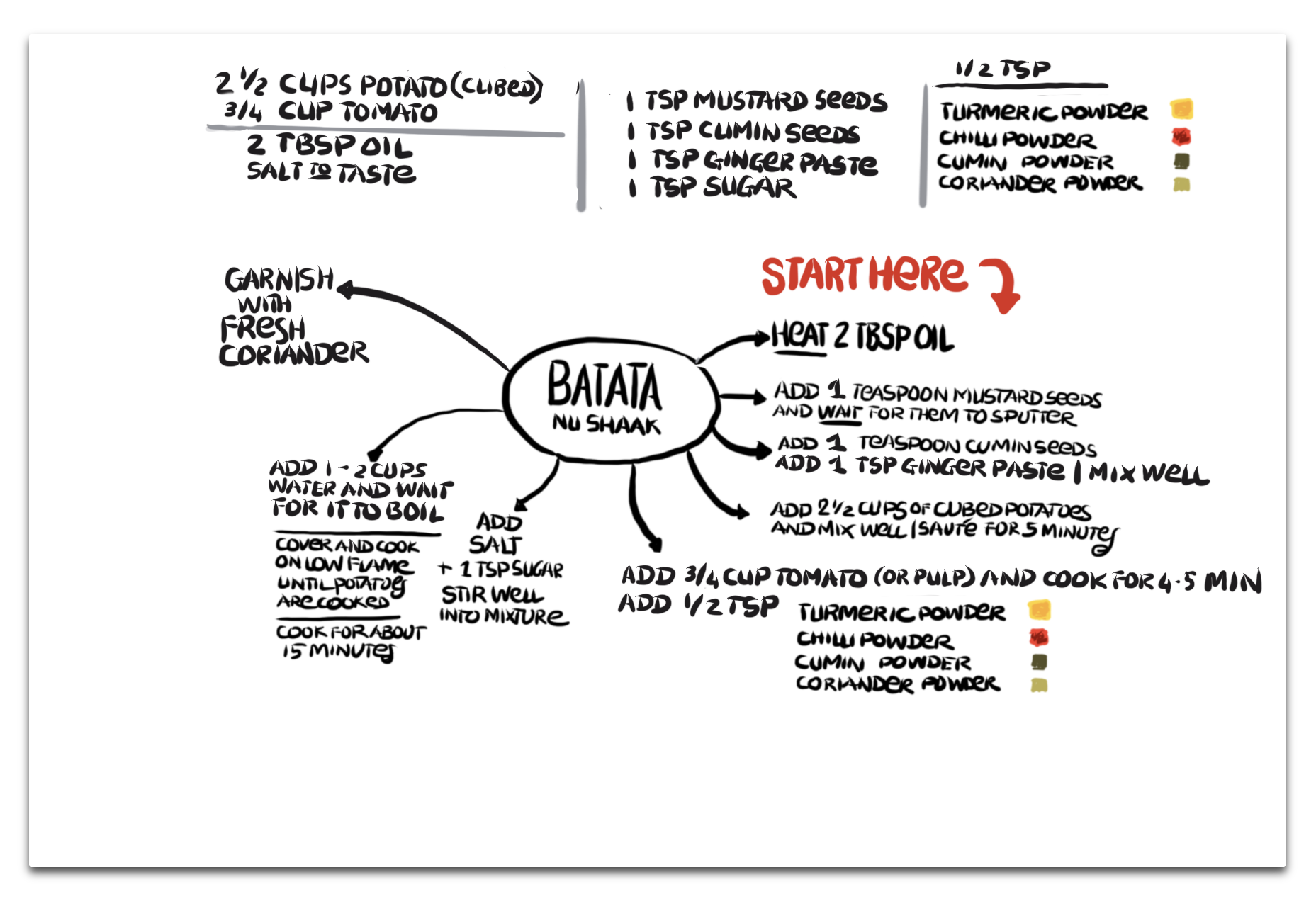 Batata nu shaak: text version
Here's the traditional format of the recipe. It's still a little different, in the sense that it doesn't just say "add the spices" when giving you directions. Instead, it reiterates what spices and the quantity you have to add. This is helpful for people like me who aren't totally organised and are madly reading and reaching for the ingredients even while the dish is cooking.
Ingredients
2 ½ cups of potatoes cut into cubes
1 tsp sugar
2 tbsp oil
Salt to taste
1 tsp mustard seeds
1 tsp cumin seeds
1 tsp ginger paste
¾ cup of tomato or tomato pulp
Powders
½ tsp turmeric powder
½ tsp chilli powder
½ tsp cumin powder
½ tsp coriander powder
Directions:
Heat 2 tbsp oil and wait until the oil is smoking.
Add 1 tsp mustard seeds. Wait, wait. It will sputter.
Add 1 tsp cumin seeds
Add 1 tsp ginger paste
Mix well
Add the 2 ½ cups of potato cubes and sauté for 4-5 minutes.
Add ¾ cup chopped tomato OR ¾ cup tomato pulp
Add the powders:
½ tsp turmeric powder
½ tsp chilli powder
½ tsp cumin powder
½ tsp coriander powder
Watch the tomato colour. It needs to go from bright to deep red. Pay attention to this little detail as it make the food tastier.
Salt? Did you add the salt?
Good, then add 1 tsp of sugar and mix well.
Add 1-2 cups of water and wait for the curry/sauce to boil.
Cover and cook on a low flame for about 15 minutes. Keep the lid on and the potatoes will cook in their own head.
Garnish with fresh coriander.
2: Quick, tasty dal (orange lentils)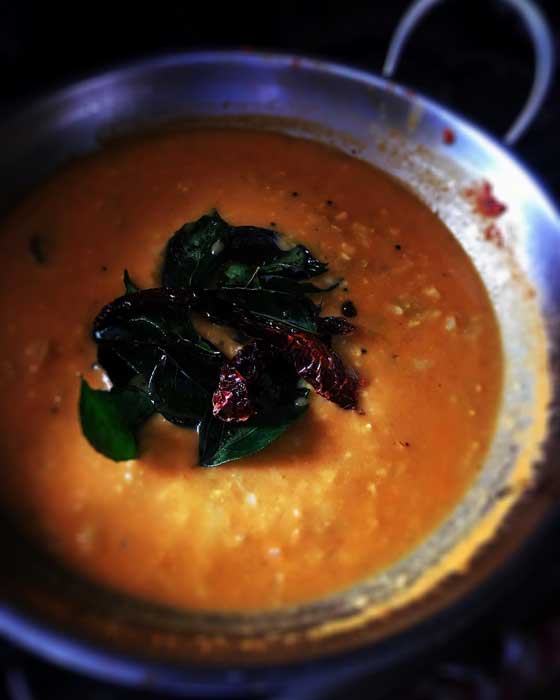 Dal recipe: visual version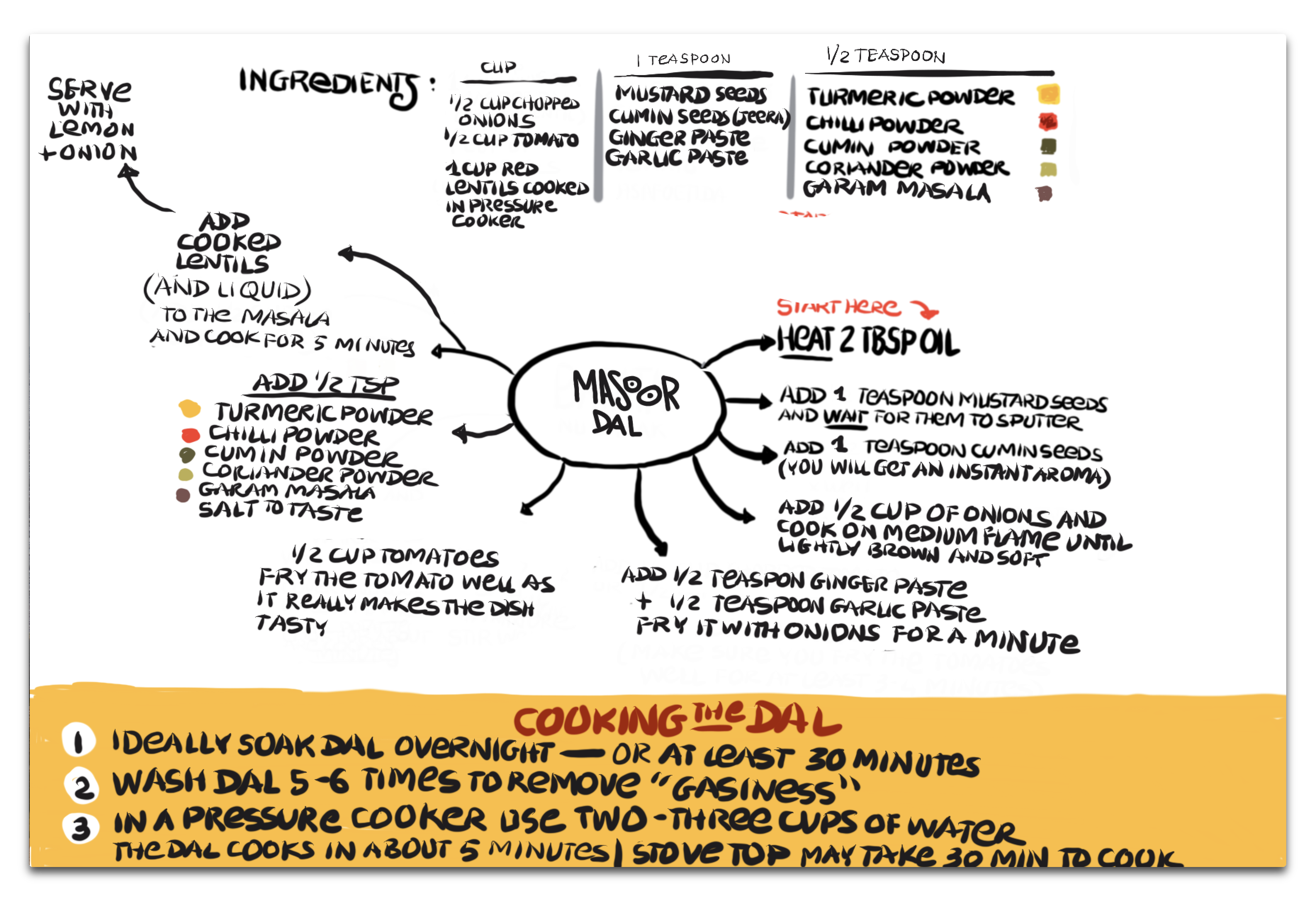 Masoor dal: text version
Explanation
Dal is gassy, but there's a way out of that trap. It's called soaking the dal. People tend to soak for 20 minutes, but I'm happy to soak it all day long (or overnight). Next day, it's a good practice to rinse it 5-6 times and watch that detergent-like-gasiness pop up and get washed away. Then cook it in a pressure cooker or over the stove top (not really, but if you have to, you have to).
To get this dish right, all you have to remember is JOGS or COGS.
J= Jeera (cumin)
O= Onion/Oil
G= Ginger/garlic paste
S= Salt and spices
Ingredients
1 tsp jeera (cumin)
1 tsp oil
1 onion finely chopped
1 tsp ginger/garlic paste
½ cup orange dal (masoor dal)
Spice Powders
½ tsp turmeric powder
½ tsp chilli powder
½ tsp coriander powder
½ tsp garam masala (you get this at the Indian store).
Directions:
Heat the oil in a pan and when it's smoking, add 1 tsp jeera (cumin). You'll get the aroma and it's time to quickly add the onion (or the jeera will burn). Cook the chopped onion for about 5 minutes on a medium flame and then aadd 1 tsp ginger/garlic paste and cook for a minute or so.
It's time to add all the spice powders
½ tsp turmeric powder
½ tsp chilli powder
½ tsp coriander powder
½ tsp garam masala
Finally add the dal to the mix.
Salt? Did you add the salt?
Great, now serve with a bit of lemon and you have a quick, tasty meal. Oh, it's nutritious too, but you knew that, right?
P.S. Why does the photo have all those leaves and mustard? That's for another day. Right now, let's get this simple dish going and we'll add complexity later.
3: Chickpeas (Chana Masala)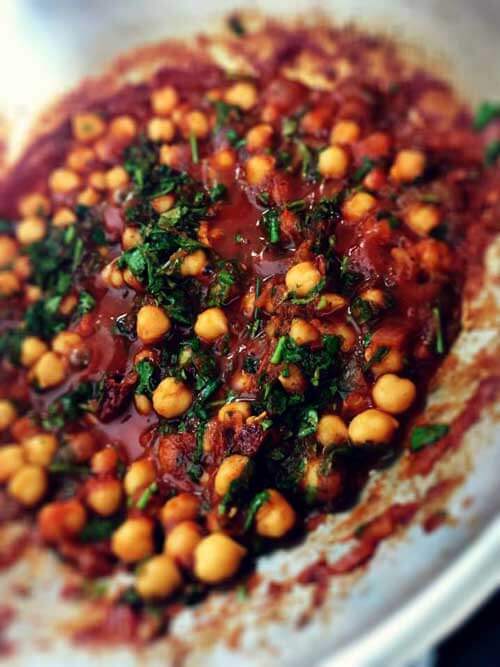 Chick peas (Chana masala): visual version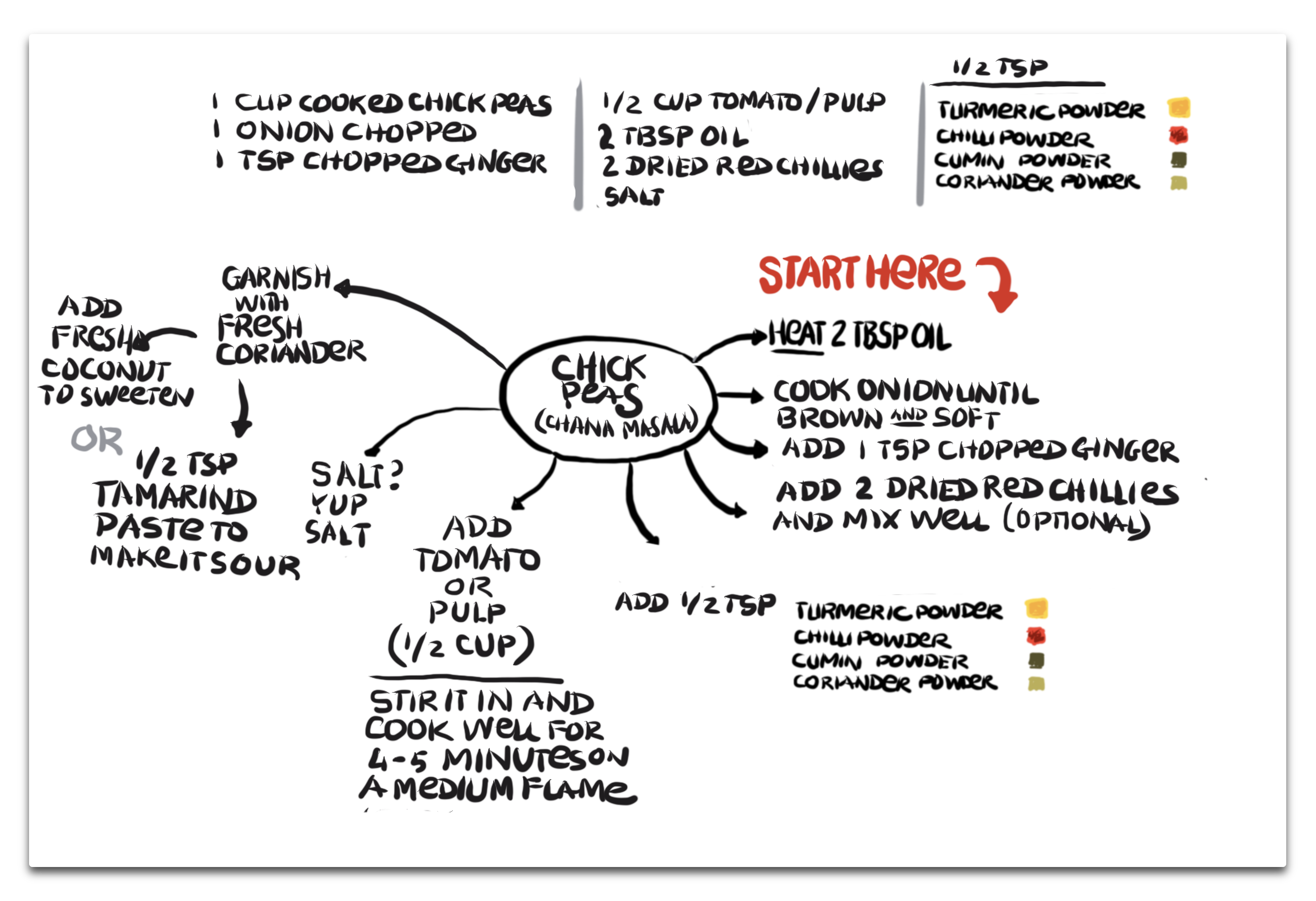 Chickpeas: text version
Explanation
Chickpeas are "rock hard" so you've got to soak them, boil them and cook them. Once again, get yourself a pressure cooker because it's not just good for chickpeas, but think about making potatoes soft in about 5 minutes. It's hard to realise how useful a pressure cooker can be, until you get one and all your cooking time gets reduced by 80-90%. Anyway, the chickpeas need to be soft, so make sure you cook them well in the pressure cooker.
Ingredients
1 cup of cooked chick peas
1 onion (chopped as finely as possible)
1 tsp ginger (roughly chopped)
½ cup tomato (chopped) or ½ cup tomato pulp
Some oil
Some salt
Two dried red chillies (optional).
Spice powders
½ tsp turmeric powder
½ tsp chilli powder
½ tsp coriander powder
½ tsp cumin powder
Directions:
Cut one onion as finely as possible and cook in a tablespoon or oil (or ghee). When the onions change colour and get slightly brown, add a teaspoon of fresh ginger. Chop the red chillies and add (they're spicy).
Next toss in the spices. ½ tsp of all the powders. ½ tsp turmeric, ½ tsp chilli powder, ½ tsp coriander powder, ½ tsp cumin powder. Cook for a minute or so, and then add salt.
Finally add the tomato (or tomato pulp) and cook and stir well. Let it cook for at least 4-5 minutes on a medium flame (this part is important, so don't rush it).
Salt? Did you add the salt?
Finally chop some fresh coriander leaves (cilantro) and mix it in before serving. Some people tend to put in a bit of fresh grated coconut. That will sweeten the dish a bit. Some people add a teaspoon of tamarind paste. That will make it sour. Some people are just happy with the recipe above.
Want to learn how to cook tasty Indian food in minutes?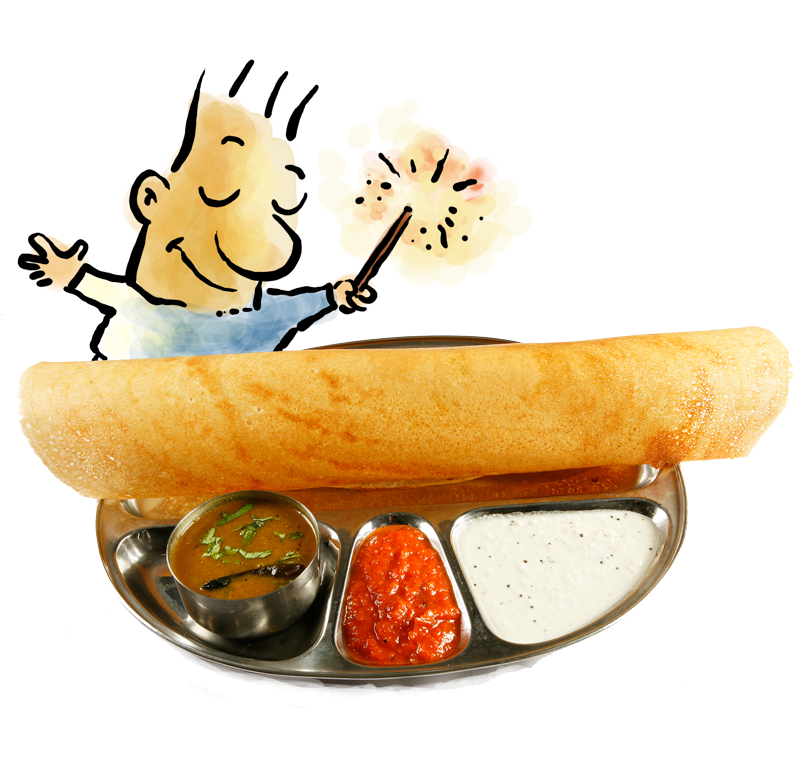 Indian food can be pretty complicated. Some recipes go back hundreds of years and some might be thousands of years old. Which means there's all of this crazy complication with 30 different ingredients and ⅓ of this, and ¼ of that. It's enough to avoid trying to cook Indian cuisine altogether. Which is why I'm planning on teaching (those that want to learn) how to cook very tasty meals in about 10-15 minutes. You need to be able to walk through the door at 8:30 pm and have a stunning meal ready by 8:45 pm. 
We're going to do this by using five, maybe six spices, so you don't have to scramble up and down the Himalayas for ingredients (every time we have to cook  a meal). If you're keen, add your name to the list below. When we have either a booklet (no books, books are too big and over the top) or an online course where everyone cooks together, we can let you know.
Tah, dah, the form!
To read our comprehensive privacy policy, click here.
Your email address will NEVER be sold or given to anyone. That is our promise to you.