---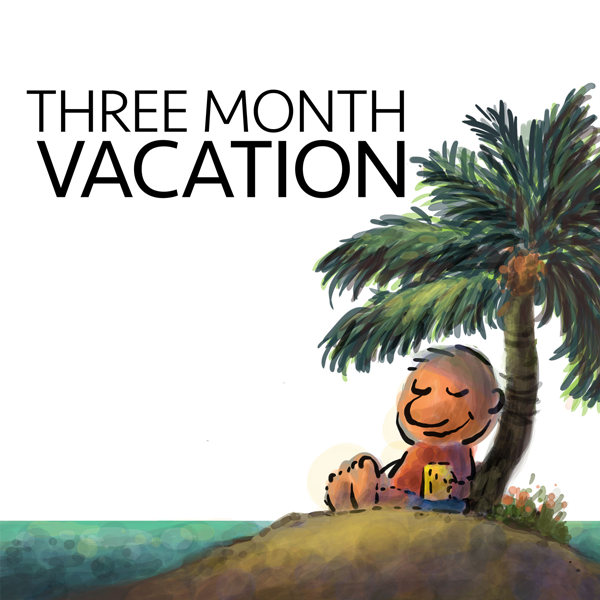 I made two vows when I started up Psychotactics back in 2002
The first was that I'd always get paid in advance and the second was that work wouldn't control my life. And yes, I decided to take three months off every year.
But how do you take three months off, without affecting your business and profits?
Do you buy into the myth of "outsourcing everything and working just a few hours a week?" Not really. Instead, you structure your business in a way that enables you to put your heart and soul in your work–and then take three months off every single year. Since 2004, we've taken three months off every year (except in 2005, when there was a medical emergency).
This podcast isn't some magic trick about working less
This podcast isn't about making endless amounts of money, working like a lunatic. Instead it's about how to really enjoy your work, enjoy your vacation time–and yes, get paid in advance.
All the information is designed to be read or listened to in just 20 minutes. And there are no loopholes. We go one inch wide and one mile deep.
So how do you subscribe to this free podcast?
To subscribe to the podcast and get all the episodes please use the links below:
iTunes   |  Android   |  E-mail (and get special goodies)   | RSS
Warm regards from Auckland
Sean
P.S. Enjoy the podcast.
---
 The Three Month Vacation: Episode Guide
(Click on the links below to get the audio files and transcripts)
---
#167:The Incredible Power of Kindness (And Why It Has Nothing To Do With Business)
#166: How To Speed Up Client-Learning With The Incredible Power of Infotainment
#165: How to use procrastination to your advantage
#164: How To Transform A Miserable Day Into A Happy One, In Under 30 Minutes
#163: How to Get Clients To Return To An Offline Event
#162: Why You Need An Offline Event to Boost Your Chances of Success
#161: One-Buttock Passion (How a Simple Redefinition Can Help You Move Forward)
#160: Why You Should Stop Looking for Your Passion (And Let it Find You Instead)
#159: Mental Barriers That Slow You Down (And Derail Your Progress)
#158: How To Overcome Mental Blocks That Derail Your Progress – Part 1
#157: How To Avoid Overwhelm (And Systematically Complete Projects)
#156: Three Ways To Write A Stunning Report Overnight
#155: Why Selling Strategies to Competition Is a Smart Idea
#154: Why The Five Forces of Business Can be Tamed
#153: How To Cope With The Five Forces of Business: Part 1
#152: How To Write Enthusiastically (And Why It's Important To Do So)
#151: Unusual Methods to Find Outstanding Coaches
#150: ReRun – How I Write 4000 Word Articles Without Getting Exhausted
#149: ReRun – The Talent Journey and How to Get There
#148: ReRun – How To Deal With Envy In Business
#147: ReRun – How To Make the Leap from a Job into Entrepreneurship
#146: ReRun – How To Name Your Information Product
#145: ReRun – Why Kicking Angels Help Create Momentum in Business
#144: Info-product Creation Part 2: Double Your Sales With Versions and Satellite Products
#143: Info-product Creation Part 1: When to Leave The Clients Out
#142: How to Effectively Test Your Uniqueness
#141: How To Quickly Create Your Uniqueness
#140: How Giveaways Increase Sales of Information Products
#139: How To Achieve A Lot (Even As You Switch Tasks All Day)
#138: Validating Your Business Idea: How To Beat Analysis-Paralysis
#137: How To Validate Your Business Idea (And Overcome Self-Doubt)
#136: Why Success Is Hindered By The Lack of the Tolerance Effect
#135: How to increase energy (even in the midst of chaos)
#134: When Things Went Wrong at Psychotactics (And What We Learned)
#133: How To Systematically Outline Your Book (So You Can Get It Off The Ground)
#132: Landing Pages: Why We Fail to Attract the Right Clients
#131: How To Speed Up Learning with Deconstruction
#130: How To Slow Down (Without Losing Momentum)
#129: The Insider Story of Psychotactics (Working With A Partner)
#128: What I Learned in 2016: (And How It Made Me Calmer)
#127: How To Get Smart (And Stay Smart)
#126 [Re-Release]: How To Write A Sales Page From The Bottom Up
#125:[Re-release] Why Persevere Even When Failure is Certain (And When Not To)
#124: [Re-Release]The Resistance Game Part 1 – Can Resistance be Beaten
#123: [Re-Release] Good to Great – How To Take Your Small Business To Greatness
#122: [Re-Release] How Gentle Productivity Gets Astounding Results
#121: [Re-Release] Risk – How To Overcome The Hesitation Factor
# 120: [Re-Release] Teacher vs Preacher – Why Learning a New Skill is So Difficult
#119: How To Create Stunning Names For Your Information Products and Courses
#118b: Rapid Talent (How To Get There and What Holds Us Back)
#118a: Rapid Talent (How To Get There and What Holds Us Back)
#117: Three Ways To Instantly Get Your Readers Attention-The First Fifty Words
#116: How To Get $2500 Worth of Goodies (Absolutely Free)
#115: How To Fight Envy (And Stay Motivated Instead)
#114: 3 Ways To Write Intensely Curious Headlines
#112: How Kicking Angels Help To Jumpstart Your Business
#111b: How To Write Extremely Detailed Articles Without Getting Exhausted
#111a: How I Write 4000 Word Articles Without Getting Exhausted
#110: Part 1-How To Make The Mental Leap From a Job into Entrepreneurship
#109: The Unlikely Bestseller (And Why It Sold 2 Million Copies)
#108: How To Write A Sales Page Using The Bottom-Up Method
#107: How To Thrive and Succeed In The Midst of Chaos
#106: What I Learned On My Super-Unusual Vacation
Re-Release]#105: Why Doug Hitchcock's Unusual Goal-Setting Will Help You Out Of Chaos
[Re-Release]#104: 3 Myths That Destroy Your Sanity (And How To Avoid Falling In A Trap)
[Re-Release]#103: How To Make Products and Services Irresistible To Your Client
[Re-Release]#102: How To Use A Simple "Pebble System" To Write Amazing Sales Pages
[Re-Release]#101: A Meaning of Life? Or A Life Of Meaning?
[Re-Release]#100: Free vs. Paid Product: Which One Works Better?
#99: Article Writing Advice Writers Don't Want To Hear
#98: How To Create A Profitable Product (Three Core Questions)
#97: Three Disaster Stories (And How We Recovered and Soldiered On)
#96: The 17 Question Testimonial: How To Ensure You Get an Amazing Client Response
#95: How Gentle Productivity Gets Astounding Results
#94: How To Avoid Painful Clients (And Find Amazing Ones Instead)
#93: Why Clients Dropout From Courses (And How To Avoid The Dropout Curse)
#92: Persistent Myths of Pricing (And How To Overcome Them): Part 2
#91: Persistent Myths of Pricing (And How To Overcome Them): Part 1
#90: Why Persevere Even When Failure is Certain (And When Not To)
#89: Why Inspiration Can Be The Key To Winning The Resistance Game-Part 3
#88: How To Beat Inertia And Why Logic Doesn't Work—The Resistance Game-Part 2
#87: The Resistance Game-Part 1: Can Resistance be Beaten?
#86a: Part 1-Feedback: The Secret of How To Get Clients To Keep Coming Back Repeatedly
#85b: Biggest Landing Page Mistake And How To Fix It: Part 2
#85a: How To Prevent Your Landing Pages From Crashing and Burning: Part 1
#84b: Three Interesting Things I Know About Writing-Part 2
#84a: Three Interesting Things I Know About Writing-Part 1
#83: The Untold Backstory of Psychotactics Courses and Products
#82: How Pre-sell Plays A Crucial Role In Risk-Reduction-Part 2
#81: Why Clients Don't Buy (Understanding The Elements of Risk)-Part 1
#80: Good to Great: How To Escalate The Path To Greatness-Part 2
#79: Good to Great: How To Take Your Small Business To Greatness-Part 1
#78: [Re-release] How to Stop Clients In Their Tracks With Riveting Business Storytelling
#77: [Re-Release] How To Attract Truckloads of Clients
#76: [Re-Release] Why Happiness Eludes Us: 3 Obstacles That We Need To Overcome
#75: [Re-Release] How To Acquire Talent in Fewer Than 10000 Hours 
#74: The Psychotactics Story-2: Why We Stopped The Hugely Profitable Protege Program
#73: The Psychotactics Story-Part 1: The Craziness of The Very First US Workshop
#72: How To Stop Sounding Unprofessional When Speaking in 15 Minutes
#71: "Doug Hitchcock's" Goal Setting—And Why We Successfully Use It Year After Year
#70:Three Incredibly Silly Business Myths (And Why They're Driving Us Crazy)
#69: How A 3-Step Pre-Sell Creates Irresistibility- Part 3 of 3
#68: The Twin-Irresistibility Factor: How To Create Product Exclusivity-Part 2 of 3
#67: Two Psychological Techniques To Creating An Irresistible Product/Service
#66: Re-Release-How To Avoid Blindspots In Your Business: The Rip Van Winkle Effect
#65: [Re-Release]: Is The Four-Hour Work Week A Waste Of Time?
#64: How To Write The First Half Of The Sales Page—The Pebble System
#63: Preacher or Teacher? Why Our Clients Struggle To Learn Skills Quickly
#62: Why Free Products Need To Be Better Than Paid Products or Services
#61: What Does It Take To Be Super-Human? A Deep Dive Into The Reality of Business
#60: The Meaning Of Life? Or A Life of Meaning? How To Solve This Eternal Problem
#59: The Star Trek Method—And Other Ways To Get Over Article-Writing Barriers
#58: Why StoryTelling Loses Intensity Without A Catalyst
#57: Time-Crunching Software—How To Save Enormous Amounts of Time At Work
#56: Three Unknown Secrets of Riveting Story Telling
#55: How To Double Your Writing Speed (And Overcome The Outline-Barrier)
#54: Deconstructing Why Bad Habits Succeed (And Good Habits Fail)
#53: The Next Step Mystery: 3 Successful Ways To Creating The Next Step Using Articles
#52: Accelerated Learning: How To Incredibly Speed Up Your Skill Acquisition
#51: How Long Do You Work on Vacation?
#50: The Early Years-Psychotactics-Moving to New Zealand

#49: How To Get Better, Higher-Paying Clients With Testimonials
#48: How To Build A Cult-Like Following By Using An Adjective In Your Branding
#47: How We Sold $20,000 On Stage (In Under An Hour)
#46: Why Identity Helps You Surge Ahead In Work (And Life)
#45: The Secret To Getting Your Report Read (From Start To Finish)
#44 [Re-release]: The Power of Enough
#43: How To Plan An Ideal Vacation—And Avoid "Re-Entry Burnout"
#42: The Crazy, Amazing Trip From FREE to FEE
#41: How To Save Two Zillion Hours in Research (Using Cool Techniques with Evernote)
#40: How Success Causes A Blind Spot And Creates A Rip Van Winkle Effect
#39: Why "Infotainment" Creates Binge-Consumption in Readers and Listeners
#38: How To Avoid Boring Testimonials (And Get 1000-1500 Word Stories Instead)
#37: How To Smother Perfectionism With A Timer!
#36: Three Incredibly Precise Steps To Get Advance Testimonials From Clients
#35: Why Anti-Fragility Breeds Success (And How Nature Focuses On It)
#34: Is "How-NOT-To" More Powerful Than How To?
#33: How To Prevent Competitors From Copying Your System
#32: Sales Pages—The Problem With The First Few Paragraphs
#31: The Safe Zone-How To Dramatically Improve Your Courses
#30: How To Use The "Problem" To Get Attention (Without Being Negative)
#29: The Amazing Power of the Challenge (And How To Fire Up Your Audience)
#28:Three Obstacles To Happiness (And How To Overcome Them)
#27: How To Get Ideas When Writing Articles
#26: What's the Opposite of Success? It's Not Failure!
#25: Book Recommendation: The Talent Code
#24: Two Precise Steps To Getting Attention
#23: The No.1 Deal Killer (When Making A Sale)
#22: Why We Sell Less: The Root of Confidence
#21 The Secret Ingredient To Writing
#20 How To Get Expertise In A Lot Fewer Than 10,000 Hours
#19 The 70% Principle: Why It Knocks Procrastination Out of the Ball Park
#18: How To Win Over Skeptical Clients (In Three Quick Steps)
#17 How To Slow Down—And Why It's Critical
#16: The Key To Avoiding Crappy Clients: The Riot Act
#15 Why You Lose Control in Your Business (And How To Get It Back)
#14: Getting Things Done: The Trigger
#13: Why Uniqueness Stories Are Better Than Slogans
#12: How To Succeed (Even In A Crowded Marketplace)
#11: Strategies vs. Tactics: Which One Is Superior?
#10: Six Steps to Getting Amazing Response From Clients
# 9: The Bikini Principle: Why It's A Cool Attraction Factor
---

There's a difference between the "four-hour work week" and magic. You can create revenue in a short week. You can't create magic. Magic is what we all want to create with our work. Most of us love our work. It gives us purpose and satisfaction. And yes, we'd love a "three-month" paid vacation—or just any vacation at all. And that's the goal. The goal is to work hard, but to also have a great time.

---
---

It's not enough to want to have passive income. You may think it's a smart way to go about things, but in fact, it's pretty shallow. You want to create magic, and to create that magic you need the help of the three-prong system. Businesses such as Harley Davidson, football, cricket, and of course, big organisations like religion have the three prong system at their very core. At Psychotactics, we've used the three-prong system the moment we figured it out.

---
---

It's not easy to save time. We all know that. Yet, time management isn't just a factor of getting a fancy to-do list. Sometimes it involves some pretty odd things that you have to do. At Psychotactics, I didn't always have time. Now my workload has more than doubled, but I have a lot of time. How did that happen?

---
---

When you're in marketing, one of the big "marketing strategies" is to appear bigger than you are. Every one in the marketing field or in business is always talking about "six figure" incomes and "how to get thousands of customers". And so you and I get pulled along with this crazy tsunami. We stop being who we truly are, and start behaving like someone else. How can we be true to ourselves? How can we be our crazy selves and still succeed online?

---
---

Storytelling is a craft that small business owners need to improve their marketing. Without stories, a marketing strategy is like a boat without a rudder. Fact, figures and data can only go so far. Learn how stories help to create powerful marketing, in a completely non-threatening manner.

---
---

Storytelling isn't an art. It's a science. Every kid knows how to tell stories. And it's cute to be a storyteller when you're a kid. But when you put structure to writing and storytelling you take it from science to art. Find out how this works with story.

---
---

Should stories be dramatic? Incredibly, the answer is NO. Drama comes from the 90% principle. And this means that your audience needs to know 90% of your story in advance. And that's one of the elements that make storytelling incredibly powerful.

---
---

How much is enough? And where do you stop? It's easy to get all wrapped up in this whole concept of passive income and how smart it seems. Yet, you can work yourself crazy if you're not careful. You can work too much, do too much?but even vacation too much. Understanding the power of enough allows you to have a great business plan and a great vacation plan. Whether you're in online marketing or just have a small business, your strategy should be about "enough".

---
---