---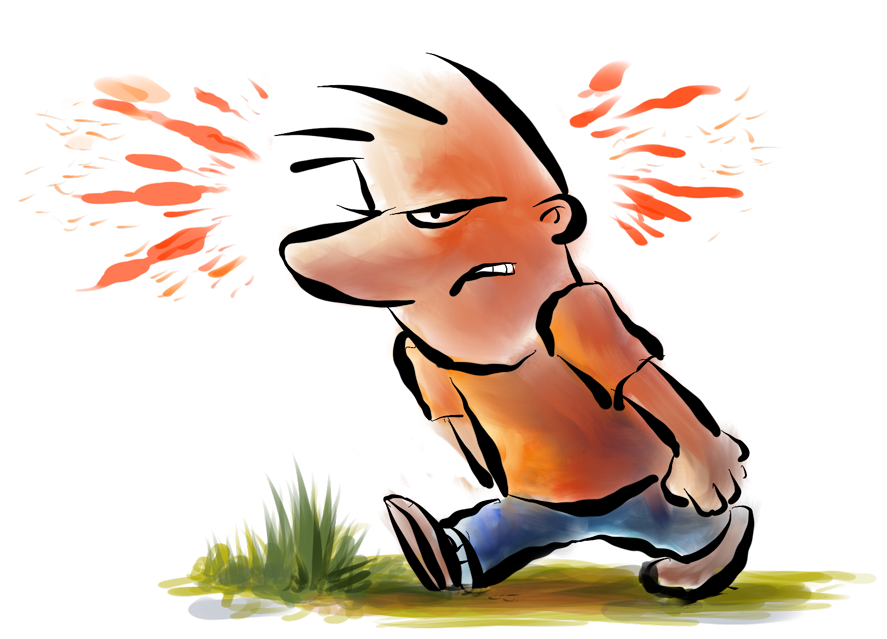 Some days you just feel fed up of your work
You know you shouldn't.
You love what you do, but you can't shake the feeling. You almost have to drag yourself to work and you don't know how to turn the day around. That day can quickly turn into a second day.
Before you know it, the week is a puddle of frustration. But there's a way out of this mess and it's incredibly simple.
You can turn your day around in 30 minutes. Let's find out how.
Right click here and 'save as' to download this episode to your computer.
---
Fed up.
Fed up.
Fed up.
I said it thrice on my walk this morning. And then Renuka pointed out that I was saying it yet again, as I reached the cafe. If you know me well, you probably know I'm always darting around at a squillion miles an hour. As a friend, Kimberley Carroll once said to me: "Sean you're a mad person. You're always busy doing things".
Even so, at some point all of us hit a wall
It's not the kind of wall you're thinking of. This isn't a spiral into sadness, frustration and depression. It's just a feeling I tend to get into, when I sense I need a break. And instead of paying attention to what my brain and body is telling me, I dig my heels in and go to work.
I turn on my phone and listen to another podcast or audio book. I turn that moment into a learning episode.
Except today, my phone decided to have a mind of its own.
I turned on the phone on my walk back, expecting to continue listening to an audio book. Instead, the phone started playing my favourite music. Admittedly my music tastes are pretty eclectic. They go from quawwali, to African drums, some Turkish music.
Buried in the middle of it all is tango, Taylor Swift and Zhu. However, today my phone decided to play Randy Travis.
Yup, country music.
That's the twangy stuff that comes out of Nashville, Tennessee. The stuff that most people like to turn their noses up at. But for me, country music isn't weird at all. I pretty much grew up with a generous dose of country music.
Think about that; a kid growing up in Mumbai, India, listening to country music. But I didn't just listen to the Randy Travises, George Straits and Ricky Skaggs. I record whole country radio shows and listen to it repeatedly on the sound system
As you can tell, the music floods my brain with subtle waves of joy and growing up. Anyway, my earphones were plugged in, and there I was on my "horse", listening to country music on my way back home.
But something had changed. I was no longer disgusted. I had a big smile on my face, and Renuka was struggling to keep up with my pace and stride. By the time I was back home, a mere half an hour later, I was a changed person.
The body and brain has a wall
We all run into that wall from time to time. Instead of paying attention to that obstruction, we try to bludgeon our way through it. What the brain is telling us, is that it seeks a bit of distraction; a good dose of downtime.
For most of us, music is an instant mood lifter. Yes, it's an obvious choice to turn our mood around, but strangely we seem to ignore it when we're in a foul mood. But why stop at music? What else makes you happy? I know a visit to the library makes me happy. So does a visit to the cafe, but not with any books or learning to do. Just to sit there and watch the world go by—that's a big fun-trip.
Most days my to-do list is fine, even important, but on some days I need to block my ears.
Instead of listening to my to-do list, I need to pay attention to your brain and body. Bowing to the demands of a to-do list is bound to make me even more miserable. Instead today, instead of wallowing in frustration, I decided to have some fun on a Thursday. I blasted the music, cooked some food, went for a haircut and wandered through the public library. I even thought of driving down to the ferry and jumping on it and going around to the city, for no particular reason.
A miserable day is a miserable day only because we choose to make it miserable
It's not something that can be solved with a tub of ice-cream or half a dozen cookies. Work is a lot of fun for a lot of us, but we often fail to realise that work is a series of projects. Take for instance, the work I've been doing this week. I had to write an entire sales page, draw cartoons, put in videos and organise the layout for a sales page.
We're having a sales page/landing page workshop in Singapore and Brussels next April and clients have been asking for details so they can sign up. Having finished that sales page, I had another chunky assignment. I needed to finish my presentation for a speech I'm giving in Australia in early November. These are big, mind-taxing projects.
What would you do right after you finished this volume of work? I'll tell you what I did. I ploughed right into another project, because just like you I have another twenty thousand things to complete.
Yet that was completely the wrong thing to do and it's no wonder that I was feeling rotten
And that's when my phone decided to take over my life. It played music, instead of yet another audiobook. It's something that we all need to understand if we're to make our work more fun and with greater meaning.
What's really cool is that it doesn't take a lot of effort.
Blast the music.
Do something you really like doing.
In half an hour you'll feel so good, you'll almost feel like going to work. I feel so energised that I came to work, but only to write this article. I'm off to library-land and to drink a coffee with no other agenda in mind for today.
I'll be back tomorrow, re-energised
It's been four days.
Am I still fed up? Or energised?
P.S. It's Monday morning and I forgot that I was irritated four days ago.
The weekend helped as well. I watched a TV series for five, maybe six hours straight on Netflix. I slept at 1 am, woke up at 7. I did a lot of drawings, played with my nieces on the weekend. I suppose that storm has passed for more than one reason.
But the primary reason is that I was jumping from one project to the other.
I wasn't rewarding myself mentally, by taking the time off. And that's when it all feels like too much work. That mental refreshment is underrated these days. We're all supposed to be on the go, go, go, all the time. Instead, just filling in my mind with fun activities and a great deal of no activity, I woke up to a bright Monday with no recollection of Thursday.
I'm still singing country songs.
I must be happy.
If you're keen on turning your day around, this is definitely the way to go
Stop doing work, because work will always be around. Even if you're employed and can't just take the day off, like I could, you can still take a short break, turn on the music and go for a walk. If you're like me, and have your own business, take the rest of the day off.
In all the years I've been in business, I've never ever seen the to-do list go down. No matter how much you do, there's always a lot to be done. Take the day off, refresh your brain, sleep—sleep a lot, because that's what your brain is craving.
And that creates a turnaround. Suddenly work is fun again.