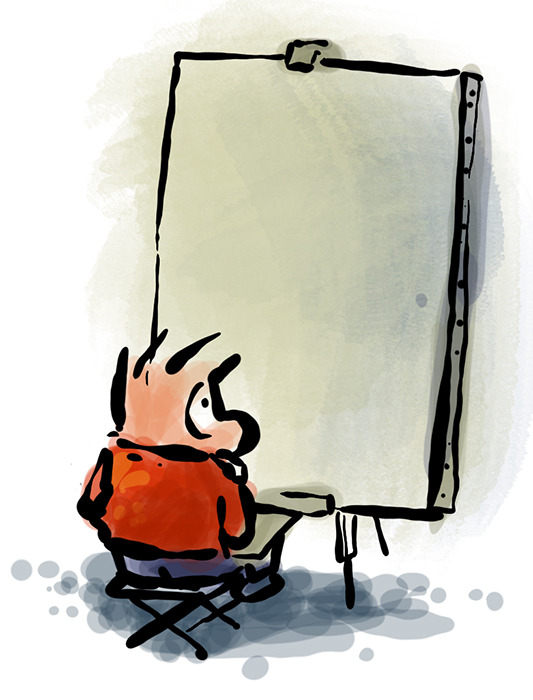 Can we really write an interesting first line? Is there a system we can use?
The first line of an article drives most of us insane. And as if that were not enough, we are called upon to write an interesting first line. How do you nail that first line every single time? Here are three—not four—just three methods that will excite and surprise you.
Right click here and 'save as' to download this episode to your computer.
---
When my niece, Marsha was just nine years old, she wrote a line that stops almost everyone in their tracks.
Marsha had an assignment which involved writing out the 'autobiography' of a pencil. And her first line was: I am a pencil. Every day I grow shorter.
Notice the drama in that line?
No matter whether we have to give a speech, deliver a webinar or write an article, we could all do with great first lines. However, what makes an outstanding first line? The answer lies in writing, not an exciting line, but a boring one.
Which is cool, because we all know how to write boring lines. But how do we wring the excitement from it?
Let's find out using three simple techniques.
1) The power of WHY
2) Creating a U-Turn
3) The usage of specifics
---
1) But first, we must start with the "boring".
To write a great line, you should ideally start with something boring.
Example:
The boy got on a bus.
I saw Keira at school today.
The journalist was due to fly home.
There's nothing even remotely interesting about those lines. And they're just about to become exceedingly interesting, simply by whatever follows. Not all lines have to be so subdued.
Sometimes there's a story that you can't hold down, no matter how much you try. However, we'll get to that part later. Right now, we're all classically-trained at being boring, so it's an apt starting point.
Once we have the boredom in place, let's add a bit of drama.
The boy got on a bus. He would never get off.
I saw Keira at school today. But all I noticed were a pile of clothes.
The journalist was due to fly home. Two hours before takeoff, he was detained.
Yes, I realise you noticed, it wasn't strictly one line, but two.
And you probably even overlooked that it took two whole lines because you quickly realised that what was important wasn't so much whether it was one line or two, but instead, the drama that ratcheted up at a furious pace. One second there was a warm northerly blowing*, the next moment it was a full-blown gale.
And while there are many possible combinations to get to the first—and ahem—the second line, let's explore a few options. The fewer we have, the better we can get at creating drama. Let's start with the power of WHY. Let's take the three examples because it seems like a fair enough starting point.
The power of posing a question—or an embedded question
A single bubble is always a sphere, but what happens when twelve bubbles touch each other?
Have you ever wondered how many words a professional writer writes in a day?
If you were Alexander the Great, how many cities would you name after yourself?
Which product should you pre-sell? Should it be the $20 product or the $2000 one?
Does it take 21 days to create a habit? Or 21 seconds?
A question almost always stops readers in their tracks. It seems like such an obvious ploy—to simply use a question at the start of your article. Just because it's obvious to you, as a writer, doesn't mean that the reader sees it the same way.
The person reading the article is doing so to satisfy her own curiosity, and if you ramp up the curiosity with a question, you've reeled the reader in.
If we examine just a few of the question-based first lines, you'll see how you too feel the gravitational pull.
If you were Alexander the Great, how many cities would you name after yourself?
Which product should you pre-sell? Should it be the $20 product or the $2000 one?
Does it take 21 days to create a habit? Or 21 seconds?
However, it's not just a matter of putting a question mark at the end of the sentence
The fact or premise must already have a few dollops of curiosity. The way to get to find this curiosity is to figure out why you're writing the article in the first place. Let's say you're writing about "how to design a postcard".
What's curious about designing a postcard, you may ask. It depends on the angle, or the sub-topic you're covering. If you stay at "how to design a postcard" and find yourself stuck, it's because you're at the "topic level" and need to go down at least to sub-topic or sub-sub-topic level.
Hence:
Topic: How to design a postcard
Sub-topic: How to design an odd-sized postcard
Sub-sub-topic: Why an odd-sized postcard gets 300% greater response.
Without the groundwork of topic, sub-topic and possibly sub-sub-topic, it's a lot harder to come up with great first lines. But once you have your sub-topic, "how to design an odd-sized postcard", you already have a premise in place. The question that naturally arises is: Why should I create an odd-sized postcard? The answers may vary.
Perhaps it's because:
They get a better response
They cost more but get a better response.
Now we have made some space for questions, haven't we?
If you had $100 would you spend it on Facebook ads or postcards?
When was the last time you didn't read a postcard?
Should you send a newsletter to your clients, or will a postcard be more effective?
Odd-sized postcards cost more to create and mail, so why send them?
If you've started down the road of writing an article, you already have the premise in place.
Once you do squizz past the topic and head to the sub-topic, you'll quickly have to justify why the article exists. Use that natural curiosity to put a question in the first line. What's cool is that every article from now until forever can have questions, if you that's the method you choose to employ.
Won't the client notice?
Would you notice? Can you remember the last article you wrote? What was the headline? Did you start with a statement or question? See? Our brains can barely remember what we had for lunch yesterday, which means they're not precisely keeping track of the first line of the article. You could write questions on an ongoing basis, and no one will notice.
However, questions are just one way to get rolling. If it's the variety you seek, we always have another option. One of my super favourites is similar to the "pencil getting shorter" line. It's the U-turn. We're going one way, and in a swift, unexpected move, we're facing the opposite direction. Let's find out how it's done.
---
2) Creating a U-Turn
How red is red?
Seems like an odd question, doesn't it? But the intensity of red depends solely on where the colour is placed. If red is placed next to brown, it evokes an overall dull feeling. Yet, as we've all experienced, put the very same shade red right next to a bright green, a yellow, or even black and it shines.
That so-called shine is merely a factor of contrast. And a lot of our first lines—especially the ones that start boring—could do with a bit of contrast.
Let's take a look at a few first lines.
In 2009, I flew to Chicago to speak at an event for free. And I made $20,000.
If you learned English as a child, your first letter would not have been S.
My father ran a secretarial college. And one of his students was a conman.
Does it take 21 days to create a habit? Or 21 seconds?
Imagine if you invented a set of tyres and your invention was ridiculed.
Be aware that almost any line can start off being drab.
What follows is that which makes the first line heat up. Flying to Chicago, running a secretarial college, 21 days to create a habit—those are reasonably minded ideas. Yet what they represented is far more vital.
The Chicago event was an unpaid speaking—yet got excellent dividends.
The secretarial college is a safe space. No one wants a conman running around.
A 21-second habit is like quick-drying cement. Who wants to wait 21 days?
Let's look at some more examples so you can spot the boring first part—and the surprising U-turn.
The most likely place to find a Singapore Airlines stewardess-in-training is the nursing home.
There are two types of grass on the Serengeti. The wildebeest avoid one type completely.
There's one hotel in Los Angeles that gets among the highest ratings on Trip Advisor. It's not a big hotel, or even very classy.
The question-based first line wasn't difficult to roll out. And now that you think about it, neither is the first line that makes a U-turn—or any weird turn, for that matter.
---
3) The Usage of Specifics
1492.
1947.
29th February.
Each of those numbers has an explicit connotation. While the rest of the world may gloss over 1492, it holds a special place for Americans as it's the year of Columbus' voyage to the "new world". 1947, on the other hand, is the year the Indian subcontinent, namely, India, Pakistan and "East Pakistan" (Bangladesh) got their independence from the British. And 29th February.
Well, that's just that extra day we seem to get as a bonus, on every leap year. What's clear, however, is that numbers are specifics, and they have an exceptional hold on our imagination.
Let's quickly fly through a few first lines, shall we?
Back in 2003, I was in real trouble when it came to writing articles.
Imagine yourself in a helicopter over Milwaukee, USA, on the shiny morning of 13th June 1998.
Does it take 21 days to create a habit? Or 21 seconds?
Joshua Foer, a journalist for Slate Magazine, decided to something quite bizarre.
In the late 1970s, when you asked for coffee to go, you had to tear a hole in the plastic lid, just to drink the coffee.
Days, timings, years—all sorts of numbers seem to get our attention, don't they?
Yet, snuggled in the middle of those first lines is the story of Joshua Foer and Slate Magazine. Even though you may not recognise Foer as the US National Memory champion; have no idea that a magazine like Slate even exists, you still feel like reading.
Even so, it's dicey to have so many unknown factors in the first line. Readers don't necessarily follow a thread because you've loaded it with specifics. They do so because there's a story unfolding. If there's no curiosity level, or it doesn't relate to the reader at all, they'll just abandon the article.
Let's look at a first line that has specifics but ends up ho-hum
When the Lascaux cave complex was discovered in 1940, the world was amazed
In the early 1980s, carrot production industry operated at a very low-profit margin.
While 1492, 1947 and 29th February are specifics, they can't stand alone. They need some oomph to get them to the status of a great first line. For example:
In 1947, the Indian continent got their independence. By 1948, more than fifteen million people had been uprooted, and between one and two million were dead.
In 1492, Christopher Columbus made landfall in America. And part of the success of the trip was due to biscuits—hardtack biscuits.
Of the three methods to get an intriguing first line, the specifics might be the easiest—and yet most difficult. A question almost begs for an answer. The U-turn starts with the boring, and there's a bendy-twist to keep your attention.
The specifics, on the other hand, follow no clear formula. The only overriding theme of this third method is to find something that's already powerful in the first instance, and then bring it up to the surface.
Columbus is both admired and hated in today's context
Yet, there's there are aspects of his journey that are hard to ignore. Like the biscuits, for example. Or that the so-called ships, "Niña" and "Pinta" were not ships at all, but fast-moving caravels with fewer than 30 crew.
That for his maiden journey, Columbus chose to use an updated version of the caravel—the caravela redonda which had both square and lateen sails to help improve coastal navigation.
When digging for specifics in your own story or some fact, there needs to be a sense of mystery or surprise
The line "Back in 2003, I was in real trouble when it came to writing articles" is only surprising if you know the person writing the article. That person was me, and I can now write a 5000-word article in a day, which makes the "trouble" seems surprising. Taken out of context, it is stripped of any drama and may well be ignored.
Nonetheless, if you're unsure if your first line is unusual, or not, it's a simple matter of getting some feedback. If you're a member of a forum, don't go about posting your entire article. Just post the first line and see if the audience is keen to know more. However, you can do this kind of testing just about anywhere.
I often speak with friends and clients on WhatsApp. That's one method I'd use. Or when I'm going for a walk with my wife, Renuka, I'll run the line past her and wait for her analysis. Usually, there shouldn't be any analysis if your line is evocative.
Whether you choose the question format, pulled a U-turn or added specifics, is up to you.
In some cases, a line can have all three. Even so, it might be a good idea to start with just one type, e.g. questions, and then write a dozen or three dozen, so you get comfortable with that method. Once you get that fluency going, do the U-turn type of lines.
Then just for good measure try both of them—about 10 with questions and 10 with contrasty endings (U-turn). You're likely to find that specifics slip in any way as you do this exercise. Which means you're on your way to becoming a pro at the first line.
Whether it's a webinar, presentation, speech or an article, your first line matters. Go ahead, and make it count.