---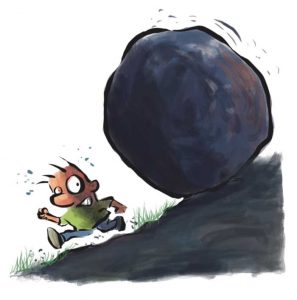 Does a big list guarantee success? You know the answer to that one, already, don't you?
Your small business isn't going to grow exponentially because you suddenly have a big list. Yet, in many ways a smaller list has the potential to do better than a big list. Find out how to start ignoring the sound of "big lists" and work with a tiny list, instead.
Right click here and 'save as' to download this episode to your computer.
---
Have you heard the story of the carpenter bee and the orpheum flower?
In South Africa, the orpheum frutescens flower has established a special relationship with a single species of bee—the female carpenter bee. The flower is possessive of its pollen, preferring just this one target type of bee have access.
When the bee approaches the flower, its wings start to oscillate at a specific frequency—middle C. Instantly the flower opens up its stamens and released a shower of pollen. As you probably guessed, and guessed correctly, the bee then heads over to the next Orpheum flower for its fix of pollen, and helps pollinate the orpheum flowers.
In short, there's little waste.
When you have a marketing list that seemingly runs into six figures, waste seems to be almost part of the equation.
Everything seems to boil down to conversion rates, rather than real people.
And yet the conversion rates are incredibly shoddy, often amounting to less than 1/1000th of 1%. When we look around us, it's easy to get seduced by huge mailing lists, incredibly high revenue numbers and an almost endless spotlight.
We can't see beyond the smoke screen and accept our failure to be abnormal. We aspire for that big list. We seem to feel that once we solve that problem—the one with the big list—we'll solve every other problem, easily.
The reality is quite different. Lists, large lists, are resorting to any method to get more sales
Advertising, publicity, speaking engagements and now marketing right through Facebook messenger. The overall open rate keeps falling, but the big names have to keep paying their inflated bills. In short, there's a ton of waste with big lists that can be avoided greatly if we understand the power of the small, even atom-sized list.
Much like the exclusive relationship the carpenter bee has with the orpheum flower, we too can make small lists work to dramatic effect with conversion rates far exceeding the fancy marketers.
The question is: how do you go about working with tiny lists?
And more importantly, have we been looking at this whole list exercise in the wrong manner? Let's take a completely different view at what we really should be doing, instead of ogling all those big lists.
We'll focus on just three things that we can do with our tiny list
1- The first purchase: why you don't need thousands, or even hundreds of clients on your list.
2- How to willingly get clients to buy a second, third, fourth, even ten times in quick succession.
3- Monitoring the connectedness of your community.
---
1- The first purchase: why you don't need thousands, or even hundreds of clients on your list.
I was surprised when twenty people showed up for the first event I ever hosted in Auckland, New Zealand.
There was good reason for my surprise
I'd was a new immigrant to these islands. I knew barely a smattering of people. My whole social life and business life was constrained to the networking group that I belonged to, at that point in time.
For weeks in advance, I stood up at the networking event and when given my 60 seconds to speak, I talked about an event I was hosting with the topic, "why clients buy and why they don't".
Fifteen members from that group decided to show up and they convinced five others to come along as well
The speech didn't go so well. I forgot what I had to say, midway. Then I took a 10-minute break to reset my composure. However, at the end of the speech I did have a tiny little offer.
I spoke of eight similar topics I would be speaking about in the months to come. And then, with my bravest voice, suggested that the members of the group sign up. We'd have a session once a month, which would cost $75. And then I waited for their response.
Which is when I had my second surprise
Ten people signed up. Imagine that! Ten people decided to show up month after month. It doesn't sound like much if you're well steeped in the mindless talk of a six figure income.
Renuka and I were both over the moon that we would now be earning $750 a month extra. Think about it for a second. That's the equivalent of someone paying you $750 an hour to consult with them. Of course don't be fooled by the "one hour concept". We still had to prepare the content and find a venue each time.
But you notice what just happens when you get a group to attend something?
You get them to make their first purchase. What is the first thing that clients buy from you? And oh, do you have anything that follows? Maybe you don't have anything ready (we certainly didn't, but we did have a list of topics).
This is the primary concept that sort of escapes a lot of entrepreneurs.
That the list, however large, doesn't really matter as much as you think it does. That you may have twenty million followers on Instagram and seven gazillion views on YouTube. Why would that make a difference, other than to bolster your vanity? Instead, what really matters is the first sale. And then just the follow up sequence.
Not everyone is selling information, of course
Some of us sell consulting. Others may sell coffee, or coffee cups. What matters is the first cup of coffee; first consulting session and how you then invite the client to the second session. Ten people showing up daily for a cup of ten coffees quickly adds up to $450.
Ten people showing up for about 300 coffees a year amounts to a staggering $13500. Not surprisingly, if you're selling information, you can do what we did: find a local group, get to know them over the months and then get them to a single event.
Then you get them to subsequent events. But if you look at it from an online point of view, you never have to budge very far from your overworked computer. Webinar software weighs in at a price of $14 per month, and just ten clients at $75 brings you a decent $7500 per year that you didn't already have.
The comedian John Oliver was on all the media shows recently having published a book
That book sold 180,000 copies in just two days. Scarily nice, don't you think? Yet there's another John—John August—an excellent screenwriter, who wrote movies such as "Big Fish" and "Charlie and the Chocolate Factory".
On his podcast, the other John talks about how booksellers sell five books at a time, sometimes a bit more. And on the podcast he seems to be going through the same jitters that we all feel. That book, "The Adventures of Arlo Finch in the Valley of Fire" took a mind-numbing two years from start to publish date. And five copies at a time seems almost inordinately disgusting.
Yet, if you veer away from the bright lights of seemingly instant success you can carve your own spot
Ten clients here, ten clients there and you've started to get your business off the ground with tiny movements, not seismic jolts. It's not as if the clients stay at the $75 mark either.
Many of those very same clients then attended a workshop priced at $1500 each and you guessed it, a series of follow up smaller workshops priced at $650. And that was just what was happening offline, slowly, giving us a chance to get our act together.
Remember we didn't have any information or products ready. We were just doling out the topics, they'd sign up, then we'd go on to create the information.
The very same scenario then played out online
Clients bought The Brain Audit, bought into the membership site at 5000bc. They recognised how we were doing things and how it helped their business. When I offered the Protégé program for the first time in 2006, it was only limited to 15 people.
At first, priced just at $6500, it was priced at $10,000 when we stopped the program. You're probably doing the calculations already, aren't you? And just like that workshop where we simply sold the topics—not the actual content—we did the same for the Protégé Program.
We had no information ready and we were in a crisis mode. My wife, Renuka had an accident and couldn't work for three months. We had an employee that was so inept that we spent most of our time fixing her mistakes. But that didn't stop our tiny little juggernaut from taking on just 10 people at a time.
If you're selling services, you're probably tuning out a bit at this point
However, stick around, because I've been going to an acupuncturist recently. I got back from India, lifted heavy bags down the stairs and the weakling (that's me) had an inflamed back and stiff neck. Which is why I found myself at the acupuncturist.
First step done? What should she do next? Exactly, there are many more steps to go, right? You may get relief quite quickly with the right treatment, but there's no reason why you can't go back. And go back I did. Then Renuka came along. In a few weeks, my brother in law was on the list. And my hairdresser is not far away either as she would like to go to the acupuncturist too.
Sounds puny, doesn't it?
Five, ten, fifteen. Not 500,000 or even 180,000 sales like John Oliver's book. And yet a business can be built step by step, brick by brick, or perhaps 10 bricks at a time.
Our woozy little start has enabled us to take three months off every year, since 2004. We take vacations that don't involve any e-mail. Fancy sitting at a beach and checking e-mail.
Beaches are for swimming and having fun. And this pathetic little growth sequence has enabled us to avoid all those fancy speaking engagements worldwide; we've done no advertising ever; barely a dollop of publicity. And we're doing very well, thank you.
But what does this mean fo you?
It means you have to first get yourself off those lists that drive you crazy. There are exceptions to every rule, but by and large when you're looking at large lists, you're looking at a lot of behind the scenes stuff that no one bothers to tell you about.
Also bear in mind that a large list doesn't necessarily lead to huge conversion. If you don't get swayed by the large numbers, you can build up your business (and subsequently your vacation time), about ten people at a time.
However, you need to have a sequence in place
We've already talked about one type of sequence where the client comes back for more. They come back for more coffee, more webinars or just more needle pricking. That's a starting point.
At Psychotactics, we then take that sequence to another level. This level takes a bit more time, of course. It's not as quick as having ten to fifteen subsequent sales. However, over time, you can create a sequence that's horizontal and slightly vertical too.
If you look at the last few pages of your copy of The Brain Audit, you'll see the that sequence. But wait, you're not reading The Brain Audit now, are you? Well then, let me explain what that sequence contains and why it's so very important in moving to the next stage.

---
2- How to willingly get clients to buy a second, third, fourth, even ten times in 
quick succession

What do cicadas have to do with prime numbers?
Cicadas, periodical cicadas, are bite-sized dinner for pets, rodents, marsupials, reptiles, birds, fish, insects, arachnids — almost every creature will eat them.
Therefore the cicadas show up in large numbers. These large numbers means that millions of cicadas show up to mate at a specific given time, in a specific given year. Their numbers are so large, that their predators can't eat them all.
But that's because of a bit of maths, and yes, prime numbers
The cicadas need to minimise the chance of interbreeding with other cicadas. Interbreeding would likely result in offspring that didn't have a long life cycle. The shorter life cycle would mean they couldn't stay hidden underground for twelve or sixteen years.
They'd have to come out more frequently to breed and they'd be eaten by predators. In the fascinating series called "The Code" by Marcus du Sautoy, he talks about how in Georgia, USA, one breed of periodical cicadas show up every 13 years and the other breed, every 17 years. If they get these calculations wrong, it'd be a disaster, but because they use prime numbers, the chances of interbreeding only occurs once in 221 years.
Luckily for us, clients don't use prime numbers when considering the need to buy our products and services.
Instead, they show up at frequent intervals, often quickening the pace as they consume more of the content, product or service you're selling. No one starts out having 300 cups of coffee a year, but eventually a cup leads to another cup and we simply can't do without the welcoming aroma of coffee.
Amazon, YouTube and Netflix know this phenomenon works, so they push similar content towards you. If you've watched Charlize Theron on one show on YouTube, you could theoretically be listening to Charlize interviews all day.
Yet, there's another kind of sequence that's in play at Psychotactics
And I say, Psychotactics, but the real source of inspiration is dinner at a restaurant. When you sit down you get your dessert, then your mains, and finally the starters, right? So you know that's not the way it works. There's a sequence in place and the sequence seems logical to us.
We begin with the drinks and the starters; move on to the mains and possibly salads and finally it's dessert and a coffee or tea, maybe even an aperitif. When you look at the Psychotactics sequence, you'll notice the sequence as well.
You start off at the subscriber level, buy The Brain Audit, get to 5000bc, and then you do courses like the Article Writing course. But then there's also the climb down. You can hone your skills on a Headline course or the First Fifty Words course, which is more akin to dessert and coffee.
And this kind of sequence works really well with a tiny list
A client who wants to learn about photography rarely wants to start and stop. Your first workshop with that client might be about the basics of taking pictures in low light. Yes, not even the broad concept of photography, but this niche topic of "low light".
Even so, that client would be willing to go deeper into those studies. Every year, dozens of courses are held in the South Island of New Zealand to capture the scintillating southern night sky. And I use the example of New Zealand for a simple reason.
It's probably as far away as most clients can travel. Yet, those very same clients start off following an Instagram account, buy a book, possibly a course or jump on a webinar. Next thing you know they're in the freezing cold taking mind blowing pictures of the Milky Way.
We always assume that we need large numbers for such an enterprise to succeed
In reality you don't and possibly never will. While most conversion still sits nervously at a patchy 2%, and sometimes lower, the conversion rate of someone going through a sequence can be almost 100%. I know that sounds pretty mind boggling to you, but there are clients that have bought almost everything we have to sell.
They go through the sequence. In the Article Writing course purchase sequence for instance, a client will first read the articles on the Psychotactics site, then sign up for article writing goodies, buy into the Outlining book, then either get the homestudy of the Article Writing Course or sign up for the live course. Those very same clients then buy into the advanced storytelling course, the headlines course and the First Fifty Words course.
If you find that mind boggling, well, yes it is
But it's also pretty natural when you're chomping your way through dinner, and even angling for that second aperitif right at the tail end of the meal. Your bill is high, but so is your satisfaction level.
While it's all very fine to think about conversion, keywords and fancy technology, the most powerful tool of all is "consumption". The client buys the product, uses it and that's consumption. They step in not expecting much from a photography webinar, but they end up in New Zealand, having the time of their lives.
They start off with buying a single business card from an online printing company like Moo.com and end up buying postcards, fliers, letterheads—the whole meal from one end to the other. And then when the meal is done, they don't quite go away.
They come back for a different meal. A client that's done the article writing sequence doesn't ride off into the horizon. Instead she comes back to learn more about copywriting, or how to draw, or how to cook.
But to get back to the very core of the sequence, think of it as dinner.
Dinner goes from one end to the other. That's the core sequence you need. Not some fancy funnel with zigzags. Clients will follow a sequence just like they follow a karate sequence of white belt, yellow belt etc. And within the sequence, you'll have other sequences.
If you do a course, for example, there will be smaller bits that run up to that course and then smaller bits that follow that course. The restaurant analogy would be akin to having one dinner, but then you like the whisky a lot and so they have a special whisky sequence on another day.
Is all of this still possible with just a few people on your list?
A tiny list has limitations, that's for sure. Not everyone is going to be able to fly to New Zealand for your star gazing party, even if they want to do so, and can afford to do so. Having the list grow is a solid idea, but there's really no need for a big list either.
Most description of lists you see online are like revenue statements that tell you only what you want to know.
A revenue statement is not an accurate representation of the success of a company.
You have to know their debts and their net profit. Only then can you come to some clarity as to whether the company is doing well or not.
At Psychotactics, less than a tenth of the list even opens their e-mail. This is true for most people across industries. You can head over to an Instagram account with literally a million followers and they get 20 comments and 2000 likes. Just because you have the list, doesn't mean you have engagement, let alone sales.
A lot of what you read online is just created to puff up their own sense of security and bigness, and in doing so, they make you feel small and worthless. They make you feel that somehow you too need that massive list.
As you can tell, what you need is a strategy
The Maori, the original native tribe of New Zealand, have a saying: Fish at your feet, first.
In many ways, taking this wisdom is what makes us smarter, more strategic business owners. A big list can be a crutch. You come to depend on getting one hundredth of one percent, and then to boost your conversion rate, you have to hire staff, buy software, dip deep into your budget for advertising. Plus it's all hard work.
Working with current clients—fishing at your feet first—is a smart move
Figuring out a sequence—that's a really smart move. Then working that sequence while getting clients to come back, is what we really need. And it proves one more thing as well. If you're able to get clients to come back once, twice, three hundred times, it means you're doing something right. Clients are people like you and me.
And now that we've seen how to get a small list going, let's look closely at one last factor: monitoring the connectedness of your community. Does that matter at all?