---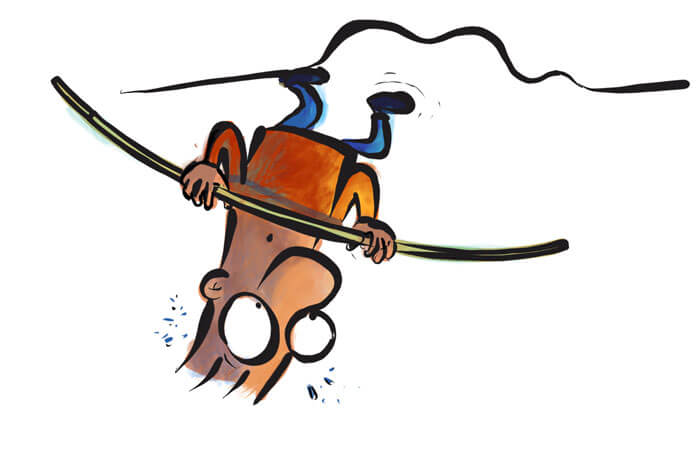 It seems natural to keep an eye, even get obsessive about your competitors.
However, it's a poor strategy for many reasons. In this episode, we make the case for why the competition doesn't really matter as much as you think. And why focusing on them could possibly cause clients to desert you, instead.
Right click here and 'save as' to download this episode to your computer.
Re-run: Why focusing on competition is a wrong move?
Original: Why you should ignore your competition?
---
There is a story about an author who wrote a book
The book was incredibly cheap, and as a result, he was able to sell several thousands of them. The competition looked at the increasing volume of sales and decided they could do the same.
However, to their frustration they found themselves losing money. The reason why they had such significant losses, was because the book production cost more than the price that it was being sold for.
And in this little tale is the story of competition.
Most of us are reasonably obsessed with our competition
We don't start out that way. When we start out, we are in awe of the people who have already made it. We don't consider them to be "competition" at all. They seem so far ahead of us that they are more like people we admire. We don't feel we need to compete against them.
However, in time we make more significant progress, and we see that we are on par with them in several respects. That's when we decide that they are officially competition. It also makes perfect sense to watch what the competition is doing, so that we are not left behind.
Which is precisely the point where things can start to go wrong
Let's say you're a competitor of Psychotactics. And you notice that we are selling home study versions of the Article Writing Course, the Sales page course etc.
And you decide, "Well, I have the same courses, and let me create some home study sales for myself as well". All good so far, and let's assume you sell a few home study versions, but your sales are crappy.
You're possibly selling 2-3 copies a month, and that's it. You are convinced something is wrong with your system and you keep trying to copy what we're doing.
You spend hours trying to tweak your website, trying to track down where we're posting and copying what we're doing. You probably did your due diligence in every area, except one.
You possibly forgot to ask: What is our goal?
Simply trying to monitor the competition is fine for inspiration, but if you don't know why the competition is doing what they're doing, you are simply creating a nasty scenario for yourself.
Remember the author who wrote the book? What was his goal? His competitors assumed it was the profit margin from the book. In reality, the author was also losing money, but his goal was not to earn from the sales but to build a client list. That client list then bought other products and services from the author, which is how he made his real fortune.
When it came to the home study versions, we too had a strategy
Back in 2016, I decided to write a brand new version of the Article Writing Course. That was Version 2.0, and it was built from the ground up. I didn't refer to the earlier notes or audio.
I took what I knew (based on the knowledge we'd gained in the last ten years) and put it in the course. By the time I'd completed creating the new version, I was exhausted.
So tired, in fact, that I didn't want to do any courses until 2017
Courses form at least a fourth of our income, and not doing the live courses online meant that we'd have to forego that income. It's at this point, that my wife, Renuka, came up with a strategy to sell home study courses instead.
Remember, we were already selling home study courses, but they weren't doing so well. The primary reason for the not-so-great sales was that we were promoting the live courses and had no bandwidth on the newsletter to also promote the home study versions. However, once I got super-tired in 2016, there was little choice.
It's at this point, that we also made a radical choice
We decided to sell only 35 copies of the course even though it was digital. It may not make sense to restrict a sale of a digital product, but we wanted to create urgency and scarcity (something you should do too). In essence, I got taken off the live course schedule for a whole year, and that was our first move.
The second move was to create the waiting lists with the urgency and scarcity
Two quick moves that from an outsider point of view are almost impossible to decipher. How are you supposed to know that all these micro decisions were taken along the way? How would you know if we got results or not unless I were to reveal the results to you?
But if you're a competitor, how can you know all of this detail?
It's impossible to know, and so you copy, but it's a blind copy. You're spending so much time and energy trying to work out what we're doing when in reality you should be working on your own product or services.
If you really want to monitor the competition, you have a full-time job
Sure you can find gaps in their products and services. And yes, you can find out where they're advertising and who are writing about their offerings. You can also track which podcasts or sites they appear on, thus saving time with your own research.
You can also maybe, possibly, work out the threats that are headed your way. However, by and large, all these activities suck up a humungous amount of time.
In reality, the best form of defence is attack—or co-operation.
When you think about it, every restaurant is almost automatically a competitor for another restaurant, even if it doesn't serve the same food. However, at least at the top level, restaurants will vie for awards, rather than go around poking into the kitchens of other restaurants.
To get that Michelin star, they have to up their own game. There's often not much time, let alone any point in trying to worry about other restaurants when you have your hands already full.
Which is why your efforts are much better used trying to create your own uniqueness, than worrying about what others are doing in your own space.
And if you can't beat them, you join them
Almost all of our business over the years hasn't been as a result of an attack, but instead from cooperation. All the websites that we've guest-blogged on, all the podcasts we've appeared on, and every event that we've spoken at—they're all that you'd traditionally called "competition". We don't see them as competition and instead we've worked with them very successfully.
Even two of the biggest rivals—Windows and Apple worked together
In 1997, Bill Gates invested $150 million in Apple, for shares of Apple non-voting preferred stock. Microsoft was going to support Microsoft Office for the Mac for five years while Apple agreed to make Internet Explorer the default web browser on the Mac.
Apple was desperate for cash that the time and Microsoft was able to shoo away the concern that it was getting to be too much of a monopoly. They just shook hands and worked side by side with each other.
Does this mean you never have to look at the competition?
In reality, you never do. You just have to focus on your clients, instead. Clients have a problem they want you to solve. If you can solve that problem extremely well, there's more than a chance that clients will choose you.
All the information you have about the competition isn't going to change the fact that clients will make their own decision based on the information in front of them. Plus the client sees the world differently than we do as business owners.
For example, if you were to run a restaurant, you'd likely see other restaurants as competition.
Clients don't see the world the same way as we do. They see the marketplace as a choice. A place where they can pick and choose what they like. In terms of the restaurant analogy, they will eat Japanese food today, Indian food tomorrow and gorge on fish and chips on Friday.
And it's the same sort of decision making they do when dealing with us at Psychotactics.
They will buy a marketing product from us and buy it from some other marketing company next month. Even if you and I have worked at becoming a unique product or service, in the client's eyes, you're mostly just a commodity.
If they don't buy it from you, they just go elsewhere. They may find the competition to be inferior and hence come back, which is what most of our clients do. And that's one of the reasons why we encourage them to go to the competition, instead.
And yes, I get it. It does take a lot of guts to send your clients to competition but think about it for a second.
Aren't they doing it anyway?
For instance, Renuka and I drink coffee at five different cafes. Is it because the coffee isn't good at Cafe No.1 or Cafe No.2? Clients are going to buy from the competition anyway, with or without our help.
The more time you spend trying to figure out what the competition is doing, the more likely you are to stay a commodity.
In my opinion, trying to pay close attention to the competition is a waste of time
Too much changes too quickly and by the time you figure out what the competition is doing, they're well down the track. By the time those wannabe authors figured out the profit-making backend strategy, they'd already lost too much time and money.
ˇˇNo one is saying you should stick your head into the ground and not pay attention to what's going on around you. However, other than the cursory knowledge of what's happening in the market, it's really a complete waste of energy and time to bother with the competition.
Or as the popular comic, Mad Magazine used to write in their slogan: No.1 in a field of one.
That's something worth aspiring for.