---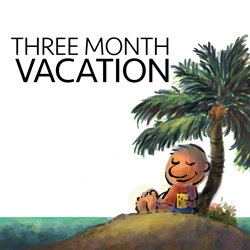 The moment we sit down to write an article, we need to do a fair amount of research.
Case studies, stories, they're all needed to create a solid article. Yet that very research causes us to spend so much time on our article, that we're exhausted. Is there a way to research without getting tired?
In part two we explore the techniques I use to write extremely detailed articles. Let's find out how to go about a strategy that works every single time.
---
Right click here and 'save as' to download this episode to your computer.
---
Stage 3: Never research when writing the article
If you were to put all the energy drainers together and pick one of them, the biggest of them all would be research.
You need research to prove your point, or to get examples, or even just to get the First Fifty Words going, in your article.
The only time you should not be doing that research is right at the point you're writing the article.
I have to admit, I'll still occasionally do some research when I'm writing the article
I want to make a great start to the article, so I'll go looking for a story. And the moment I do, I'm off into the big black hole called the Internet. What's worse is that many hours later, I may not find the facts or story I need. And the article is still left undone.
Which is why Evernote was invented?
Now I've covered the concept of Evernote (or if you like, OneNote) before. And the idea is pretty simple. We all collect information, but can't find the information at the exact time we need it.
Well, that's what Evernote is stunningly good at doing. No matter if you're online or offline, Evernote can comb through all the information you've saved. It can even read your handwriting if you take a picture. And so, you don't have to go hunting at the last minute.
I was a cartoonist and cartoonists used to keep reference books
Photography was too expensive a hobby when I was growing up, and so all our reference books were based on cuttings. Newspaper cuttings, magazine cuttings, etc.
And when I started in the world of copywriting, again, all those case studies were stored in those Windows folders. But it was a pain to find anything in a matter of seconds. But as you probably know from past articles or podcasts, I store everything in Evernote. And I started storing hundreds of stories and data that I'd possibly need for future articles.
I don't even know what the notes are going to be useful for in the future
I have information about fungus, elephants, Air BNB, The Invention of the Mouse, the Lemon Index—and hundreds of pieces of information that can be easily found in the future. As I write this piece, I am going to need some of that Air BNB information. I'm also going to need some Zappos information.
And it's all there, already in place. I'm not going to need to go online and waste time. In fact, since I was going to write that article sometime this week, I've already reviewed the material and marked out what's important.
See how much energy is being saved?
Most writers spend enormous time in research. The way I go about it is to clip stuff the way I did when I was a cartoonist or copywriter. I clip in advance, store it in Evernote. Then when I need it, it's already curated, underlined if needed and ready to use.
Even so, there are times when I need information and can't find it
In such a scenario, I tend to use my own case study. Let's say I wanted to write an article about "how to find the right problem" (which is what the Air BNB story is about).
And I can't find a story online, or I'm just not prepared. In such a situation, I pop over to 5000bc or on Facebook and ask others for their stories. Often the stories will come thick and fast, but more importantly, their story will lead you to remember a story of your own.
When you're stuck, use a case study from your own business or life
You already know all the facts; you have the details. And a case study brings your business to life. If your case study is about success, clients love that story. If it's about failure, they realise that you too are human.
In fact, I will use a lot of stories from Psychotactics for that very reason. Instead of this random business sitting somewhere in cyberspace, Psychotactics becomes human.
A good strategy would be to have a mix of both
No one is saying you shouldn't do your research. Nothing is quite as interesting as finding out how Barry Manilow's drummer played a role in one of the hottest Internet companies today. It's a super thrill to find out how the NY trains got rid of their graffiti.
And a case study of how a company increased its sales by 33% or lost 47.5% of its clients is always going to be interesting. But then, so are case studies and stories from your life. So mix them up and your articles become far more engaging.
Yet this article is all about energy
Any research will suck up all the energy you have, so save the information in advance. Even if you've tried to use Evernote before and failed, give it another few tries. Listen to the podcast on Evernote and you'll see why so many people struggle—and then fall head over heels with this software.
Oh, and get yourself the premium version because you'll want offline access too. That offline access means you'll be able to browse through your case studies while at the cafe or that hut in the woods.
And this brings us to the end of this series on "How I Write an Article." I've got about 4 minutes before my timer goes off.
Summary
When you look at article writing, you possibly look at it as sitting down to write. Instead, the goal should be to maximise your energy so that your article doesn't go up in flames.
When I started writing articles, I didn't realise the importance of energy. I'd want to get to the end point, and that was why I'd end up utterly drained after writing. Even as you're reading this summary, you may not realise that it's yet another day.
That I wrote the topics on one day, the outline on another, the article on a third and the summary on a fourth. Why? Because by the time I finished writing the article yesterday, I needed some pasta arrabbiata, gluten and all.
Besides, writing summaries drives me crazy. I would rather write two or three articles than a single summary. As you can probably figure out, I needed to be fresh. So here I am at 4:50 am, writing the summary before I bail out and do something else. I'm doing what needs the most energy, because if I don't, well, there's no pasta at this time of the day.
So what did we cover?
Topic 1: Putting space between activities
We've already gone over this a fair bit, even here in the summary, but the main thing to consider is this. Think of your writing as a journey, not a dash to the next room. Plan it, and then roll it out day by day.
First the topics, then the sub-topics, then the outline. And it's only at this point that you should start writing the article. When you write, just write. If you write, edit, write, edit and write, you'll spend more time editing than writing. And we know how that story ends, don't we?
The edit needs to be on another day, and this article you're reading has followed that process too. Even this summary is unedited. It may look fine to you, but we all profess to be perfectionists, and so I'll find a fair bit to edit. But the edit will come later; once I'm done with this summary, not before.
Topic 2: Using a timer
There's a huge difference between a timer and a deadline. A deadline is something far off in the future, or maybe tomorrow morning. But a timer fixes the slots for each of the activities.
So you have 10 minutes for your topics, then stop. Then it's 30 minutes for the outline, then stop—and so on. The timer regulates every section of your article so that you start and stop.
You may not be totally convinced about the timer and yet there have been dozens of clients who've been through the Article Writing Course. At first, they're skeptical about the timer, but as the course continues they see it as energy saving.
They understand the value of having that energy because they have lives to lead and businesses to run. Writing is an energy-intensive task. Without a timer, I was asking for trouble.
Now I write to a timer and then I stop. Even now, as I was writing, I had a friend, Stefano, from Italy chatting with me on WhatsApp. And I realised that I was running out of time.
So once I saw two movies and a few pictures of Stefano's kids, I went back to writing. We all have to bow to the timer Gods because the distraction is so intense. Stefano is a great guy, but then so is my timer.
Research is the most amazing part of an article. I watch Netflix, and there's this chef that's doing something amazing. I make a note of it. I read yesterday about this couple that were making a low-cost house, and they had a great demand for it. I made a note of it.
Volcanoes, the giant daisy forests of the Galapagos Islands, how Air BNB made it—it's all interesting. But I will not go hunting for all this information when I'm writing. All of this has to be found in advance and stored away like some digital packrat.
Stored away in Evernote—or OneNote. And then when you need the information, you can find it not in minutes, but in seconds. You don't need another cup of Starbucks; you need the premium version of Evernote.
Start using it on your phone, on your computer, on your tablet. Store everything incessantly. That's what I do. That's how I have so many hundreds of stories, case studies, and facts at my disposal. So get Evernote and start using it like it should be used.
Despite the fact that I write over 4000 words a week, writing is still ridiculously time-consuming. What I need, what we all need is energy on our side.
Save energy and you'll save time.