---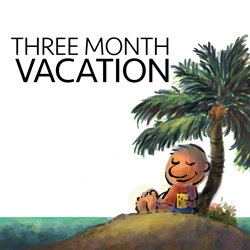 How do you maintain a high productivity level when switching tasks?
How do you get the brain and body to handle the transition?
And how do you manage the transitions with a minimum amount of fuss?
---
Right click here and 'save as' to download this episode to your computer.
---
I was asked in e-mail:
I am curious to know, since you do so many tasks in a day, how do you deal with context switching? I can do a task for 60 minutes, but doing something different immediately, requires some time for the brain and the body to handle the transition. How do you manage these transitions?
The approximate formula is:
High Intensity > BREAK > Low Intensity
Notice how it goes?
High, BREAK, Low.
Then BREAK > High > BREAK > Low.
When you first see the switching formula, it seems like it's just a transition from high to low.
But as you can tell from the emphasis above, the break is pretty critical. If you just go from high to low or even low to high, the brain doesn't get time to recover. And recovery is what's important when you want to keep your attention and focus.
Without recovery you get a factor of tiredness, that may also spiral downwards to exhaustion
But with recovery, your brain and body get a chance to relax and come back to take on the next battle. It's at this point that the high to low bit also matters. Taking on high-intensity tasks one after the other just wears you out and having the high to low allows your brain to make a decent transition—and relax even more after you've had the break.
But how long are the breaks?
The breaks depend on the time of day. During the day, while at work the breaks are short. However, at around lunch time, it might be about 30 minutes or more. At tea time I will take another 30 minutes. It seems like a lot of down-time, but that's the reason why you can achieve more.
A simple alarm or timer that does a countdown enables you to take that break. But there are days when I'll ignore that timer (as we all do) and that's the day when I get more tired. Instead, at the point of the timer going off, I can give my brain and body a break. I lie on the floor (yes, on the floor) and have two books to rest my head in a semi-supine position. Look it up.
It sounds totally bizarre that taking time off gets you to achieve more, but that's precisely the crux of higher productivity
The more you work, the longer stretches you work for, the less productive you're likely to be. And of course, the more tired you'll get. If you're younger, you may brush this off, because you seem to have boundless energy, but in tests, young tennis players were matched against each other, and the top players were always the ones who recovered better. The recovery period forms the core—if that were not obvious by now already.
And it helps in switching tasks as well.
My day starts with high intensity. I will either be writing a book, or be answering questions on a course, or in 5000bc. A lot of these activities involve not just reading, but analysis and giving precise direction. It's mentally draining and after 90 minutes or so (with rest periods in between), I'll go for a walk. That's a longer break. When I get back, I will make breakfast and watch some comedy on YouTube (while cooking up some yummy dosas).
Then it's time to paint for a while. That's all high to break, and now it's time to get back to low intensity, which would involve something like e-mail or something that doesn't require a tonne of resources. The day moves on from there to writing scripts for the podcast and answering 5000bc posts, before it's time for lunch and another break. The day is filled with breaks, high and low-intensity tasks, which enable me to write, draw, and do many other tasks like recording podcasts or doing interviews, etc.
To be productive pay attention to the formula and do the semi-supine.
If you don't have a great floor, get a yoga mat and relax on the ground. The more you fight your brain and body the harder it is to switch. It also doesn't allow you to reach your highest productivity level.
And that, in a nutshell, is how to go about your day.
Next Step: Read—How High and Low Tasks Apply To Projects (How To Be Productive And Not Burn Out)
---
Next Steps
If you enjoyed this episode, please share it using the social media buttons you see at the bottom of the post. Or click here to tell your friends.
If you've been a subscriber, then you know that you automatically get the downloads on your phone or on your computer if you subscribe to iTunes. If you don't have iTunes you can get this podcast via email, RSS or Stitcher. Click on any of the links below. The best button is the Website button, because you get goodies too (goodies found nowhere else).
View in iTunes   |  Android   |  Website   | RSS
---
Oh and before I go—Can I ask you a small favour?
Would you be kind enough to leave a review. Your review, rating (and subscription) are most appreciated. They help the rating of the show and I read every single review. And if  you have any feedback, you also want to write to me at sean@psychotactics.com. Anything you'd like to see or listen to anything you don't like, just write to me at sean@psychotactics.com. I actually implement the feedback.
You can do this from your phone or your computer. Here's a graphic, if you need any help.
---