---

As I sat down to write a sales page for a course, I wasn't stuck.
However, my progress was so slow that it was driving me crazy. A sales page consists of well over a dozen elements.
However, to get started, it's important to get two core sections right.
The first section to work on is: What you want to cover.
The second section is: what are clients looking for?
And as always, you need to start with me, me, me. Hence I started with the first section and here's my story.
Right click below to save this episode.
Re-release: How A Simple "Five Point Questionnaire" Helped Me Write My Sales Page (And Saved Me A Ton Of Time As Well)
Original: How A Simple "Five Point Questionnaire" Helped Me Write My Sales Page
---
The first section of any product/service depends on what you want to cover
In this particular case, I was developing a new version of the storytelling course. And whenever you're trying to create something new, there's a moment when you think you can easily achieve your goal. This moment is followed quite quickly by hours and days staring a blank screen.
To avoid this blank screen syndrome, I gave myself a thrifty thirty minutes each day
Whatever I could think of in that half hour, was enough to get a greater sense of clarity of what I wanted to cover (and more importantly, what to leave out). This part of the thought process is important when writing a sales page, because a sales page usually starts not with the headline and biggest problem. Instead, the core of the sales page are the features.
What are the features of the product you're selling?
What are the features of the course you're conducting?
What features dominate the service you're about to offer?
Writing down about 50-60 features is a great way to get going.
Yes, you can write just ten or fifteen features, but pushing yourself to a goal of about 60 features means that if you get to the halfway mark of just thirty features, you've got a lot of information that you can use for your sales page.
The problem I was having was that I was clear by this point what I wanted to cover. Yet, it would be nice if there was a way to find out what the clients were thinking as well. Instead of plodding through the sales page thirty minutes at a time, would it be possible to speed things up? The way I went about it was to send a simple questionnaire. It asked just two questions:
1) What are the 5 biggest obstacles you have with storytelling?
2) Which is the biggest obstacle of them all (and why)?
And to avoid procrastination, the clients were given a deadline to send in their answers.
In about 24 hours, there were dozens of e-mails pouring in. Within about 48 hours of getting their answers, I was able to finish off my sales page. And you can see why, can't you? When the clients wrote in, they told me what they were looking for and the problems they were facing.
I was then able to check whether the course would solve their problems. If it did, I was able to get a bunch of lines, thoughts and emotions from the clients—and in their own words and terminology.
More importantly, I didn't have to plod through a week of thirty minute brainstorming episodes. I had a mountain of points, fears and frustrations from the clients themselves.
This exercise wasn't something I'd done before. And I think it was effective for several reasons. Let's look at the reasons one by one, shall we?
---
Reason 1: It gets you a lot of bullets.
When I write a sales page, I will describe what I'm covering in the course. Let's say the course has three separate stages, then I will describe (almost like a syllabus) what we'll be doing in every one of those stages.
Hence, the storytelling stages would look like this: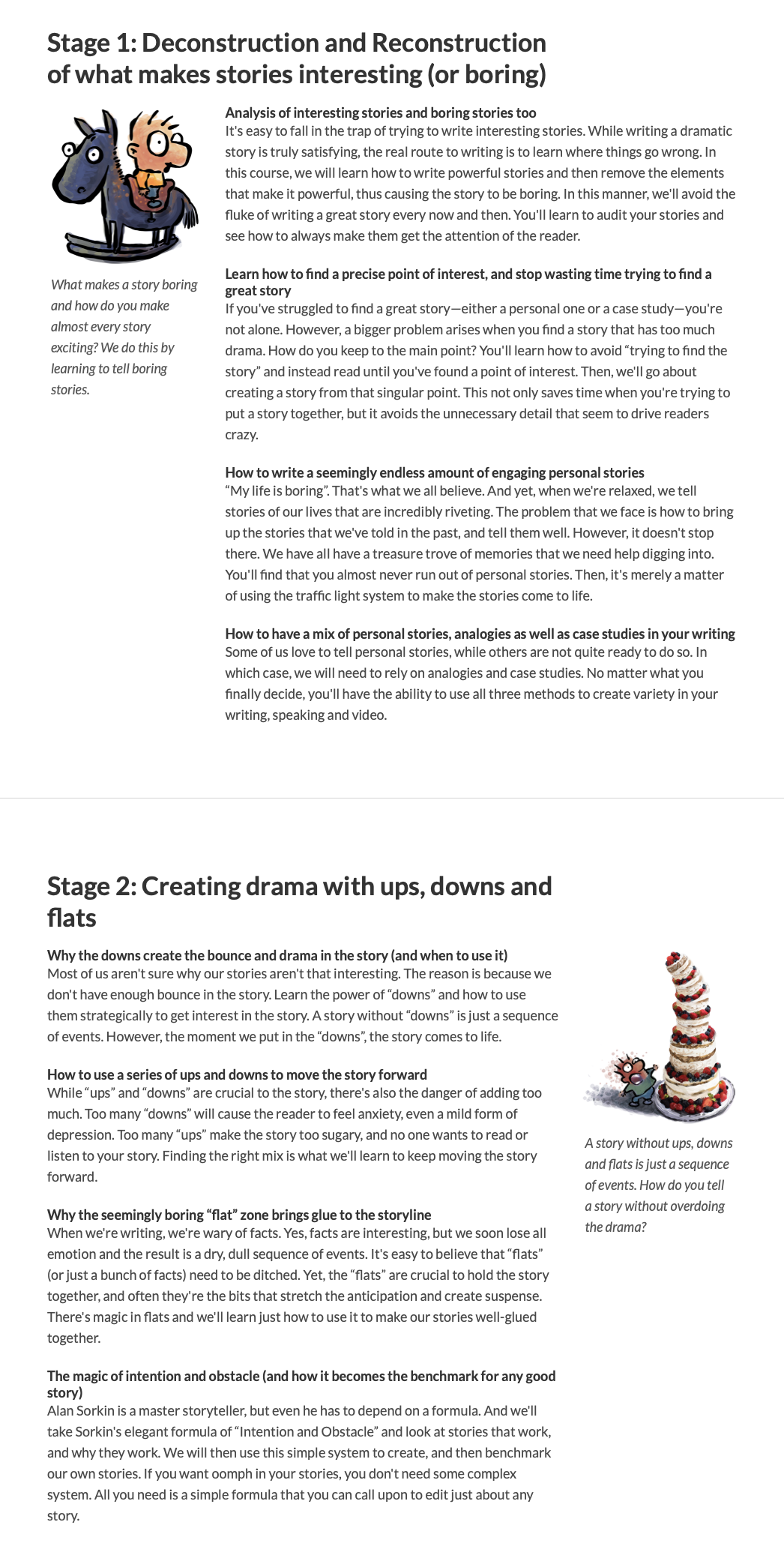 Once I'm done with the stages, I still need to write the bullets. That's when the e-mail questionnaire sped up the process. The clients generated a reasonable list of what they saw as obstacles. I could easily check whether the course was covering what they wished to learn. And I was able to make a comprehensive list of bullets.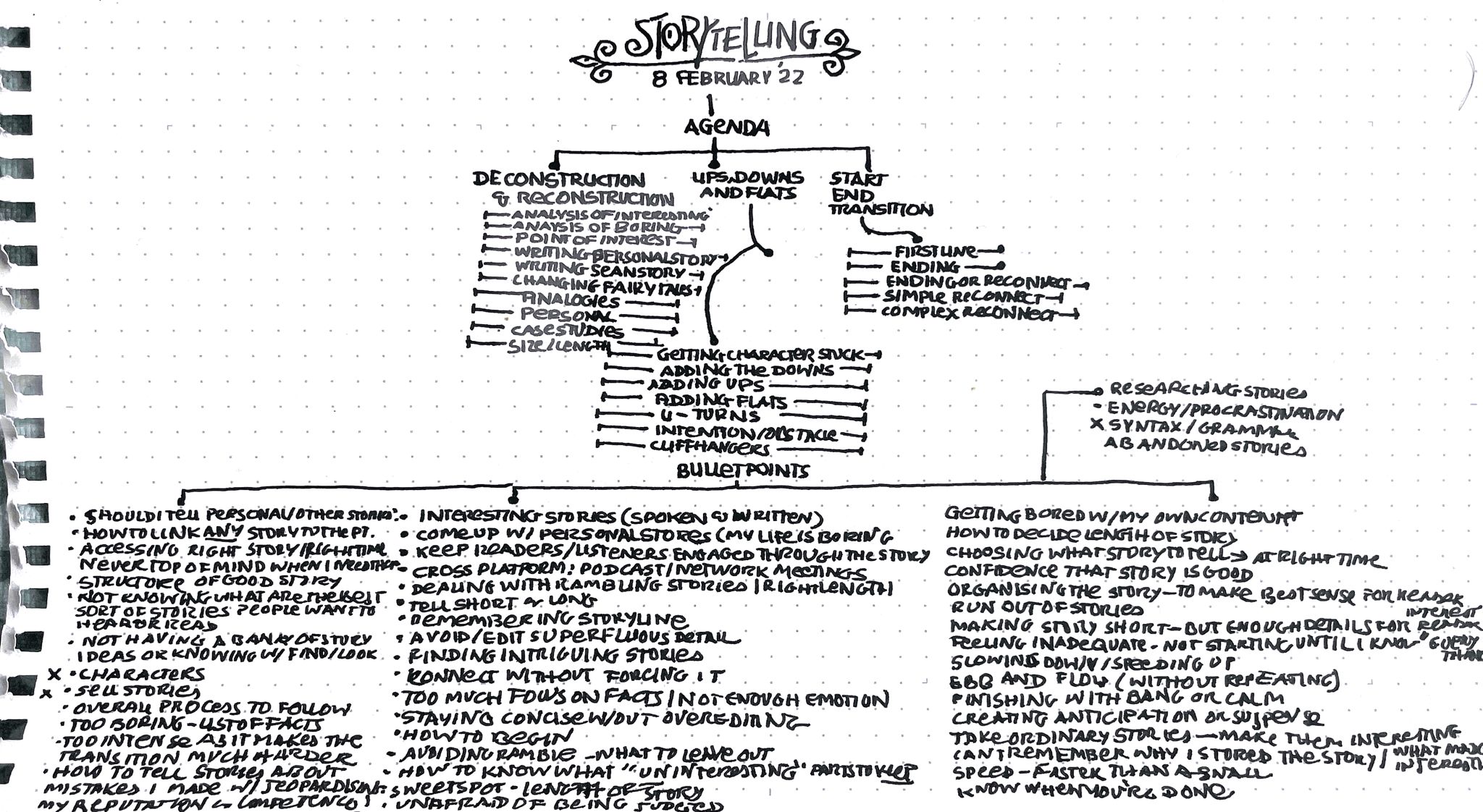 The first part is the what I want to cover. The second part is what the clients saw as their obstacles.
It's not terribly hard to figure out what a client would want
If you're creating a service or product, it's likely that you already know what a client would need. Yet, getting them in a stream of e-mails made my life a lot easier. All I needed to do was neatly compile them and put little cross marks near the points that were sent to us, but not something we were going to cover.
---
Reason 2: It highlights the main pain points
One of the biggest obstacles that showed up repeatedly was the concept of "boring". Clients weren't sure when their stories were boring. They couldn't tell when they were writing the story, if it was just interesting to them as writers, but boring to the audience.
At times, they felt their own stories that they were about to write, were boring because their own lives didn't have that much drama.
In short, "boring" became the recurring, most pervasive problem of all.
It gives you as a service or product creator, the big reason why clients are interested in your product or service. From a sales page point of view, it underlined what the clients were thinking. While you and I may already have this insight, it's almost incredibly satisfying when you see the same point popping up persistently.
You also get a clearer understanding of the other pain points.
It's important to note that there may be a situation where you have your agenda for the course/product/service. Just because there are other pain points that recur, doesn't necessarily mean that you go around reengineering your product/service.
Often enough, what clients express in their thoughts are what you are going to cover anyway. Even so, clients don't know what they don't know.
Hence, when you look at the agenda of the storytelling course, you'll notice something call "flats"
Every client wants to write a story with ups and downs. No one has mentioned that they would like to write a story with ups, downs and flats.
That's because the client doesn't necessarily know how you're approaching the material. You can't go around simply deleting the concept of "flats" just because the client hasn't mentioned it.
It's important to maintain this balance of what you know vs what the client is asking for or you'll end up with a product or service that is like a remote control with too many buttons. Nonetheless, having the main pain points is a great validation of the fact that you're headed in the right direction.
---
Reason 3: It reduces the burden of starting from zero
When I started writing this sales page, it was summer here in New Zealand. Everyone was out eating ice cream, drinking beer and lounging around at the beach.
Even under ideal conditions where you've done your homework and are ready to work, it can be hard starting from zero. However, when everyone is having a great time, it's even more frustrating to get going.
The e-mail solved that problem.
Even if five people answer, that's 5 x 5 or approximately twenty five points. Yes, there's a likelihood that there may be some overlap, but it's still grand to have points you can use without having to think of anything yourself.
There's also the very real factor that clients don't necessarily use the same words as you do, or even think of the problem in the very same way. To see the issues from their point of view is not only useful, but it also gets rid of the issue of starting from zero.
I'd rather be eating ice-cream and drinking beer 🙂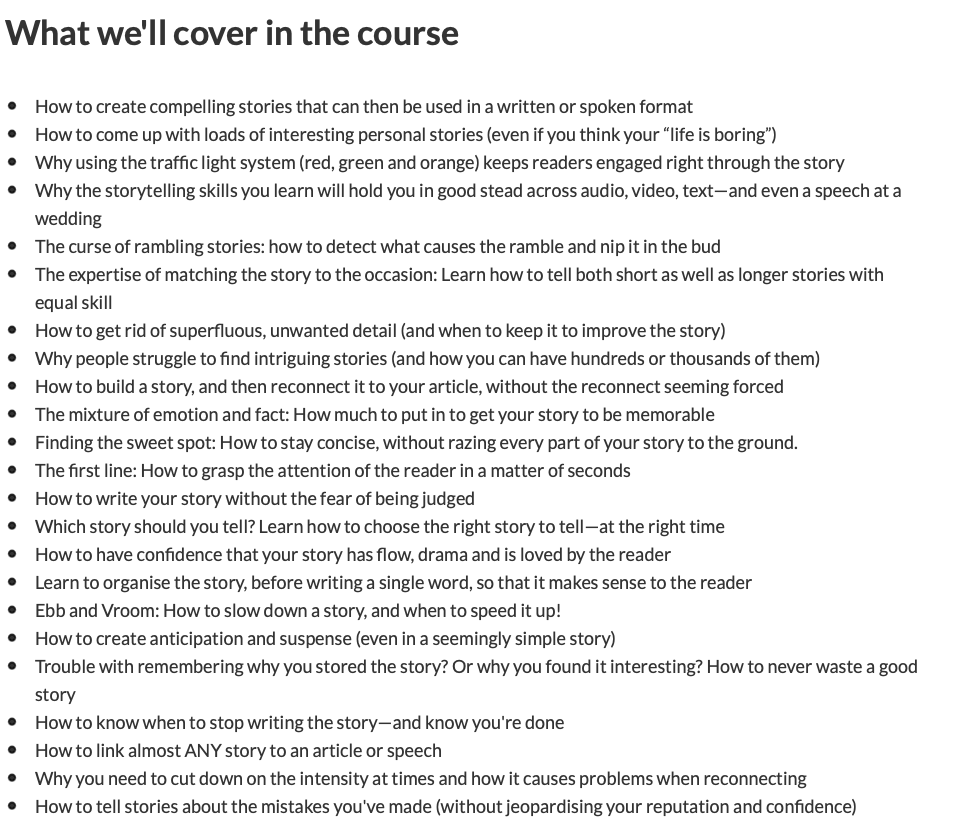 As you can see, I got fewer than 30 usable bullet points—and yet it's wonderful.
---
Reason 4: It's a form of pre-sell
Pre-sell needs a precise amount of diligence. You need to have a waiting list, put out announcements, excerpts and have goodies. It's a series of tasks that need to be worked out in detail. To suggest that just sending out a questionnaire would amount to pre-sell is selling pre-sell short.
Nonetheless, every little bit helps when you're selling a product or service
As useful as the questionnaire is to get your sales page going, it is also extremely useful to gauge interest in your product or service. If you already have a waiting list and clients actively respond, then there's a good chance they are interested.
If you don't have a waiting list and are asking for answers on social media, all you'll get are responses, and while they may be useful, they don't show any client interest. They are also unlikely to get you any sale, other than a fluke one.
The questionnaire is a rather obtuse and inexact way to pre-sell but it still does get the client to think about your product or service. And in that way, it's done a partial job, that may or may not result in a sale. Placing your hopes on a big response from questionnaires is not a good strategy. People respond or not, based on how they feel about you, or even about questionnaires from you.
For instance, I love Air New Zealand. I fly with them whenever I can. I completely avoid their questionnaires.
They are not only very badly designed, but I need a vacation after answering what might be close to a hundred answers. Which is to say I'm still a client, and will still convert, but I would never trust their questionnaires.
It still gets me to think of Air New Zealand, though. And in that way it's a reminder medium and doing a minor, yet important job.
Which in turn brings us to the end of this article.
And the fact that the questionnaire I sent to the waiting list was just my way of getting to know their obstacles better, while at the same time squeezing out whatever was left of summer. I'd suggest you try it as well, because you'll be pleasantly surprised at how effective a tool a short questionnaire can be.
I most certainly was!