---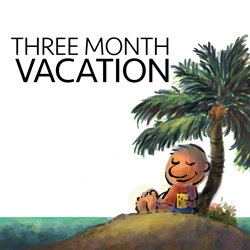 You've told yourself you shouldn't be a perfectionist.
Yet time and time again we head back to getting things done—perfectly. And in the process we get nothing done. I get into that trap a lot, and the only way out of the trap is to use a combination of three methods: external deadlines, internal deadlines and the "version system".
Interestingly, one of the most effective tools you have at your disposal is a timer. Find out how to use these methods—and yes—the timer.
---
---
When you think of the greatest killer in the ocean, what one thought comes to mind?
There is only one thought that comes to your mind and that is of the great white shark. Until quite recently, the great white shark was considered to be the ultimate predator. They grow up to a length of 15 feet and they weigh about 5,000 pounds, which is about 2,500 kilos. We consider the great white shark to be the ocean's ultimate predator.
But in fact, the ocean's ultimate predator is not a fish at all, it's a dolphin.
Well, it belongs to the dolphin family and it's called the orca. Orca are known as killer whales, but that's wrong because they're not whales at all. They belong to the dolphin family.
The reason why they're probably called killer whales is because at some point in time they were called whale killers, and somewhere along the line it got inverted and now they're called killer whales.
The greatest predator in the ocean, that's it: the orca, the whale killer. It's called a whale killer because they routinely gang up on whales, especially baby whales. Yes, that's breakfast, lunch and dinner sometimes. But no one had ever seen an orca attack a great white until it happened. |
Then in October of 1997 there was this whale watching tour.
They were out on a routine whale watching mission and they got this call that there was some activity. They rushed to the scene and what they saw had never been seen before. They saw an orca attacking a great white.
There they are, this whale watching tour, off the Farrallon Islands, which is just off San Francisco. There's complete quiet, complete silence in the water for about 15 minutes. No one knows what is happening. They know that the orca and the great white are out there but no one knows what is happening.
Then out bursts the orca with the great white between its teeth.
Now a great white, as fearsome as it is, is about half the size of an orca. It's about 15 feet, whereas an orca grows up to be about 32 feet. The weight is different as well: about 5,000 pounds for the great white and 22,000 pound for the orca. Still, they'd never seen an orca attack a great white before.
Why was it so quiet for 15 minutes? What kind of attack would involve quiet?
What they found out later was how the orca attacks. Sharks, as it appears, are only fearsome right side up. If you flip them over they go into a state of almost being unconscious. It's called a state of tonic immobility. What this orca did was it attacked the shark and flipped it over. For all those 15 minutes it held it in a state of tonic immobility.
Now a shark that is held in that position, it cannot breathe. After a while it just drowns. That's what the orca knew. Somehow they had figured out that if you held the shark in a state of tonic immobility, they would not move again. They would be stuck forever. This is how it feels like when we're trying to deal with perfection.
So many of us call ourselves perfectionists, but we're in this state of tonic immobility. We're struggling to get things done. How do we get out of this state of always wanting to do things perfectly? How do we get out of this state of tonic immobility?
As usual, we're going to cover three things and then you're going to get an action plan.
The external deadline
The concept of a timer
The understanding of how versions work.
Let's start off with the first one, which is the external deadline.
In October of 2014 I decided that I wanted to write a book on pricing. I put it down and got everyone to look at it and did a plan. Then November came along and then December came long, and then Jan and then Feb.
Then around the middle of February we sold it, as in pre-sold it. We did an offer. I didn't do a sales page, just did a trust the chef offer, which by the way, I picked up from restaurants, because I'm always eating.
We did a trust the chef without the sales page. That's when I started writing. Before that I was just playing perfectionist. I was sitting there trying to get the whole system together, doing mind map after mind map, writing notes, talking about all kinds of things but getting the job done.
The moment we had our sale and the moment the first person bought the product, the game was on. I couldn't afford to be a perfectionist anymore. We said we were going to release it on April the 13th. It needed to be ready on April the 13th. Now you might think that a lot of planning went into that date. No, it got plucked out of thin air. We just said it's going to take three or four weeks.
Let's go for it. That's how you pick an external deadline.
There is no precise something that you need to figure out. There is no alignment of planets before you can work out the exact external deadline.
I've wanted to do a bunch of stock cartoons, not the usual stock cartoons that you get but just lavish cartoons. More so in the pricing book because I've got better over the years, but in every single book that you get from Psychotactics there are 40, 50, maybe even 100 cartons.
They're very lavish, and I wanted to do a series of stock cartoons, maybe 100 or 200, that people could use in their marketing, in their books, on their covers.
I first had this idea back in 2010. We were in California and I wanted to do it.
I'm being the perfectionist. I've done all the planning.
I've done the sales page. I've interviewed the customers. Like a plane that's circling the airport, I go round and round and round and nothing gets done. How do I resolve this perfectionist issue?
To continue reading, download the transcript