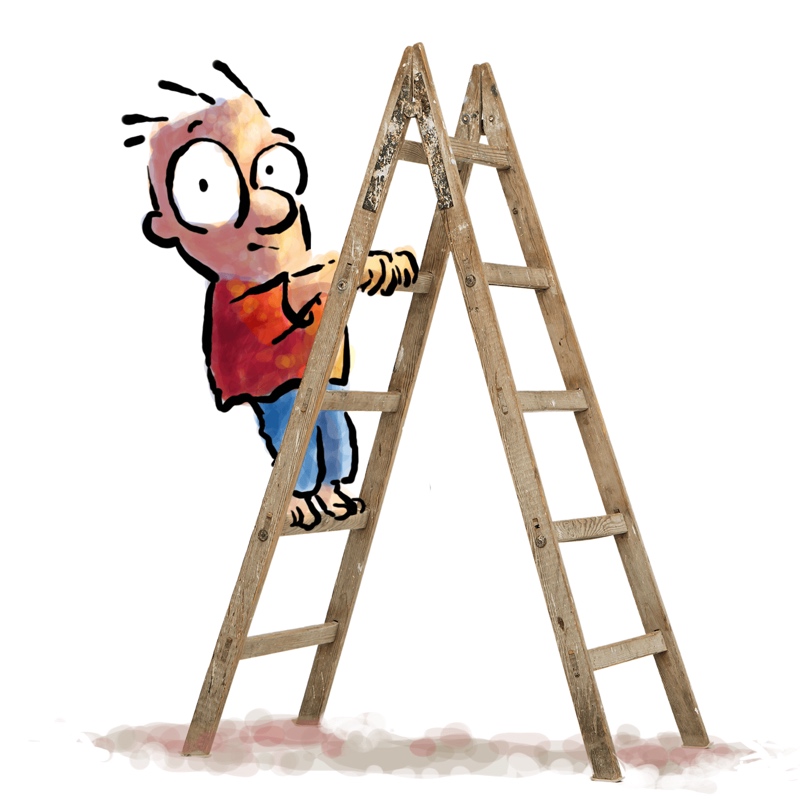 Dartboard Pricing
A series of three books that show you how to increase prices, use the yes-yes system and why sequential pricing matters
How do you systematically raise prices without losing customers?
Is it possible to raise prices and still keep customers? And how do you keep those prices going up, up and away—and still keep customers coming back?
---
We all undercharge!
No matter what our business, we've all undercharged for our products and services. And yet, at this very moment, there are others in our field that charge a lot more—for what seems to be a similar offering to ours.
We know we should increase prices, but we can't bring ourselves to take that leap because we're deathly afraid our customers will leave in droves. And so we charge a lot less for our products, workshops, services and courses.
I remember the first time we sold a copywriting course in 2006
I was reasonably happy with the price until I read the feedback from one of the participants. "You're charging too little," she said." I just did another course on a similar topic, and they're charging twice as much." I took the feedback but felt the terror of having to increase, let alone double my prices.
This is the dilemma we all face. We don't know how to increase our prices, even by a tiny bit.
So how do we strike the balance between running a profitable business without losing clients and sales? How do we stop trusting our mostly inaccurate "gut instinct" and work with a precise system instead? How do we raise prices solely based on client demand? And most importantly, how can we do this price increase step by step, instead of randomly increasing prices?
Introducing—Dartboard Pricing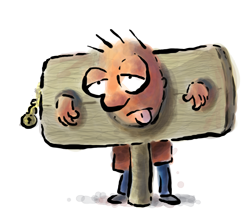 Dartboard Pricing provides you with a robust strategy for not only setting higher prices but also increasing prices on products that already exist. Dartboard Pricing comprises of three books focused on understanding the psychology of pricing, setting a higher price on products, and sequential selling strategy (this book is the coolest one of them all).
Using this strategy, you'll be able to set prices that let you focus more on clients without exhausting yourself.
No more running around like a headless chicken trying to work with every client. Instead, you get to work with fewer clients who pay you top dollar. This pricing strategy gives you time to relax, to upgrade your skills and yes, you feel a lot more respected with the prices you can charge.
In this three-part pricing series, you'll learn:
The three essential elements of a sales page that help you increase prices
How to use a fail-proof system to increase prices (this is incredibly fail-proof—and simple)
How to create sequential pricing models that cause clients to want to buy even more products and services in the future.
Presenting—Dartboard Pricing: How To Increase Prices (Without Losing Customers)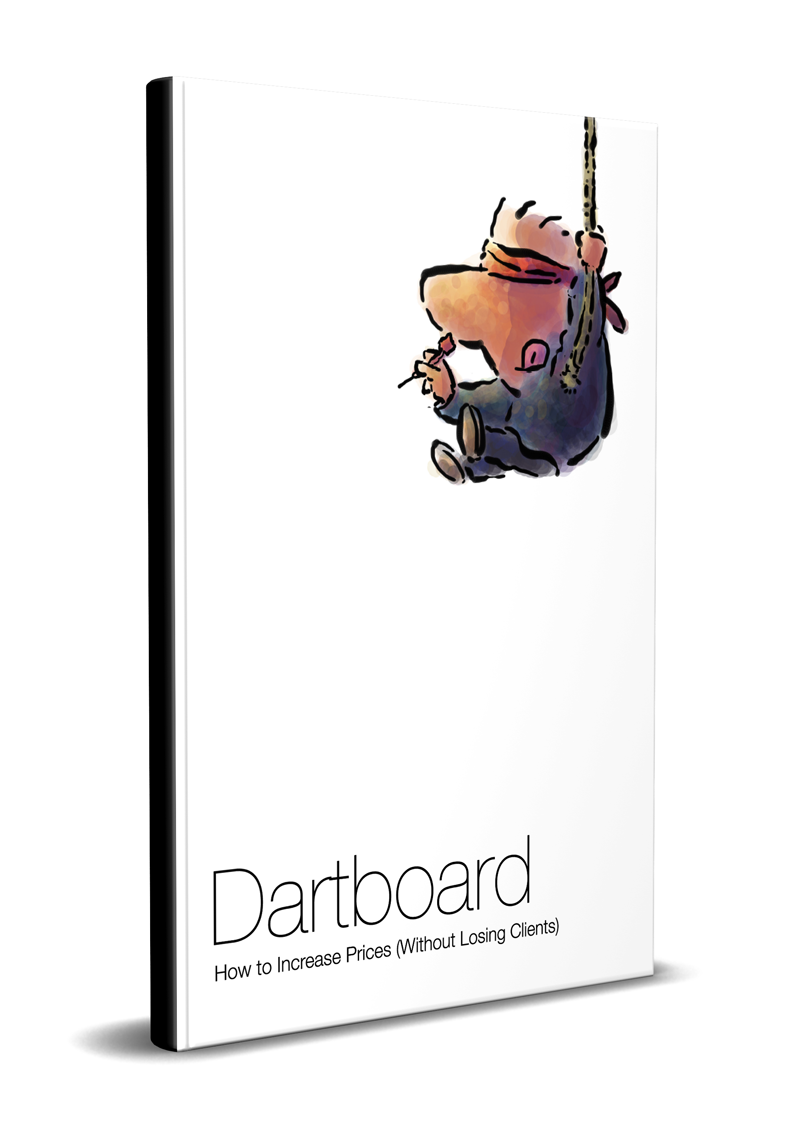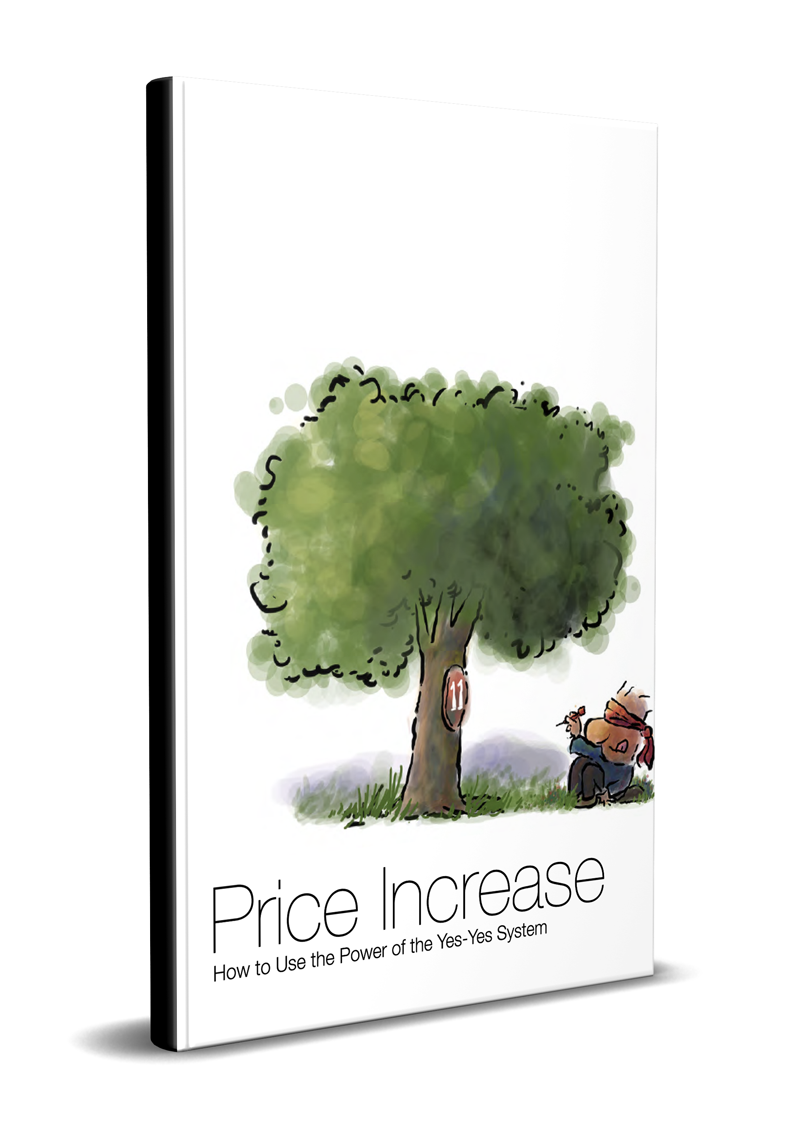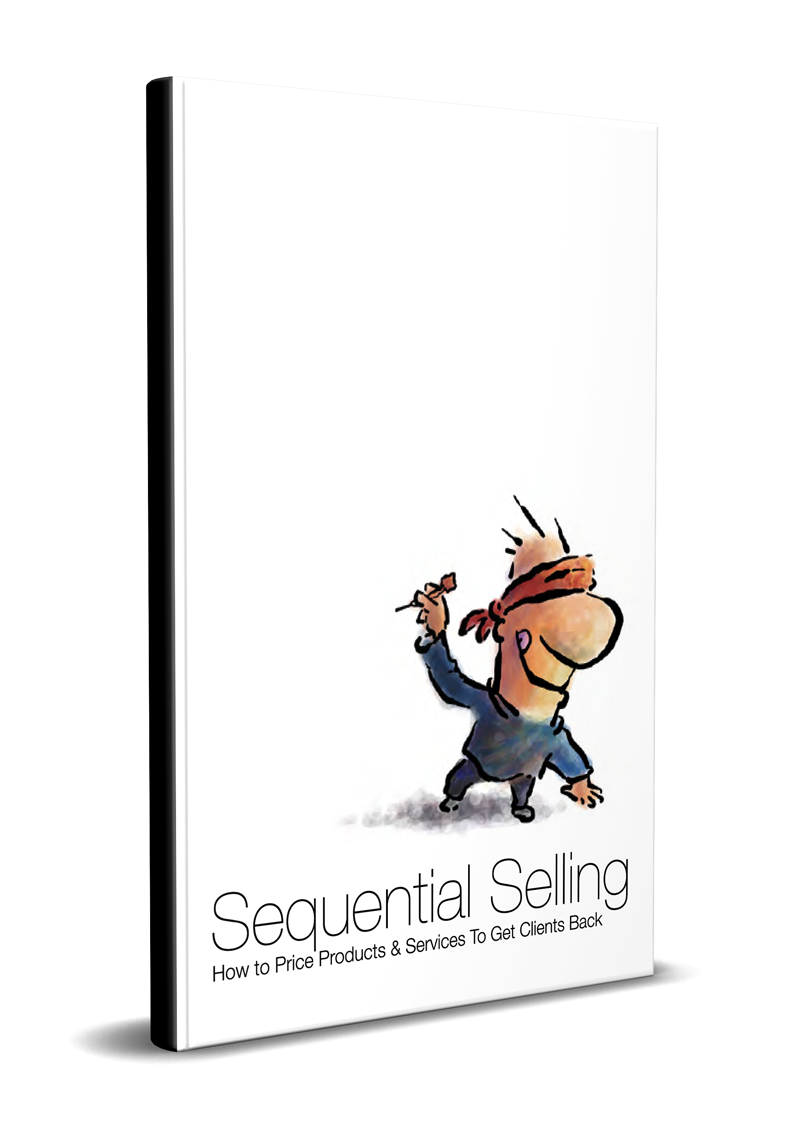 Under-pricing or discounting may seem like a good idea until it starts to have an effect on your work. Suddenly, you have less time than ever before and life—and work becomes a chore. So how do you increase prices without clients leaving in hordes—or leaving at all?
Book 1: The Psychology of Pricing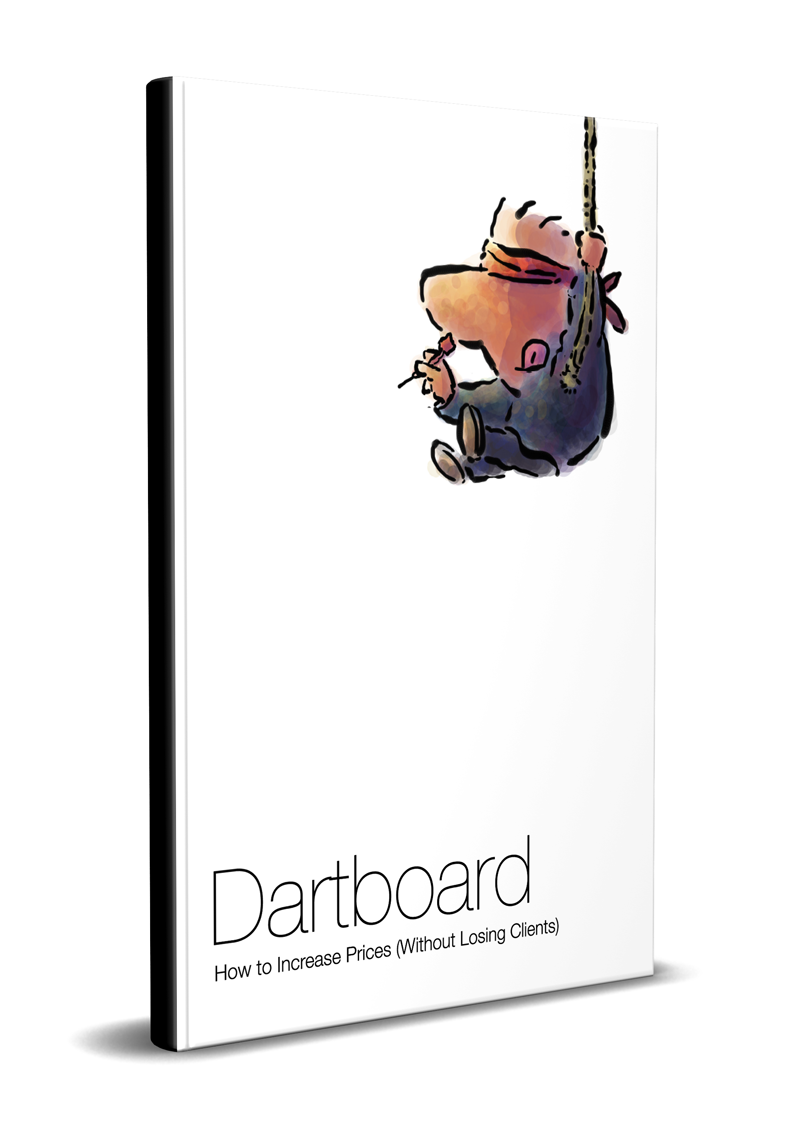 A Systematic Method To Increase Prices (Without Losing Clients)
In this book, we're going to take a journey into the psychology of pricing, and then learn how to use a system to increase prices. We finally look at three core strategies that not only help the client buy more but stay with you longer—and at higher prices.
In this 52-page book you will learn:
The case for increasing prices and why cheaper prices drive clients away in the long run.
Will this pricing model for me? (How the strategy works for products, services or courses).
The power of the Dartboard experiment—and how to price a new product or service.
The "three gorillas" that most people miss—and why it's so hard to increase prices without these "three gorillas" in place.
But is there a system that you can just "cut and paste"? Why yes, there is, and it's called the Yes-Yes System.
Book 2: Increasing Prices
How to Use the Power of the Yes-Yes System
Have you noticed how you buy a product or service? In most cases, you look at what's being offered and then look around for a better price, or at least better value. This behaviour means you're not just considering one brand, but also working out what that brand's competition is offering. The Yes-Yes gets rid of the competition once and for all.
Instead of your client comparing between you and the competition, they compare two prices: your regular price and the premium price. The client no longer heads away but is fixated on getting the premium offer. But what causes the client to behave in this seemingly irrational behaviour?
Why do they completely ignore the competition? Aha, you're just about to discover the power of the Yes-Yes system.
In this 49-page book you will learn:
Why you should provide only two buying choices for your product (never more!)
Why 98% of clients pick the higher priced product or service (even when offered a lower price).
Why the bonus is more important than the product or service itself (This logic makes no sense, but it works).
Why you need to "copy" the price grid (and how any unwanted creativity will get clients to go elsewhere). This grid has been tested to perfection and in companies all over the world. It's perfect—there's no need to tweak it and really, you shouldn't.
Which takes us to Book 3.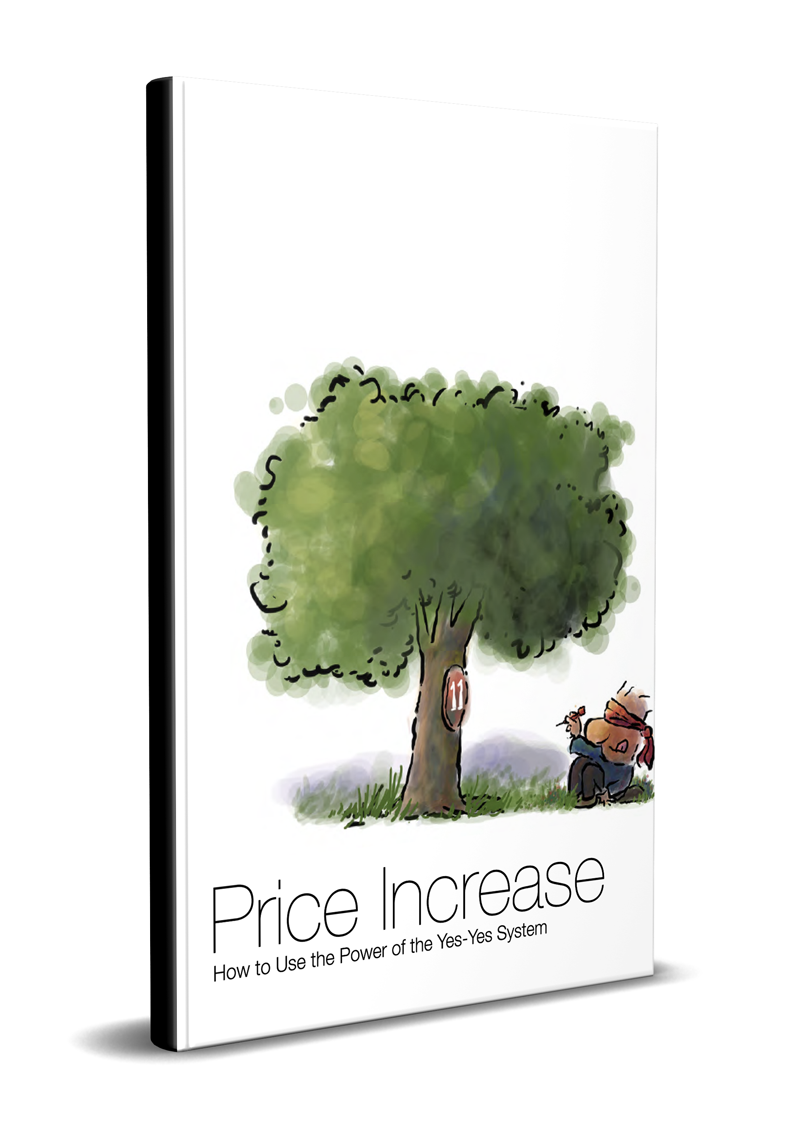 Book 3: Sequential Pricing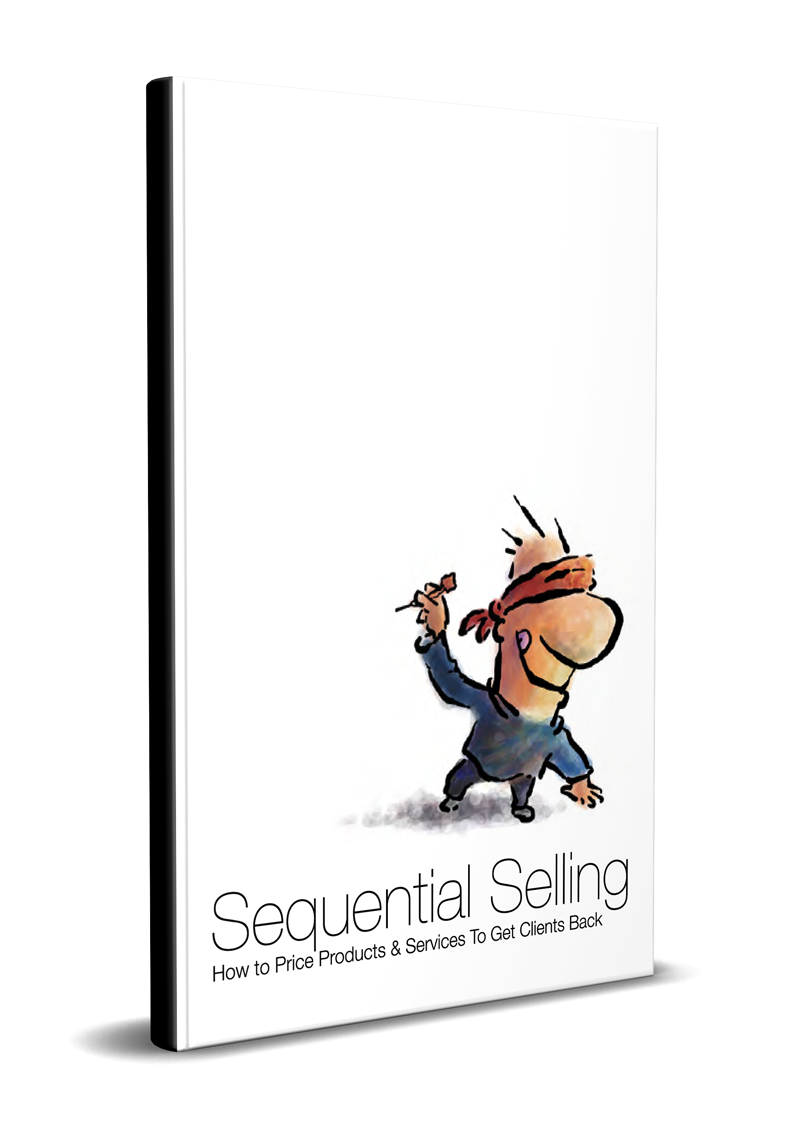 The Magic of Sequences (And Why They Transform A Business)
When a customer comes to your sales page, they're faced with a range of products or services. How is the customer supposed to know where to start? The answer lies in Karate. If you're a white belt, what comes next? If you're a yellow belt, what comes next? Life is full of examples of sequences, where we know where we are, and where to go next.
But what if you have a ton of existing product or services? How do you string seemingly unrelated products and services together? Or let's say you're just starting out; how do you design a sequence that clients will follow (just like a karate sequence)?
That's the magic of Sequential Pricing—which by the way, is the coolest book in this series.
In this in this 44-page book you will learn
How to create amazingly powerful sequences with your products/services (clients actually follow this sequence).
How to take clients from small products/services to higher prices—and then back down again (just like going from starters to mains—and back to dessert)
Why you should avoid discounting completely—and what to do instead.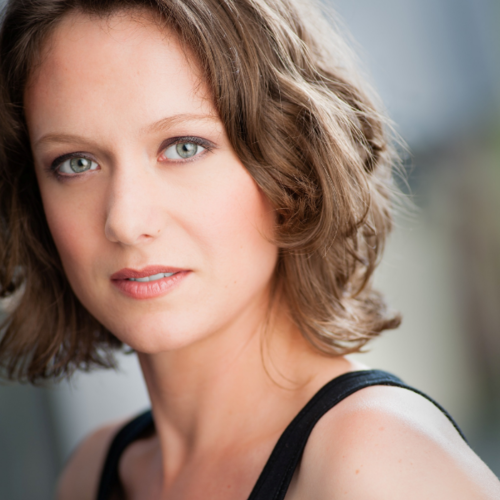 Colette Nichol
Writer/Producer
Vancouver, Canada
"The feature I most enjoyed about Dartboard Pricing was the table that shows you exactly how to price things so that they sell. It's kind of genius."
I have a very high success rate when it comes to sales but I'm interested in increasing my prices over the next two years, rather substantially.
I purchased Dartboard Pricing as I was certain that it would provide useful info about how to actually go about doing that without experiencing excessive customer friction.
Dartboard Pricing confirmed some practices that I was already using – showing me why it was working and how to make it work even better. It also gave me an easy to use framework for selling any course or product that I create. I feel confident now that when I create my first online course I will be able to price it in a way that communicates the value of what my clients will be receiving.
Most small biz owners I know have all sorts of issues with pricing – this should take away some of those issues if not all of them.
There's basically no good reason not to buy Dartboard Pricing. It's hands down the best $50 I've spent this year.
What's Inside?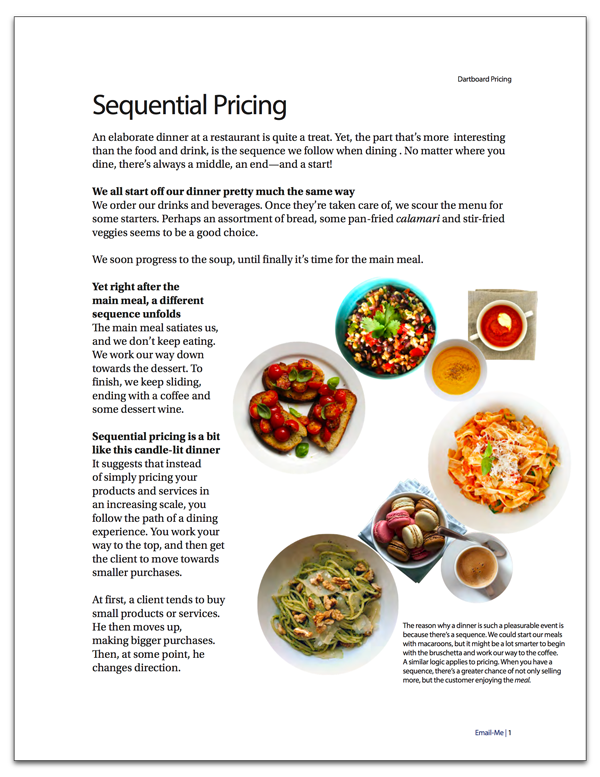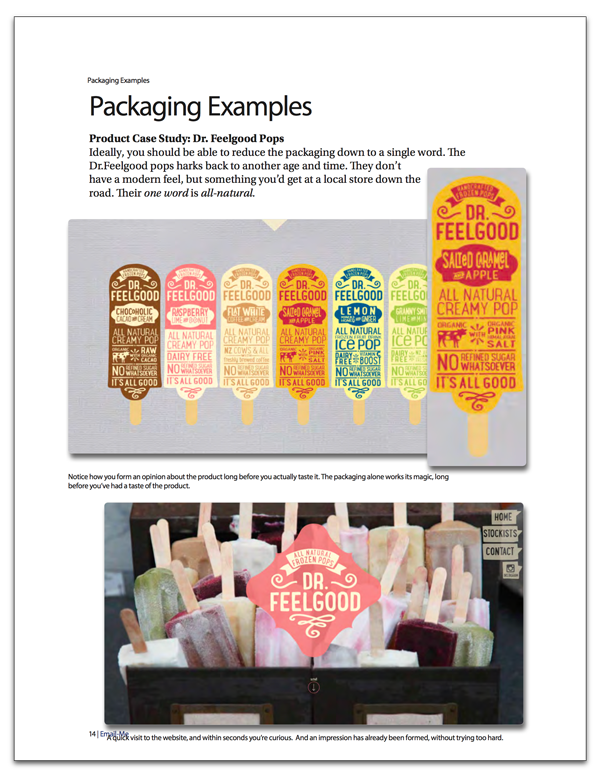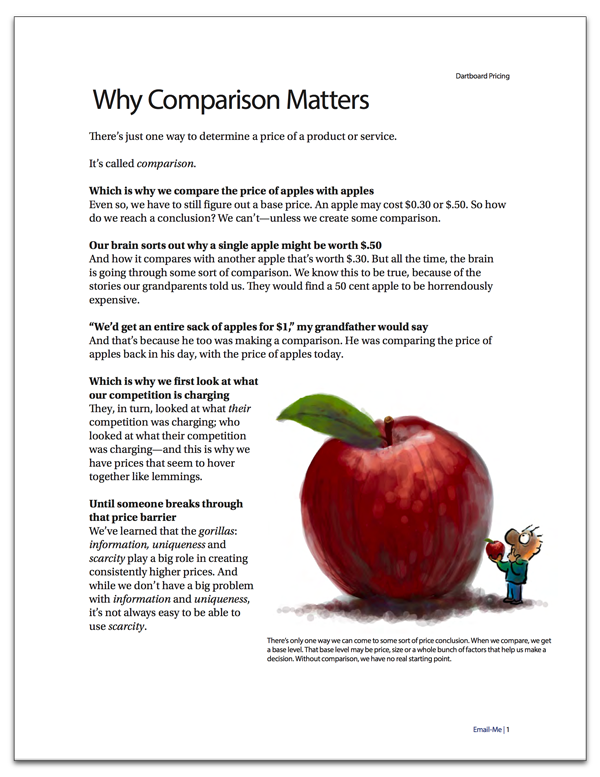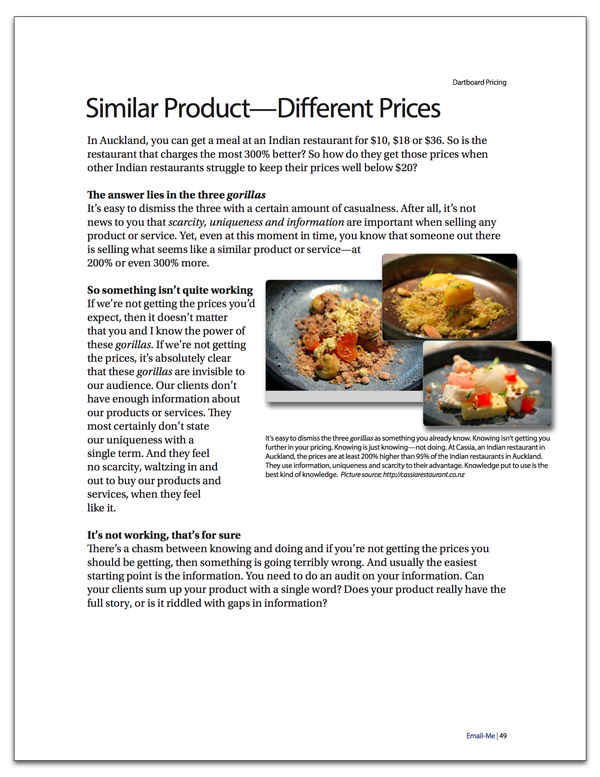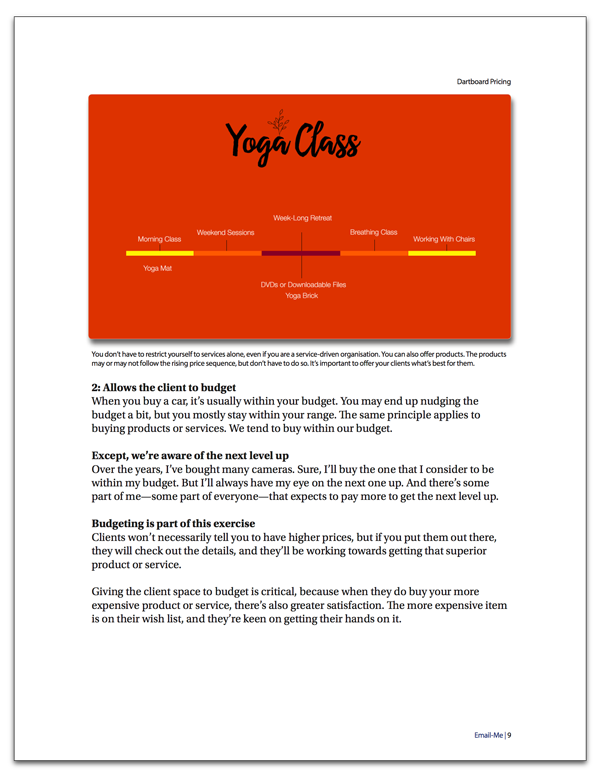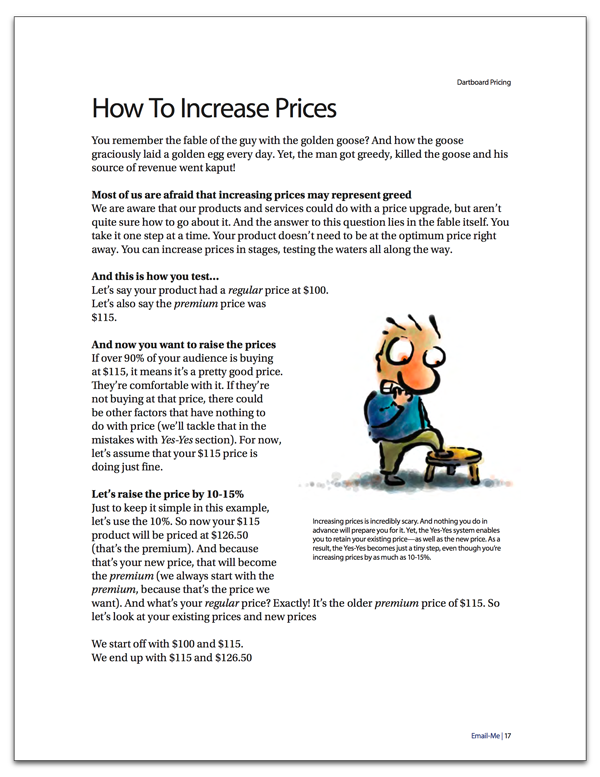 Most books are dull because they don't use graphics, cartoons and captions. The use of the above elements make the reading of the books a very pleasurable experience. Sprinkled within the chapters are lots of examples, so you can get ideas for your own business. Plus there are always detailed summaries that gives you a bird's eye view of every chapter.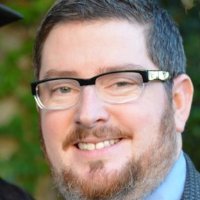 Christopher Cook,
WA, United States
I'm sure I'm not the only one wonders if I have the pricing right and if I'm optimizing my pricing strategy to get the most out of my business.
I thought I had a good handle on pricing before buying "Dartboard Pricing" and I didn't think this topic was one of my weak areas.
No matter how good the book was, would it be of value to me?
Psychotactics has helped me sort out thorny business problems in the past so I pretty much bought it sight unseen and I'm glad I did. Dartboard Pricing made me think about pricing in new ways that I hadn't previously considered.
I would call Dartboard Pricing a classic example of a Psychotactics product.
It's well thought out, chock full of value, and covers more ground than you would expect from the title.
I bought Dartboard Pricing without doing ANY research on it and was surprised to learn that it has not one, but THREE sections on pricing.
Of the three-part series (a method to increase prices, the yes-yes system, and sequential pricing) I'm hard pressed to choose a favorite. The first two parts of the series make me think about individual product pricing while that last part makes me step back and consider overall strategy. I found the overall strategy piece essential for pulling me out of the weeds and looking at my overall pricing strategy.
Super good stuff!
I'm sure I'm not the only one wonders if I have the pricing right and if I'm optimizing my pricing strategy to get the most out of my business.
In my opinion, the pricing question is a conundrum that's at the core of any business. Dartboard pricing tackles the pricing issue in a way that clarifies the issues around pricing and provides a path forward that completely negates the "discount" mentality that keeps so many businesses from thriving.
Any book on pricing has got to be boring, right?
Wrong! In true Psychotactics fashion, a typically dry topic is full and juicy with insights, stories, examples and analogies. Dartboard Pricing was fun for me to read and helped bring order to my jumbled preconceptions around pricing strategy.
Reading "Dartboard Pricing" felt more like having an interesting conversation than reading a report.
I would absolutely recommend this product to anyone who needs to price a product and consider their overall pricing strategy to get the most out of their business.
It will help anyone consider their pricing strategy and improve their business. Don't discount your products or services out of existence, read Dartboard Pricing!
What's Unique About This Book?
This isn't some froo-froo theoretical model.
You can read dozens of books and go to courses and all you'll end up with is—well, more froo-froo. What this series does is gives you the overview of how to go about pricing, and then gets to the brass tacks. You can literally copy the model (and you should) and have it up on your website, in your presentation or brochures. Or, it's froo-froo time!
But don't take my word for it.
Check it out for yourself. Take your time to go through the e-books. And after 30 days, if you feel that these books are not what you expected, you can use the 'Super Smiley Guarantee'. We will refund your money in full without asking any questions—and with a smile. Just send us an email, and we will be happy to refund your money immediately.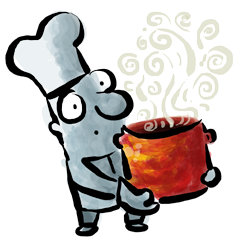 Special "Premium" Bonus: How finding your 'Target Profile' helps with your pricing strategy
Learn how the target profile interview helps you get to your uniqueness which is critical to higher prices.
Why you've been wasting time trying to write sales messages, and how the target profile interview almost writes the sales page for you.
How to glean powerful information from the target profile interview that enables you to understand what the client really wants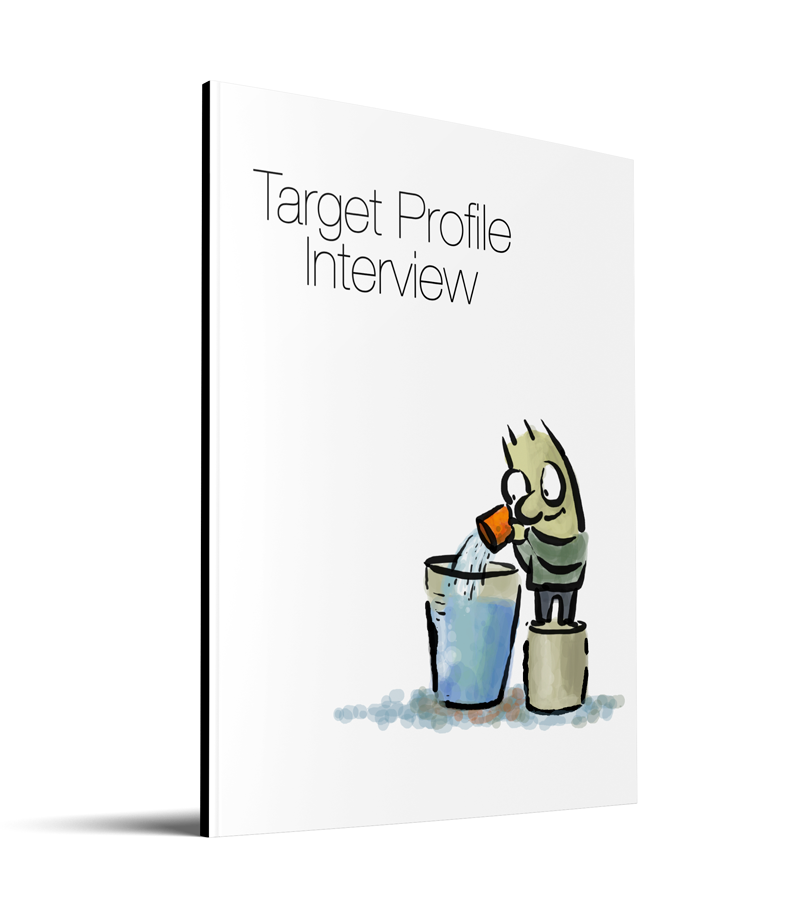 Here's what you'll receive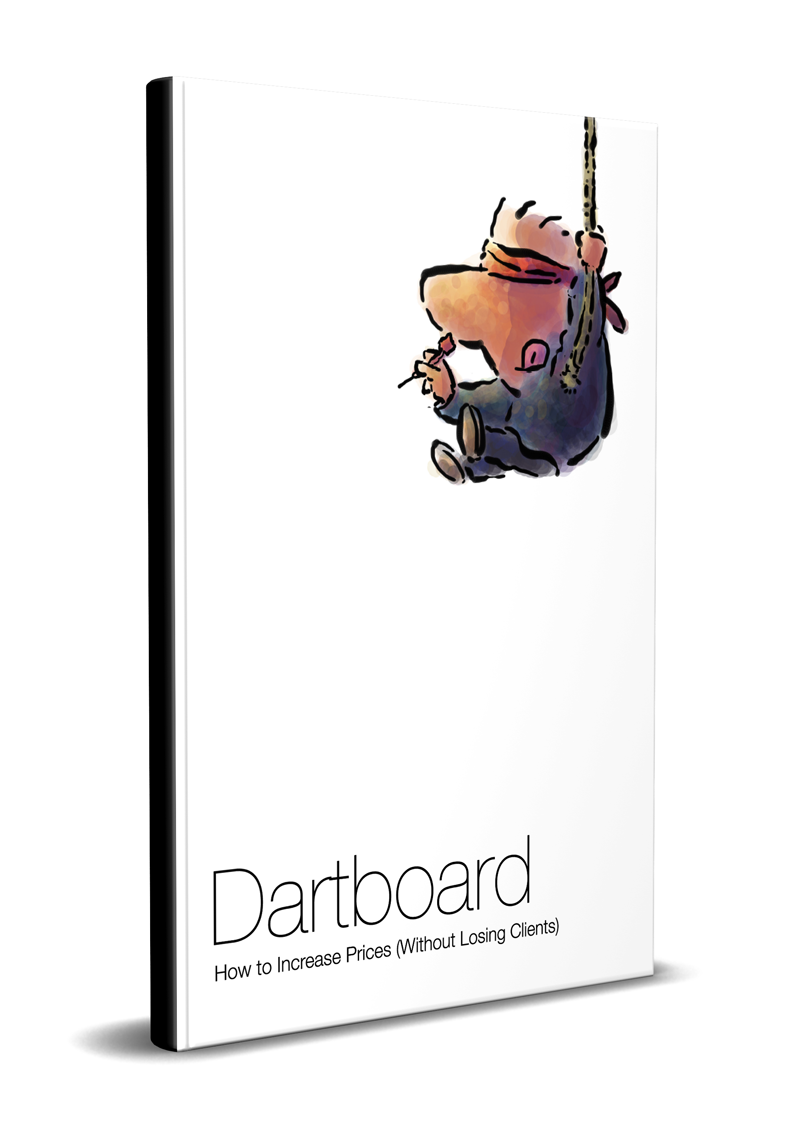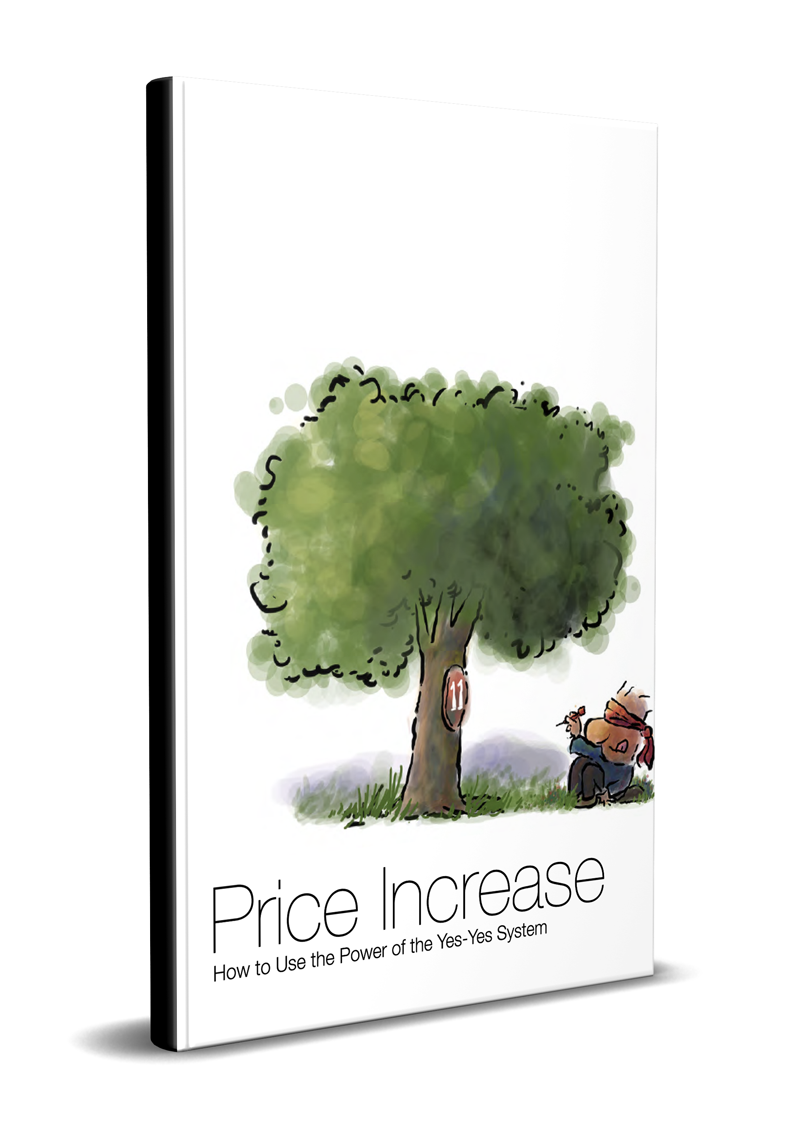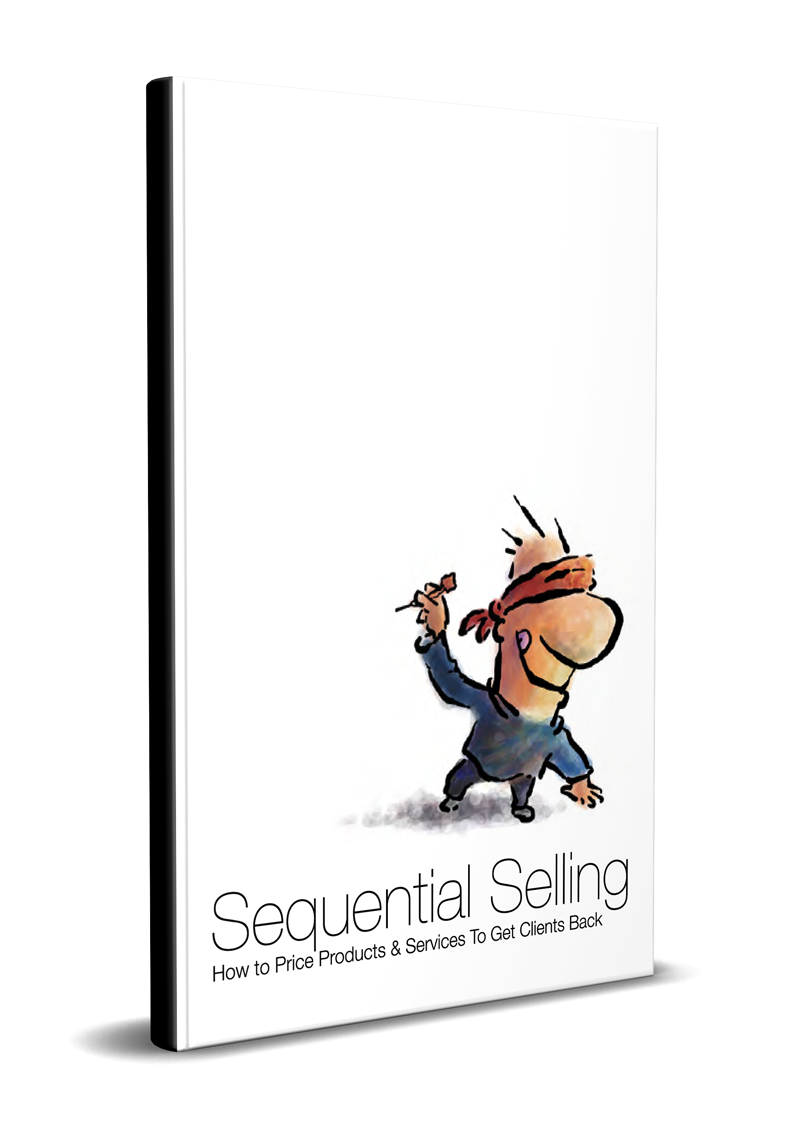 Please note: These are digital products. In effect you get e-books (PDF) and an audio file. The images above are just a representation.
The Dartboard Pricing Series
Regular
Premium
Book 1: Dartboard Pricing—A Systematic Method To Increase Prices (Without Losing Clients)
(PDF valued at $39)
Book 2: Increasing Prices—How to Use the Power of the Yes-Yes System
(PDF valued at $39)
Book 3: Sequential Pricing—The Magic of Sequences (And Why They Transform A Business)
(PDF valued at $39)
BONUS
How finding your 'Target Profile' helps with your pricing strategy
(PDF and audio mp3 valued at $49)
Special Price
US$ 47.95
US$ 49.95
Pay safely with any of these options
Pay with any Credit Card

Pay with Paypal
Important Details
If by any chance, you are not able to validate your card please don't tear your hair out in frustration. You can email Renuka and she will send you an ALTERNATE LINK to process your credit card. All payment systems are secure.
If you have any questions that have been unanswered, please email me directly and let me know how I can help. I'd be interested in getting your feedback. The feedback that you give me is strictly confidential. Don't forget to include your telephone number and a time to call you.
Important: What will happen once you click the button
—You will be taken to a page where you can fill out your credit card details.
—Once you pay you will be taken to a form.
—Once you fill the form, you will receive an email with more details.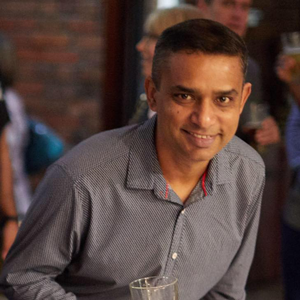 Sean D'Souza
Psychotactics