---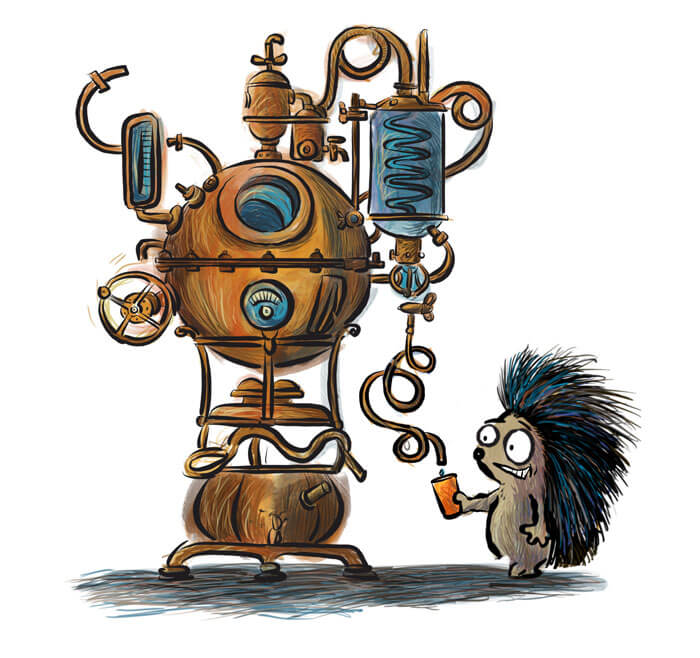 Building a website is a daunting marketing project
But even the casual listener is astounded to learn that the Psychotactics new marketing website took three years to complete. Of course, there's a story, so let's head off into storytelling land. Right click here and 'save as' to download this episode to your computer.
---
Back when I was in university, my friend, Shelly Brown sent me a recording of a rap band called Run DMC
I listened to the music patiently, then decided rap had no future. As you can see, I'm a lot worse than most people at predicting the future. Even back in 2008, I had friends in the industry, who were talking about mobile as being the next big thing.
But there we were in the middle of 2015 with no intention of creating a mobile-friendly site. I figured mobile had no future, so why bother with a new website when the existing website was doing just fine?
However, what prompted me into action was a little chat with a client
This client was into some sort of search engine optimisation, and he suggested it would be a good idea to create a new site as well. While we'd designed all the earlier sites, I was clearly out of depth when it came to mobile, which is why I left the entire task of design to the client.
The design he produced was so horrific, so hard to describe, that there was no choice but to abandon the project. But now we'd been bitten by the redesign bug. And so, on July 27, 2015, the first website sketch was done. It would be another three years and ten days before the website went live.
Planning is priceless but plans are useless
I don't think we'd ever decided a fixed date for the release of the website, but shortly after a burst of initial designs, we ran into a whole bunch of barriers. The first was the Headlines Course, that started up in August.
In 2015, I decided to add headline trainers to the course as well, which complicated my life a bit. When the course was done, we got an unexpected invitation to go to Nashville.
There was no point in making such a long trip just to attend a seminar
Which is why we decided to have a workshop of our own on the topic of storytelling. This meant notes needed to be written, slides had to be created, zillions of cartoons needed to be drawn for those slides.
And yes, the website went into the first session of deep freeze as we conducted our workshops in Nashville and then Amsterdam. Which brought us right into 2016 and the promise of a renewed resolution to get the website going.
However, remember how I wasn't clued into mobile?
It had been over six months, but I was still working out how mobile designs worked differently from earlier websites. Which meant that the very pretty looking Photoshop designs looked gorgeous in the program, yet terrible on the site itself.
Plus we were so much in love with our sidebars that we wanted them on the new website as well until we saw how messy it all looked on mobile. While I was spending inordinate amounts of time on websites like Squarespace, March came along, which brought about the biggest challenge of 2016.
As you're probably aware, we tend to treat our courses like software
Every now and then we'll do a major update even if a course is selling extremely well. I'd grown tired of the Article Writing Course and Version 1.0 had to somehow move to Version 2. In theory, this rewrite shouldn't have been a problem.
I'm pretty adept at writing, as well as at creating course material. But there's also a factor of laziness. If I can procrastinate, I will, and the only way to get going is to announce that we're rolling out Version 2.0.
The challenge was to write the course material while the course was in progress
We tend to send course material at least a month in advance, and clients got Version 1 of the audio and notes. While they were working their way through the new course, I moved everything around. And by everything, I really mean everything. Assignments that were in Week 8, were moved to Week 3.
Whole sections of the course were chipped away, while others were completely discarded. It may not sound like a lot, but every assignment takes over 3 hours to write because it includes complete step by step instructions as well as detailed examples.
Then to add to that workload was the notes and the re-recording of the audio series. All of this was happening while the course was in progress.
To say I was fried after all of this activity was putting it mildly
I remember a whole week of headaches. My sleep wasn't so good either, and my head felt like Neil Armstrong could take a walk on it. By the time we headed to India in July, on vacation, my blood pressure was up, and so was my cholesterol.
To talk about or think about the website was not much of an option, yet that's exactly what we did when we got back from our break.
And the website might have still been ready to go by end 2016, but we had two painful technical problems
One of those was our broadband connection. The broadband connection and other issues. If you drive around parts of Auckland, you're likely to see signs that say, "fibre connection coming in 2019".
And back in 2016, if there was one thing I wanted more than anything else, it was that fibre connection. All around us, everyone seemed to have broadband. Plus our home, it seemed, was the furthest away from the Phone junction. This meant that like a water pipe, everyone got their water, and we got just a tiny trickle.
It was so bad that it would take 4 to 5 minutes to upload 5 MB of data. And just as a matter of comparison, in order to upload the podcast I had to go to the café down the road and stand there for 10 to 12 minutes. If I was brave enough to upload a file from the office, it would take anywhere between 12 to 16 hours.
It wasn't until 8th August 2017 that we got a fibre connection
Suddenly we were 500% faster and we could actually get around to the website. That didn't mean that our work process improved dramatically. Because of some technical difficulties we had hosted the sandbox website on another server.
That server was extremely slow and it took ages to get any of the pages updated. When it's a single problem that you're dealing with, it doesn't seem much more than a bother, but these problems were cumulative. The software, the Internet connection, the server — they all piled upon each other to create a perfect headache.
Still, when you're faced with barriers there is no way but to go forward. Anyway, by August 2017 we had our modem, did a little modern dance and got on with the job of completing the website.
It was late in the year, and we were a bit exhausted
The membership site at 5000 BC had been upgraded and there were the usual pieces of the puzzle that didn't fit in. When all of that had subsided, it was time to head to Australia.
I had a speaking engagement in October, but we decided to take a couple of weeks off in Bryon Bay. That was October, and before we knew it December had rolled along and it was time for another New Year's resolution.
But it's really 2017 where things got going
However, we had this start, stop, start, stop for so long that any progress was frustrating. At times I just wanted to give up, but there was no way of going back. We had to go forward. Here's a note from as late as August 2017.
Part of the problem was my own doing
I didn't want the website to be a rehash of the earlier one. If we were going to create a new website, we needed a new look, and this included dozens of cartoons. But luck does play a role from time to time. Without putting much thought into it, I bought an iPad Pro.
I'd owned iPads before and they were mostly glorified book readers, but this one was different. The software, Procreate, combined with the Apple Pencil, allowed me to do a lot more sketching. Before the iPad Pro, I was chained to my computer and Photoshop.
But once I got the iPad Pro, I could go anywhere and draw. In fact, I would lie on the sofa and generate quite a few cartoons. It got to the point where I was creating about a dozen cartoons a week. This was a critical component of the new website and the new look.
To have all those fresh cartoons with a style that represented where we were in 2017 was pretty important. In the iPad, Pro played that role in getting me to draw at a furious pace.
It's August 2018 as I write this note
If you were to ask me what was the most challenging part of the website, I could cite the broadband, the server, the software—lots of little things. What took me by surprise, however, was the testimonials. Of all the elements on the website, the testimonials took the most time to put together.
A single testimonial would involve four different sections to be updated. Then there was the size of the photographs. The photos on the previous site were tiny, some weighing in as small as 8 KB. That would not do for the new site, but we had hundreds of testimonials and many of them need photos.
That's when my great Facebook and LinkedIn scavenger hunt began. I'd look for the clients first on Facebook, then if I couldn't find them, I'd go to LinkedIn. Some of the testimonials go back in time, so clients had updated their photos.
I couldn't tell if they were the same people, so I had to read through the bios just to make sure I wasn't putting the wrong photo alongside the name.
The only reason why the website got completed in 2018, was because there was no choice
We work for about 12 weeks and then we take a break. This means that any sort of project which is ongoing, like the website, gets put on hold. But not only does it get put on hold, but everything else takes priority. We have to queue the newsletters for when we are gone, and also the podcasts.
And then we have to queue a whole bunch of newsletters and podcasts for when we get back. However, looking at my calendar I knew that if we postponed it past August, it would never get done in 2018. This is because the article writing course was due to start in August, and that is extremely demanding.
After the course, I knew I had a speaking engagement in Australia, and then a vacation coming up. That would mean we would be tossed straight into 2019. It had to be launched before August rolled out.
However, all of this frenetic activity had taken its toll
I was pretty exhausted and so was Renuka. We decided to take a week off in Fiji even though the website was ready to go. The web developers, Audrey and Mangesh, from Stresslessweb.com were keen to get going in late July, but Renuka was adamant that the break came first.
That meant another ten days or so of waiting. But it was a good move. In Fiji, we did almost nothing. No swimming, or snorkelling—zero activity. It wasn't so much a vacation as a change of scene. We'd have breakfast and Renuka would head back to the room, check e-mail and fall asleep.
We'd have lunch and we would nap for another few hours. This was pretty much the routine for a week before getting back and setting the launch date for the 6th of August.
Even at that point, there were a few hiccoughs
I can't remember what we were waiting for, but the cartoon I drew seemed to reflect my mood. And then on the 7th of August 2018, at 10 am, New Zealand time, we were not quite live. There was a "site soon to be back again" sign on the website and we were told to do a sanity check.
But sanity was the last thing on our mind. Renuka wasn't in the mood to go through hundreds of pages, or even the most important pages. If things didn't work, we'd fix it later. An hour later, at 11:17 am, the site was live.
Three Years and about a month—that's what it took
And this is just Version 1. I'm still working on the pages I really want to do. But first, I need another vacation. Those changes will need to wait until next year.
Footnote: Now that the website is live, I have to thank the dozens of volunteers from 5000bc.com who have combed through several pages and Renuka's inbox is flooded with suggestions. Some of these suggestions are simple typos, but others reflect the sophisticated nature of our clientele.
It's going to take several months of work to get through all the suggestions, but that's what needs to be done. we are extremely grateful to all of those who volunteered in 5000bc.com, and especially grateful to Audrey and Mangesh, who put up with a lot of stop and start activity over the years.
Their business, StresslessWeb.com is really what kept our stress at bay. Without their technical expertise and without 5000bc, this task would have been infinitely harder and we'd still be working on the website.