---
Why you should read the report—'Why Headlines Fail?'
You should read it because in under 7 minutes you'll be able to go through a system that shows you 'how' and 'why' headlines fail. Most people think headlines are some mumbo-jumbo. In reality it's a science. And it's not hard either.
The report is only 10 pages so read it right away, as it will change the way you write headlines forever.
– It will show you how to write headlines that get results every time.
– Why you don't have to be a copywriter to write headlines.
– How to construct headlines, without making a complete mess of things.
Happy reading and thanks again!

Sean D'Souza
P.S. If you need any help, please don't hesitate to ask. It's better to ask a 'silly-question' than to get stuck for hours going round in circles.
---
Why Headlines fail? Download Details
To download the PDF file Right Click or Command Click (For Mac Users) on the link below (or simply right click on the red book cover).

Note: If you're confused, there are detailed instructions that show you how to go about the steps to download the file. You'll find the instructions below the graphic.
---
In Case You Haven't Downloaded Files Before…
Remember that this download is instant. If this download doesn't begin instantly, or if you have a problem, please send me an email right away. (Don't be like the customer who waited for a week!)
How to Download: 
Regarding audio files/notes/mindmaps etc…
To download all other files, go to the file you want to download, and right-click with your mouse. Then choose "Save Target As" in Internet Explorer. And "Save Link As" in Firefox.
When you click on the "Save Target As" or "Save Link As", you'll be asked where you want to save the files on your computer. You can choose to save it in a folder that you create and name as "Article Writing Course", or save to your computer desktop (this is not recommended as you'll soon have a very cluttered desktop) 🙂
Here's what you'll see when you right click: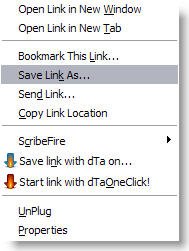 I'd recommend you store all the information in a safe place. However, if in future you lose the information, feel free to contact us and we'll do our best to help you.
Can't open the file?
If you can't open the attachment, it's probably because you don't have Adobe Acrobat or have a really old version. You can quite easily get it from this link or click on the graphic below.
It's free and doesn't take a long time to download.

---