---
It's one thing to be able to draw your cartoons—quite another to colour them.
The key to colouring isn't just using a paint bucket. Any kid can do that kind of colouring. Instead, you want to create amazing, rich colour.
That's where the amazing power of Photoshop comes into play.
But this amazing power of Photoshop—it's also what slows us down…
When you look at Photoshop, there are hundreds of things to learn. There are palettes, layers, brushes and stuff that can keep you busy all week long. The key to creating amazing colour is to know what to do, and how to achieve those results very quickly.
---
Presenting 'Learn How To Colour Using Photoshop': A 4-Week Course
In this course, you'll learn only the tools you need. And you'll these very tools will become second nature. In fact, if someone were to take away the entire tool bar in Photoshop, you'll be working with shortcuts and keyboard commands alone.
Think how freeing that is—to be able to use your entire monitor without having to keep searching for one tool after another. But more importantly, you learn how to use colour in a way that stands out from the rest of the folks out there.
So what progress can you expect?
When you first use Photoshop, you end up making cartoons quite flat. You can, of course, add shadows, but the images still don't pop. You want to create amazing images, and the technology exists.
But you still need a bit of a helping hand. And I should know—I've been there. See the images below, and how one is so much better than the other. It's still Photoshop, but you definitely want to create a superior image, without taking a lot of time.
(Yes, the image on the right is bigger, but you can clearly see the difference).
What this course is about…
This course is very precise in what it will achieve. By the end of four weeks, you will have covered all the topics below. And not only will you be far more efficient in Photoshop, but you'll use colours in a way that separates you from everyone else out there.
Week 1: Shortcuts and techniques to increase speed and efficiency.
Week 2: Contrast: Why colour is less important than contrast.
Week 3: Colour: Making your digital image look like watercolour
Week 4: Shadow: Using different lighting situations to quickly create atmosphere.You'll also learn how to save your files, create files etc. And yes, there's always the Ask Sean forum to get any ancillary questions answered.
---
Dates:
From 9th Feb-9th March 2015.
What you will need:
1- A Wacom Tablet (Medium size is what I'd recommend. 47.4 x 34 x 9.2 cm).
2- Photoshop (though you can rent it out from Adobe for as little as $9.99, or get a trial version for the duration of the course).
---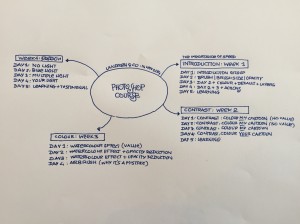 Click on the graphic to see a bigger version of the entire syllabus.
---
We'll take a small group—yes, we like small groups. So sign up quickly and be a part of this crazy adventure. I don't expect to be doing this course again, so if you're wondering, this is the first and last time (at least that's the way I'm thinking right now).
---
I am ready to sign up (This course is closed)
Photoshop 4-Week Course
US$599
Pay Safely With Any Of The Options Below
Important Usage: (What happens once you click the 'Buy Now' button) You will be taken to a page where you can fill in your credit card or cheque details. This will be verified instantly. You will then receive an email with all the information in 15 minutes.
Important Note
1) If by any chance, you are not able to validate your card please don't tear your hair out in frustration. Just email or call me (details are below). Yes, all payment systems are secure.
2) If you get directed to another page by chance, please don't panic. Computers take breaks sometimes. Send me an email, and I will sort it out.
3) Delay in delivery of product. You may experience a delay in getting your product if your credit card address and your physical address don't match. Or some other factor doesn't match, as it sets off a fraud alert. So to protect you from your card wrongly being used by someone else, the credit card company holds your order. Please email me directly and I will sort it out for you.
4) If you have any questions that have been unanswered, please email me directly and let me know how I can help. I'd be interested in getting your feedback. The feedback that you give me, is strictly confidential.
Goods and services provided by Psychotactics (PO Box 36461,Auckland, New Zealand). 2CheckOut.com Inc. (Ohio, USA) is an authorized retailer for goods and services provided by Psychotactics.