Are you sick and tired of Internet systems that force you to become a 'monster?'
(And how do you create a website that not only attracts more customers, but actually gets customers to keep coming back and spending larger sums of money each time?)
This course is closed. Have a look at the Website Strategy Home Study.
---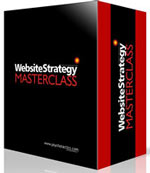 Most internet-training systems 'convince' you to do things that you think are yucky. They make you believe, the only way to get sales, is to use methods that border on 'sleazy behaviour.'
So is there a way to be ethical and still bring in growing amounts of revenue?
The answer lies at the North Pole. Year after year, a guy called Santa runs a thoroughly ethical business. And yet, year after year his business grows. Year after year, the number of clients increase. And Santa, as you well know, is jolly as ever.
That 'Ho, ho, ho' you hear is sound of happiness. It's the sound of how to run an Internet business without sacrificing your ethics. So can you actually run a business just like Santa? And is it possible to go 'Ho, ho, ho' as you go about your work too?
Presenting Website Strategy Pro
A Website strategy that is specifically designed for a tiny group of no more than six 'to-be Santas.' These 'to-be Santas' will not be newbies. They will not be given the basics of websites. They should already have websites, and should already be running a business online.
These candidates will not get the usual recycled junk that's available all over the Internet. Instead they'll be exposed to detailed website strategy that we run at Psychotactics. They'll see how we run our business with no affiliates, no joint ventures, no advertising either online or offline etc. If there's some sort of scheme that's being run online by the so-called gurus–well we don't do it.
Instead what you'll be exposed to is a very intricate sequential strategy
You'll get a chance to see the nitty-gritty details of how we turned Psychotactics from a two-person company, to a um, two-person company. And yet the revenues have gone from $20 to several hundred thousand dollars. And yet, we do less than five speaking engagements in a year (most years it's just two). We do just two hours of one-on-one consulting every month. And we're not part of the spam-brigade that makes these offers that will expire in the next 30 minutes.
The core of this program is about super-ethics
And it's not hard to understand the ethical quality. We believe in two core concepts:
1) If it's good for you, it's good for your customer. If it's creepy for you, then hey, it's creepy for the customer.
2) That are customers are not 'bottom-feeders.' We're here to care, protect and guide them.
If you believe you can run a business with super-ethics, then this course is for you
And the course is built on the core of Attversumption: That is Attraction, Conversion and Consumption.That if you're ethical, you can not only attract the best customers in the world (people just like you), but also get them to come back time after time–so you don't have to keep looking for new customers all the time.
---