Do you know why some businesses get wonderful clients, while others seem to get clients that are a pain in the neck?
(Don't you just hate painful clients? Learn how to use the power of the 'six critical questions' to get incredible testimonials—and attract clients that make every day an absolute joy).
---
When you really think about it, one of the best things in life is to get better clients.
Clients who understand the depth of your work. Clients who aren't haggling about your prices—and more than willing to pay higher prices for better work. And clients who understand that you need a life other than work. Clients you'd be happy to call your friends.
Your website is like a magic mirror.
Your marketing material is a magic mirror. When clients look into the mirror they see themselves. And if they like what they see, they jump into the magic mirror to be one with that new world—your world.
The right testimonials beget the right clients.
The wrong testimonials bring the moody, stroppy, grumbly clients in droves. Which clients would you prefer?
Testimonials lead a secret life.
Testimonials are not this nice-to-have thing on your sales page and marketing material, when in fact they do a task that's vital to your well being and happiness.
Understanding how they cause customers to buy is crucial. There are several elements to testimonials. By reading 'The Secret Life of Testimonials' you'll create outstanding testimonials. In fact, you'll be able to make changes to your testimonials within minutes of reading this information.
---

"It solved the problem of getting meaningful testimonials, without needing to 'bribe anyone' for it".

I have been using testimonials in sales letters, and on websites for many years. And I have given testimonials for products I love. I thought I knew a lot about testimonials: From the sugary sweet ones that say nothing bad to the ones that use Sean's six questions he writes about in this book—which are really critical to get good, well, constructed testimonials from clients and/or customers. What I found while reading this book...well, by page 26—PAGE 26 itself—I already had a full sheet of notes on how to improve testimonials.
And as I continued reading, I found so many MORE new great ideas for getting testimonials—whether written, on audio, on video—and how to use them effectively. I was shocked, even a bit amused at how little I knew.
Utilizing the easy to understand, easy to implement information in this book should bring in far greater revenue. And even better, it solves a problem for me of how to get real, meaningful testimonials, doing it legitimately—and without making anything up, or needing to "bribe anyone".
The best thing of all: I've learned how to get these testimonials long before anyone has bought the product!
Allen Weber
Jacksonville, Florida, USA
---
What you will learn
A Psychotactics product isn't some hastily put together document. It's rich in detail, graphics, and examples. It's designed to let you learn. And to implement. Instead of just being another information dump, it shows you how to go about doing things—and most importantly "Why" it's important. That way you can use the principles over and over again, knowing that you're following a system that instinctively works for you.
There's no hype and mind-trickery in getting great testimonials. Clients are very happy to give you absolutely stunning testimonials. In most cases, you just don't know what to ask, and so you miss out on giving your product or service the spotlight it truly deserves.
How To Get Testimonials from Procrastinating Clients.
How To Get Jaw-Dropping Testimonials even for New Products/Services.
Learn Which Testimonials Work Better: Tiny, Big or Massive.
How To Effectively Place Testimonials online/ and text newsletters.
The Myth of Short Testimonials (See how a 12 minute testimonial works).
How To Get Clients To Self-Record Testimonials.
Where To Get Testimonials Posted For Maximum Effect.
Testimonial Headline Design (Yes, you read right).
How To Capture An Authentic Tone of Voice (The Easy Way).
Some Testimonials Reduce Sales (How To Spot The Non-Working Testimonials)
How To Make Testimonials For Restricted Industries (e.g. Accounting/Lawyers).
The Three-Line Abbreviated Solution To Deal With FTC rules on Testimonials.
Delve into The Creepy Side of Testimonials (And Human Nature).
Why "Crappy" Testimonials Help Products Sell Faster.
How To Use Video and Audio Testimonials (And How To Get Them Right Away).
The Incredible Importance of Third Party Websites (That Drive Traffic and Creates Credibility).



Plus the 'Premium Bonuses'


And they're not just your average throw-it-altogether bonuses. Nope.
There's a full audio book—yes the entire book in audio
Videos that give you an insight into testimonials like you've never experienced before.


But don't take my word for it.
Check it out for yourself. You get a 60 days, 100% Money-Back guarantee. And yes, everyone says that, but we'll give your money-back with a smile :) If you're wondering if this product is worth it, you'll be amazed at how much of a difference it makes to your business right away. And to your understanding of what makes customers do what they do.

Have a look...

---


Detailed Ebook

Premium Bonus: Audio and Video

Product
The Secret Life of Testimonials Ebook

Premium Bonus:
1)Audio: The entire book explained in audio.
2) Videos: That will give you an insight into testimonials like you've never experienced before.
(valued at $49)

Summary

This 125 page document, will teach you simple, powerful techniques to Get Better Clients—And Sales

 

What you will learn

Main learning
- How do you get testimonials if you don't have clients?
- Find out the importance of "Crappy" testimonials.
-Which testimonials work better? Big or Tiny Testimonials?

Product format

 

Main Book: PDF

Premium Bonus
Video
Audio MP3




The Secret Life Of Testimonials


Regular

Premium
PDF report
BONUS

Secret Life of Testimonials: Videos that give you an insight into testimonials like you've never
experienced before.
Video
(valued at $49)

-

Secret Life of Testimonials: The entire book explained in audio
Audio MP3

-
Special Price
US$39.95
US$45.95
Pay Safely With Any Of The Options Below

To pay by credit card
To pay by PayPal



Important:
If the system doesn't accept your credit card or if you have any questions that have been unanswered, please email me directly and let me know how I can help. I'd be interested in getting your feedback. The feedback that you give me, is strictly confidential. Don't forget to include your telephone number and a time to call you.

Use the form at the bottom of this page.

Important Usage: What will happen once you click the button.

You will be taken to a page where you can fill in your credit card or cheque details. This will be verified instantly and you will be sent to a page where you can download the product right after your credit card has been verified. If you pay by PayPal you will get the product within 24 hours.

Note:
1) If by any chance, you are not able to validate your card please don't tear your hair out in frustration. You can click on the ALTERNATIVE LINKS and it will process your credit card. All payment systems are secure.

2) The download is instant. You should be directed to a download page right away. If you get directed to another page by chance, please don't panic. Computers take breaks, sometimes. Send me an email, and I will send you an alternate link and you will be able to download your ebooks without a problem. If you pay by PayPal you will get the ebooks within 24 hours.


Sean D'Souza- Brain Auditor :)

 

Goods and services provided by
Psychotactics (Po Box 36461,Auckland, New Zealand).
2CheckOut.com Inc. (Ohio, USA) is an authorized retailer for goods and services provided by Psychotactics.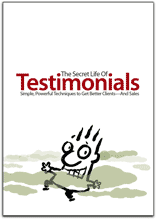 The Secret Life of Testimonials:
Simple, Powerful Techniques to Get Better Clients-And Sales

---
Testimonials
"How hard can it be to structure a testimonial? Why would I pay $39 to learn how to put a customer quote on my website?"
That was what I thought before I purchased "The Secret Life of Testimonials".

But even though we had customer testimonials on our website I felt like they should be doing a better job at selling our product.

Finally it came down to - "Can purchasing this course help me sell more product." Having read Sean's newsletter for the last year I was confident it could.
Five minutes into the course I knew I had made the right decision. The concepts were simple and very pragmatic. The examples were very helpful as well.

I quickly realized that we had a lot of "sugary" testimonials and not a lot of testimonials that would sell product.

After listening to the course I developed a new system for capturing testimonials and we are in the process of redesigning our website to implement these new endorsements.
Greg DeVore
Blue Mango Learning Systems
USA
---

"Business owners are often too scared to ask for testimonials"
I've been using Testimonials as a marketing tool for years – and I didn't think there was much left for me to learn about testimonial techniques. Especially so after reading those powerful "six questions" in the Brain Audit.

After reading The Secret Life Of Testimonials, I learnt how to get more authentic and dramatic testimonials with great impact. And—most importantly—how to use them to maximum advantage. Sean shares all kinds of layout and formatting secrets so that the message is visually stunning as well as a good read.

What I found  really useful is how Sean de-constructs various testimonials, showing you the parts where they fail, and thereby enabling you to create testimonials that work a whole lot better.

I particularly liked the run-down on how to create video testimonials as that's something I've been thinking of doing, but wasn't sure how to get started and how to approach it. Plus there are some great ideas on how to get testimonials using online media.

I'd definitely recommend The Secret Life Of Testimonials. Testimonials are absolutely vital for sales conversions, but business owners are often too scared to ask for testimonials, and don't know how to use them effectively. In this book, you'll learn how to get great testimonials – and with confidence.
Cornelia Luethi
FX Marketing
Auckland, New Zealand
---
"I figured I would throw in a testimonial at the last minute..."
As I was reading The Brain Audit and redesigning my website, I just figured I would throw in a testimonial at the last minute... because it was by far the easiest part of the process. Wrong again! Thanks again Sean! Your new book looks like it will really take the testimonials to a new level.
Marcus Stout
Golden Moon Tea
Washington D.C.
---
"What I liked most of all was the concept of your website as a 'mirror'".
I have bought the Brain Audit, read and implemented the section in there on testimonials.  It was excellent and I've used the questions to very powerful effect.  So I did wonder if there'd be anything new in here.
Yet again Sean takes hold of a topic and interrogates it deeply.  There is much, much more in this book.  "The Secret Life of Testimonials" takes getting testimonials to a whole new level.  What I liked most of all was the concept of your website as a mirror. The mirror concept goes into detail about how you need to post testimonials to get the kind of clients you want to attract.  Like much of Sean's work - an apparently simple concept elegantly explained, and so powerful when you implement it.
I also liked having examples of testimonials in the book (rather than having to look them up somewhere), so I could see see how the testimonials were constructed. The "techie" advice was also very helpful.
Whether you've read The Brain Audit or not you should read this book.  It takes you through the testimonial story from the beginning but adds so many more layers—you'll be gobsmacked. Plus a great deal of effort has gone into making the book easy to read. As a copywriter I know when something seems so easy to read, a great deal of thought has gone into its construction.
Juliet Fay
Copywriter
Wales, UK
---