It all started with a copywriter called Leo Burnett
15+ years ago, fresh out of college with a degree in accounting (of all things) I joined an advertising agency called Leo Burnett.
There I *met* a man who had spent his lifetime in the hard trenches of communication and advertising. Few people have made more of an impression on me than the spirit of Leo Burnett himself. His determination (in the middle of the Great Depression) and his integrity shone through even though he'd been dead for many years.
From copywriting to cartoons
This opportunity of working with one of the best advertising agencies in the world took me on the heady road of copywriting, writing TV commercials (and learning how to do them in 5 seconds), graphic design, cartoons and web design. The underlying synchronicity was the constant search to find ways to communicate in the simplest, most effective manner.
Are you a psychologist?
No. But I understand a good deal about how customers think. Why they do what they do. Understanding the psychology of customers is what fascinates me most of all.
I used to read about 100 books or more a year (now I read probably 10 good books). I also listen extensively to audio books and podcasts while taking a 7-10 mile walk almost every day. And videos from the BBC, especially. I watch tons of them.  The knowledge contained in those audio, video and books, when meshed with my own, helps me to give readers, workshop participants and clients a unique perspective on business. Psychologist I may not be, but psycho I can be 🙂
Dad was a teacher, mum was a teacher, grandma too…
All the information I provide through articles, teleclasses, etc., is distilled and structured. It's a family thing. Teaching runs in my blood. I was taught early in life that teaching requires mastery. Only when you have total control over the subject, can you simplify it and make it understandable. Then there's dedication, focus and discipline.
Up at 4
It's a normal working day, when the clock strikes 4. That's why if you write to me (DON'T CALL …you'll wake up everyone else!), you'll often get responses at weird hours. It's the best part of the morning and it helps me focus on the nitty gritties of the human brain and why it does what it does. My parents always woke up early and that has stuck. What has also stuck is the ability to pass on that knowledge freely.
The fountain of knowledge flows freely. Jump in and frolic in it!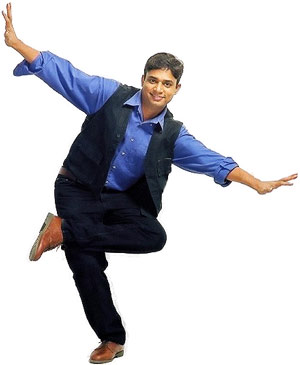 Sean D'Souza, Chief Brain Auditor
P.S. Some of my other driving forces in life are food (here are some quick, tasty Indian recipes), cartoons and New Zealand(where I live most of the time).