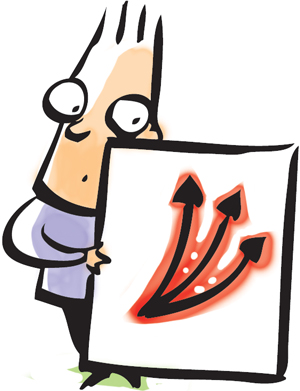 In the year 1937, Napoleon Hill wrote a book.
The name of the book?: Think and Grow Rich.
That book skyrocketed in sales and to date has sold over 30 million copies (not to speak of gazillions of copies of PDFs floating around the Internet). And it was in that book that Napoleon Hill underlines the concept of
mastermind group.
Masterminding is when a group of people get together on a regular basis.
And when they get together, they talk about their challenges. These could be business challenges or personal. But the mere idea of getting people together and 'brainstorming' as it were, would lead to insights. It would lead to the wisdom of crowds. A situation where one person didn't have all the answers, but a collective group of people could feed off each others wisdom and come up with a solution. And it could be a solution, or a different perspective. Or even a challenge to the original concept.
There was just one thing wrong with Napoleon Hill's concept
And that one thing was: How do I implement this mastermind concept? Of course Napoleon clearly gives six steps in the book, and talks in reasonable detail about how to go about things, but there are three core factors between masterminds that work, and those that don't.
Factor 1: Leadership
Factor 2: Agenda
Factor 3: Showing Up
Leadership is critical in a mastermind.
It doesn't matter if it's a group of peers meeting. Some one has got to be the head honcho. And someone has to take charge. There's no such thing as something that runs itself. The leader must make sure that everyone shows up, and then sticks to the agenda. Nothing is worse than groups of people who turn up, drink yucky 'cyber coffees' and go home. It turns the mastermind into a circus, and things quickly go bad.
There needs to be a vice-president as well.
This vice-president needs to have the contact details of all the people either via email or phone or some other method. The communication needs to be two ways. First the vice-president needs to email or get in touch with everyone to make sure they show up.
And then the member who cannot show up for any reason, needs to send in their apologies. Yes, apologies. It's not good form not showing up, and so it's important to give advance notice (wherever possible) and to apologise if you're not going to show up (because of an emergency, vacation or simply because aliens abducted you for three weeks).
And yes, make sure that the leadership rotates after two-three months, so everyone in the group gets a feeling for the responsibility factor.
Which takes us to agenda.
Factor 2- Setting the Agenda:
The agenda is critical for masterminds to work. Most people just show up not really knowing what to talk about. And that's not good at all. A good idea is always to have a "hot seat". A hot seat is where one member of the group talks about their issues and projects. About their challenges.
And the group rallies around that project/challenge solving the issues the best they can. They give the person in the hot seat some resources, answers, and even more questions, enabling them to think through the process.

The most important thing for the agenda to work is for the group to reference a common document.
E.g. The seven red bags in The Brain Audit. This enables everyone to be on the same page, and reference the common document. Of course, The Brain Audit won't work for all issues and challenges, so it's important that the group at least have access to common material (e.g. videos online, pdf etc).
Whatever the resources, they need to be simple and easy to access. And preferably short. If the group has to wade through 300 pages of stuff, nothing's going to happen—if you know what I mean.
But, but, but…should you only concentrate on the person in the hot seat?
Ideally you should. The more you focus on the person on the hot seat, the more focused you will be and the more focused the hot seat person will be as well.
It's not quite the same having five-seven completely different problems tabled in the same week.
That won't work. We're busy, busy, busy, aren't we? To have to focus on eight different businesses or situations would not only eat up a lot of time, but it would need each member of the group to juggle eight balls at the same time. That would dilute your mastermind and quickly throw it into disarray.
Focusing on one person for the week keeps the agenda tight and allows you to understand the problems faced by that one person. And it allows you to collectively work on solutions, more questions and different angles to look at just ONE project or challenge.
But what does the rest of the group do while they wait their turn?
What if the group has challenges that need solving? Hey, it's not a rule to keep focused on one person. It's a guideline. You can bring up other issues, even if it's not your turn in the hot seat. Your mastermind will always have time and space for you. But remember that one of the destructive elements of mastermind groups is that people get too busy.
And so if you do have something that needs discussion, then do bring it up.
But make sure it's not some massive project and rather something small. And use your common sense or ask whether it's fine to put table an item. In most cases, it will be fine. Just be sure to know that the hot seat person gets the spotlight for the week. It's a factor of awareness, not a fixed rule.
With the agenda out of the way, we move to the greatest killer of mastermind groups: Actually showing up.
Factor 3: Showing Up:
One of the biggest factors that unleash a cancer on mastermind groups is showing up. Members of the group regularly get abducted by aliens, or get into an accident with pomegranates raining from the sky, or the latest iPhone sale. If you want to kill a group, make sure that you meet on Skype or phone or in person. That will make sure your group dies faster than ever.
But surely there are mastermind groups that meet and don't die.
There are indeed groups. But they're run by fiercely motivated people. But surely you are fiercely motivated as well, you think. And you probably are. But in an increasingly nutty world, our time is fragmented, and aliens visit us much too often. Therefore you need to set up a situation where you reduce the failure factor.
You meet on an online forum.
And right away the hackles of quite a few people go up. After all they've had experiences with forums, and not all of them have been good. That's true, but this is your tiny group. And the biggest advantage of a forum is that people can show up at any point and not be bound by time.
All you need to do is choose a day of the week (or two days of the week): e.g. Monday and Thursday. And then make sure the vice-president sends out the emails to invite folks back to the forum. Over a few months, this showing up will become a habit, and members will show up several times a week—even several times a day.
The forum doesn't require as much time-keeping as a live event.
Live events are fine for a short period, but anything that requires a long, consistent meeting of folks needs to have something where people can jump in when they have the time.
So let's summarise:
1) Get your leadership together. A strong leadership is important. And rotate the leaders from time to time.
2) The agenda is easily resolved with the hot seat concept. Work with the hot seat.
3) Kill the group by having live sessions. Or use a forum. And more people will show up. And show up consistently.
A mastermind group is hard work, but not as hard as you think.
Over the weeks and months, it often becomes a place of refuge. A place where you can go to have an honest discussion with people you trust and respect. A place where you can sort out your issues and people hold you responsible. And most importantly it's a place where the cyber coffee isn't yucky.
A mastermind can succeed and should succeed.
If you structure it well, it will succeed.
If not, it just fails.