So why won't bats drink coffee? Or rather why does this one bat avoid coffee? Here's the answer.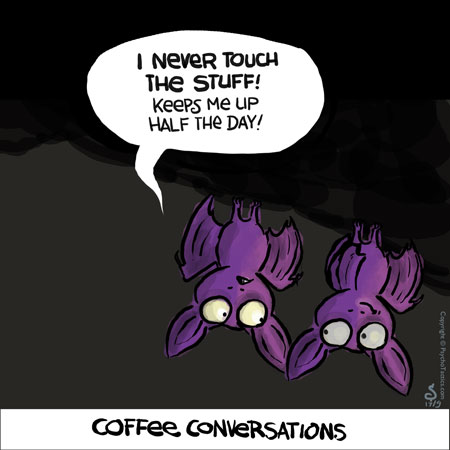 So how did I go about creating this cartoon?
It was a tricky one. I couldn't work out what to do. And while most cartoons of this nature may take about an hour or so to draw and colour, this one took twice the time. First there was the problem of upside down characters. That's easily solved by drawing them straight up and turning them upside down in Photoshop. But do bats keep their wings open or closed? They tend to close it, but in the interest of quickly identifying the bats, I kept them open. Well I did close the bat wing for the bat on the right. For one, it gave me a little space to get the bat closer. But it also gave me the chance to make the talkative bat a bit wider in comparison.
The key to getting attention is to have contrast.
Big shapes with smaller shapes. And though the dark background does form a bigger shape, the focus is totally on the bats. But I had to do more to get your attention to the talkative bat. So not only is he wider (yes, he's a he) but also his eyes have a brighter shade of lemon yellow. The other bat has greyish-eyes. Well they started out yellow and then I toned it down a bit.
Then I had a bit of a head-scratcher with the speech bubble.
I played with the position a bit. Should I put the bubble below the bats? Or above? And should the text be right side up? Or upside down? And should the speech bubble be grey or stark white? The grey made the text hard to read and the upside down text was good only if you turned your monitor upside down. So there you have it.  A ton of playing around to get this effect. Oh and I loved the magenta/purple/lemon yellow combination for the bats. Really made it jump off the page.
Oh, and there was this final tweaking
At first the bats were front and centre. I moved them to the right, because front and centre is kinda boring. And there was also this bit of border that needed to be added, right next to the text that says "Coffee Conversations". I did that in Photoshop with the stroke tool. Here are some of the images in progress, if you want to take a look (Click on the images to see a bigger image).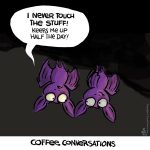 This is the cartoon with the bats in the centre. And without the border at the bottom.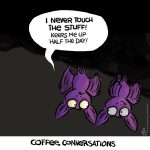 Still no border, but the bats have moved to the right.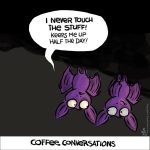 The final cartoon with the border (looks better in the big version at the top)
Time for coffee now. I ain't a bat 🙂