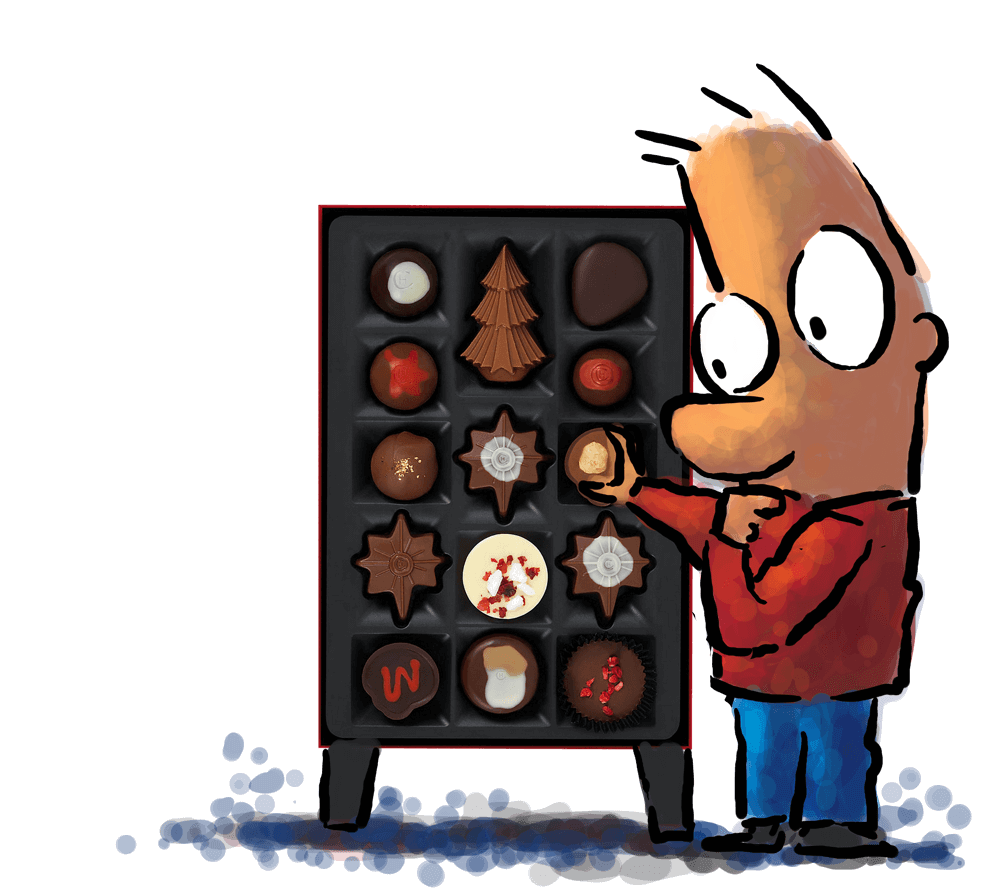 Imagine you sold a course that was worth $2500 to a client.
Imagine you also sent a bar of chocolate, just as a thank you.
Six years later, what does the client remember?
Yes, you have the right answer: they remember the chocolate! Incredible as it may sound, the expense of the course is long forgotten, but the memory of the chocolate—a single bar of chocolate—lingers on. And you know what's even more incredible? Most of us don't send the chocolate!
So why is the chocolate so very important?
It's important because it was a "little thing". In comparison to the product or service itself, it's pretty tiny, but it still takes up an inordinate space in the mind of the client. And at Psychotactics, we've been sending out chocolate for many years and for different reasons. And at times, for no reason at all. Like in May 2015, when we sent out 197 chocolates for clients who opted in–yes, for the chocolate!
But shipping chocolates can be expensive
A quick trip to the post-office may get your eyebrows raised, especially if you ship chocolates internationally. However, you also have other options. When I was a cartoonist (these are in the days before I got into marketing), I'd send a monthly calendar to my clients. Sure it's easier to send a yearly calendar, but month after month they got that tiny "little thing".
And it was something to look forward to, and a lot more economical than sending huge slabs of chocolate. We also send out postcards to clients. Simple, yet elegant postcards that clients find it hard to throw away.
But why is all of this chocolate, calendars and postcards so important?
You've heard the saying, "It's the thought that counts". Well, that's exactly the point. In today's world, when clients order something, they get that something and nothing else. When you send a little extra, and preferably something that's not related to the product or service, you're bringing a sense of wonderment that's hard to beat.
It's important to be personalised, however…
There are services online that will send out cards, chocolates and all sorts of goodies. If you can personalise the message, it's sensible to use these services, but it's smarter to send out small goodies from your own office or home.
For instance, we live in New Zealand. When we send out a chunky slab of chocolate, you know it's going to be a Whittaker's chocolate. If we send a postcard it's going to have a New Zealand stamp on the envelope. These are tiny elements, but they bring a ton of personality to the gift.
Your clients may be local, but you still want to create a bit of personality
Something that's sold in a tiny boutique store right next to your home will be far more thoughtful than something that's available in a mall. Your own handwriting on a postcard, beats any printing service, no matter how amazing the service. Even your handwriting on the envelope makes a huge difference to the recipient, so yes, do try writing.
In the world of marketing you're told how to write sales letters, how to write great headlines, etc.
And while all of those skills count, we know for a fact that what really counts is the connection. "Little things" can make a bigger and longer-lasting impression on the client. So much so that when they're faced with trying to remember which product or service they bought from you, their memories often fail.
All they can remember is the chocolate!
Send chocolate!
---