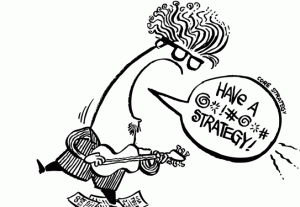 You're about to start up a business, or write a book, or create a new course, and you're scared as heck. When you look around all you see is wall to wall competition.
Competition that's not only vast, but probably has better resources than you. And as if that were not enough, they probably have been prominent in the field for a long time. And you're shaking in your boots.
You should be pouring champagne instead.
Because the moment you see such a vast array of competition, you know three things for sure.

1) Financial viability
2) You can emulate their strategy and tactics (fancy word for "copying")
3) You can avoid their mistakes.

1) Financial Viability:
The moment you see tons of competitors, you know that the path you're going to take is already financially viable. The vast competition shows you that hundreds, thousands, even tens of thousands of companies are already making a chunk of moolah, or they would not be in the business.
But does everyone make tons of moolah in every field? No they don't. But the best do earn really well, and it gives you the incentive to get rise to the top—knowing in advance that that field is pretty viable.  What's even better is that you don't have to guess what makes them financially viable.
2) You can emulate what they're doing.
You don't have to reinvent the wheel at all. If they have a workshop, you can have a workshop. If they train their customers, you can train your customers. And because they're in the same field as you, you don't even have to guess what they're doing. All you have to do is attend their workshops, buy their books, even get consulting from this very same "competitor" you seek to emulate. Not having to reinvent the wheel will save you years of unwanted slogging.
3) Making "their" mistakes isn't that much fun.
Instead you get the chance to avoid making the mistakes that your competition made—and make your own mistakes instead. Now most people want to avoid making mistakes, and that's impossible. What's possible, however is that there are things that are obvious mistakes, but since you're new in the field, you may not spot them.
Watching your competition; being part of their insider group; reading their stuff—it all helps you avoid the minefield that may kill your project before it even gets started.
To me competition was a wonderful thing
I used to be a cartoonist. I knew nothing about marketing. And the way I got to this very comfortable point in my career was because of competition. One of my first acts was to invest in the competition. I bought products and services from them. I spent anywhere from US$15,000-25000 in the days when my annual income was less than $50,000 a year (before taxes and earned not in US, but NZ Dollars).*
I realised that I was just one customer spending a reasonable chunk of money, and that I could plainly see they had at least 500—if not 5000 customers like me (I'll leave you to do the math). With the financial viability plan done, I then emulated what they were doing. Right down to the time they were doing it.
A lot of my money was spent on Jay Abraham and that creep in Australia.
Jay Abraham was a marketer who charge $5000 for his workshops. And he'd have hundreds of people showing up to the workshop. The same applied to that creep in Australia, who set me back about $12,000NZD. What I was able to figure out by spending all those dollars was seeing first hand what they were doing. I could examine the products/offers they sent me.
could feel first hand the tremor in my hand as I signed a cheque (yeah, we had cheques back then). I could experience being at the setting and watch what was being done. And I could feel the rush of adrenalin as the courier staggered down the driveway with 12 kilos of content (about 25 pounds).
And I could avoid the mistakes
The 12 kilos of content was a mistake for example. It made me feel like you do at a buffet. All excited but really yucky later. That creep in Australia (no I won't mention his name, but at least you know his gender) kept us up from about 5am to 2am for five days in a row. He deprived us of sleep, and charged us fines for even going to the toilet (yes, $50 if you went while he was speaking).
learned from those mistakes. I decided I didn't want my customers to feel that way. Our workshops, our training, our books—we all learned from the mistakes of others. And learning it the way I did, was a superb experience. I was happy to be a follower. It's actually a very good idea to not be the first off the block, if you ask me.
But doesn't "first off the block" give you a huge advantage?
In some fields it does. If you're first up Mount Everest, first on the moon etc. it works just fine. But it doesn't have the same impact in other endeavours.
For instance: Do you know the first email system that existed? Do you know the first search engine? Do you know of the first computer company? Do you know who invented the first mp3 player? Do you even know who invented the first tablet reader? Look around you in your room, and you'll find proof that almost everything you use isn't from the person who was first off the block.
That doesn't mean that first off the block doesn't work. That doesn't mean that you don't make money being the first off the block. It's just that history has taught us that the first off the block isn't always super-successful in the long run. This is why competition shouldn't scare you.
In fact, for the most part competition is irrelevant
Many businesses do exceedingly well without following the competition's every step. When we started we followed the rules set by the Jay Abrahams and the creeps of the world. But then we found we could do our own thing. We wanted to have a 3 month break every year without decreasing our income. None of our competition did that.
We wanted to have just a limited membership on our 5000bc website (in fact we're in the process of restricting membership as I write). None of our competition wants that. At our workshops we only ever have 33 participants, and then we stop taking entries. We do this for online courses as well where we stop taking clients at 16 or 17. We do less than ten speaking engagements all year.
Our competition doesn't do any of this. They take on as many participants as possible. Their membership sites are filled with thousands of people. Their courses take on hundreds of people. And good on them. That's what they choose to do. And we choose not to do it. Are they right and are we wrong? I don't know and don't want to know. Because we live happily and I'm sure they live happily too. What the competition does isn't your business as long as you know where you're headed.
If you know how many customers you want, how much income you need to be reasonably comfortable and how much time you want to spend on the beach—competition doesn't matter. Because now you have your own benchmarks. And when you reach them, you're content. And can get your ice-cream and go play in the sand.
Thousands of competitors are indeed good for you
They give you the starting point of financial viability and help you over your early mistakes. And as you progress, you find that the competition doesn't matter. Because you're living life by your own rules.
You're content. And that's what really matters
*US$15,000-25,000 (The US Dollar was extremely strong as compared with the NZ Dollar back in the years 2000-2001). For comparison value, it was a bit like $100 USD= $200-$230 NZD. In short, the NZ Dollar didn't go a long way at all. We were paying more than double for everything. To be able to pay for these courses, I had to dip into my savings as well as do a joint purchase with my friend, Eugene Moreau. Without Eugene's help, it would have been harder to get the education I did. So I'll be eternally grateful for him pitching in when he did. The 'when' mattered.
———————
"I researched ways to help me approach methods of utilizing the internet to improve my online business, I wanted to do it in a way
that complimented me. "
I found Sean's work during this research.
The Brain Audit is a valuable resource to help me market my business in an honest and practical way. The Brain Audit gives me a solid framework.
I have used the Brain Audit to develop stronger headlines and stronger content for my marketing material. I especially liked the approach to testimonials, which I have just begun to implement.
The Brain Audit has helped me be more comfortable positioning my product and not being afraid to ask a commanding price for an excellent product knowing I am delivering a product that exceeds in value.

Morris Nelson, Aventir International Limited, Shanghai
Next Step: Are you losing tons of potential business because you don't know how the brain works?
Read how The Brain Audit can help you…
———————
5000bc—Get on the 5000bc Waiting List:
5000bc now has a Waiting List. The waiting list joining time is approx. 30-60 days. So if you are serious about getting your business to the next level, get on the waiting list now.
"I avoided joining 5000bc for a long time due to the cost, but I am glad I did."
Sean and Renuka are extremely helpful and are in constant contact. I have posted a goal to increase my website traffic on the action forum, and it is keeping me very focused and motivated, as I know others are keeping an eye on me. What really impresses me is the quality of help I get from other members. I am making improvements to my site all the time thanks to their help.
I know there is loads more great information available in the Cave, such as Vanishing Reports, but I am so focused on my goal that I am waiting until I have that done before I dip into other areas.
I get bombarded with advice from all kinds of sources on the internet, but Sean and other Cave members are the people I most take heed of.
My long term goal is to give my customers the same service that Sean gives me!

Ann Halloran, Galway, Ireland
Judge for yourself https://www.5000bc.com
———————
New Products: Introductory Price
1) Learn how to create drama and curiosity and help improve your web page conversion with visuals.
2) Does your websites, brochures, presentations, etc… confuse your clients? .
Put some sanity into your design, even though you are not a designer?
3) Do you sometimes wonder if planning books are written just for the 'organised' people?
Learn Why Most Planning Fails: And The Critical Importance of Chaos in Planning.
4) Don't you just hate painful clients. Learn how to use the power of the 'six critical questions' to get incredible testimonials—and attract clients that make every day an absolute joy.
———————