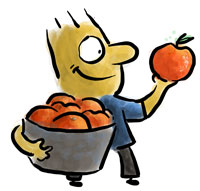 "Stand out from the competition," they say.
"Create uniqueness", they say.
"Be different", they say.
There's just one problem. It's all conceptual.
There's not one book, one course online or offline that takes on the factor of uniqueness and shows you how to get to your uniqueness step-by-step.
Until now, that is.
Because you can create a powerful uniqueness for your business with a series of free how-to articles, video snippets and one 35 minute (or so) long video that goes into a ton of detail about uniqueness.
And it's got a great price.
It's free.
So what's the catch?
Two catches and one P.S. actually.
Catch 1: These goodies are not available until the 10th of Jan 2012. Yes, this is just the prior announcement, because the goodies will show up at 3pm Eastern (US time) on the 10th of Jan.

Catch 2: To get the goodies, you'll have to opt-in. The goodies will start with the detailed video. And it's not some rambling video. It's packed with solid animation, and precise detail. You'll have to see it to believe it.
So set your iPhones, alarms, etc to 3pm Eastern for the 10th of Jan, 2012. You'll see that these goodies are like nothing you've ever seen before.
If you're keen, post— 'I'm keen' at the bottom of this email 🙂
And yes, if you have any questions on uniqueness, post them there too. I may even answer them in a video or article.
Warm regards from summery New Zealand,
s-
P.S. We're having a "Uniqueness Mastery Course" in the US and Europe in April/May 2012. Right now, only 5000bc members can sign up for the course. But you'll get more details in time. Stay tuned.
VERY, VERY IMPORTANT:
Please take my advice and set an alarm on your computer or phone. While you can indeed post your comment below (because I asked you to do so) do not subscribe to the "follow up comments" on this post, as you will get hundreds of people saying "I'm keen". I know you don't want to miss out on the announcement, but the announcement will not be made on this post, but on another post on Jan 10, 2012. So there's really no point in following the comments to this post, unless you want your inbox stuffed with emails saying "I'm keen".
So once again, post your comment, but do not click the box that says: Notify me of followup comments via e-mail.