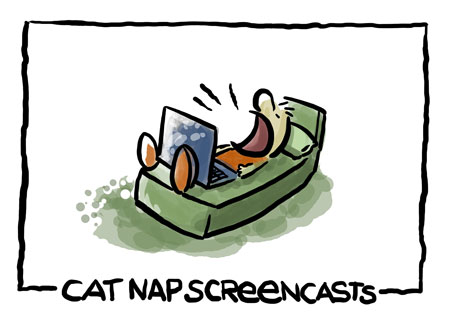 Switch on your TV.
It doesn't matter what program is going on, you'll notice something quite interesting. After about seven seconds something changes. It may be the scene, it may be the camera angle, it maybe a whole new shot. But almost like clockwork you'll find there's a change every seven seconds or so.
Then look at just about any tutorial or presentation on YouTube and start counting the seconds. 1,2,3,4,5,6,7,8…17,25,32 seconds—and you're still watching a single frame while the presenter's voice keeps droning on.
This is the point where your brain starts to fall asleep.
You're trying desperately to pay attention, but there's zero movement on the screen (if you don't count the moving mouse cursor that is). And this lack of movement drives us to distraction.

So how do you replicate the movement you see on TV?
Software does the trick. If you create a slide show, you're going to be using some software such as Screenflow or Camtasia to record the screen animation. Software allows you to zoom in and zoom out to create a feeling of movement. So as you're talking about a specific topic, you can create zoom in and then zoom out to show the entire screen.

There's just one problem with zooming in and out
A simple presentation can take you hours—even the whole day, because every darned zoom action has to be manually done at least every 10-12 seconds (if not every seven seconds). And this is where Camtasia comes to the rescue.

Camtasia's Smart-Focus feature follows the mouse
So as your mouse goes to a specific part of the page, Camtasia's Smart-Focus feature zooms in. And then as you pull back, it zooms to reveal the entire page. Of course I've been using Camtasia since Version 3 and the early versions were just plain hard work to achieve any kind of movement. (The last few versions have solved this "hard work" problem with Smart-Focus).
The other way to solve the problem is to have loads of slides
I often have several hundred slides in a presentation. And if you run a presentation skillfully, you'll find that your audience hasn't noticed that you've had a few hundred slides. But again, this becomes tedious work to front load all your presentations with loads of slides.

So is this a pitch for Camtasia?
You bet it is. I've used a fair bit of OnScreen software, and they all do a splendid job of recording, but none of them even come close to creating movement as effortlessly as Camtasia does.
Movement is critical—that's for sure. How you do it is up to you. And that's all that really matters, doesn't it?