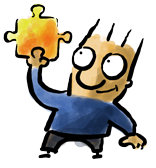 Do you often wonder if your home page, about us page or client
acquisition page is working at less than its full potential? These
three pages are critical to any website, and yet we often put the
content together on these pages hurriedly.
This is what Philip Riggs has to say about one of the books
in this series
---
"Would a person really need a whole book on home
page design?"
"Most websites put up some text about what the website is about, or
maybe some photos of products or services. It's pretty simple to
set up a simple home page.
But I've been to too many of these websites that were so confusing
I didn't know what to do. That was exactly what I didn't want. And
while there are plenty of books on how to design the appearance of
a website, I wanted something that showed me how to design for
I didn't realize how easy it is to make a home page confusing. I
also never thought about text-heavy home pages versus
graphics-heavy home pages.
The booklet shows three methods to make a website clear for a
customer to find what they need. And the three methods are easy to
understand and implement. They are presented very clearly and
supported with lots of examples to help the learner apply the
I would recommend this product to anyone who wants to better
understand how to design a solid home page that helps customers
find their way around and do what you want them to do."
Philip Riggs
Fort Collins, USA
---
Introducing: Critical Website Component Series
Find out for yourself how you can spruce up the home page, about us
page and the sign up page. We deconstruct existing pages and then
in true Psychotactics-fashion reconstruct them step-by-step.
It's now at a special introductory price. So have a look
right away.
https://www.psychotactics.com/website-secrets
Warm regards,
s-
P.S. Here is what Matthew Parker has to say about one
of the books
---
Here are three reasons why you should invest in this
book: 'About Us'
 – You'll be able to read it quickly.
 – All the suggestions are really clear.
 – It's easy to implement the advice.
I would recommend this book to you no matter what kind of company run.
You'll be surprised  how much you can benefit from it."
Matthew Parker
Profitable Print Relationships, 
Wiltshire, UK