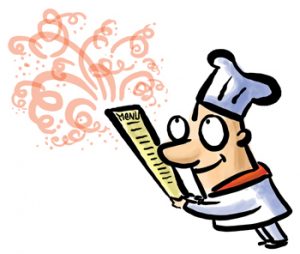 What is an overview of a topic? How do we write an overview for an article topic?
---
Let's say you want to write about New Zealand.
Or electric chairs.
Or malaria.
Or just about any topic that has enormous potential and detail.
The problem is simple: Where do you start?
Even at the outline stage, the topic seems so massive.
You start to outline, but then the outline starts to balloon. So you cross out stuff. Then you get cross with yourself. And of course, if you're having so much trouble with the outline, your article is going to be a yucky mess. Of course, there's always a way around any problem, and this one is no exception.
The way around a big topic is to pick a number
And I tend to pick the number three. So let's examine what I mean by three, for starters.
Example 1: Why you need captions under your graphics.
Here are three main reasons:
1) Misinterpretation: A graphic by itself can be misinterpreted. You don't want that, do you?
2) Focus: When you have words around your graphic, the eye is drawn to the text.
3) Summaries: Captions are instant summaries.
Example 2: What Causes Pictures to Pop.
Here are three methods you can use to make pictures pop on your page.
Method 1: Size
Method 2: Curiosity
Method 3: Angles and Cropping
So why choose "three" and not "two, four or five?"
It's not a rule that you need to pick three things. You could well have four, or six. Or two for that matter. Three is a nice number. And it does three things (heh, heh)
1) Helps You Focus Quickly.
2) Helps Create Solid Substance
3) Helps You Sidestep The Curse of Knowledge
1) Focus Quickly: When you pick on three things, it allows you to focus quickly on three big features, benefits and issues. Okay so they may not be big features. They may be the tiniest, most overlooked features. They may not be benefits, but may be three big mistakes that people make. Whether you choose features, benefits, issues, or mistakes, it achieves the same goal. It allows you to quickly focus. If you want to write articles quickly, you need to have quick methods to generate an article. Anyone can come up with three points on any topic in less than three minutes. That's quick.
2) Solid Substance: Three points give the article a decent amount of substance, even if you weren't quite sure you were going to write about just a few minutes ago. Yet if someone said to you: Give me three reasons I should eat Japanese food, or three reasons I should avoid Japanese food, you could come up with enough stuff to create substance. Note that you're able to come up with substance on topics you don't know that well. On topics you know well you can really swing your expertise to your advantage.
3) The Curse of Knowledge: If you know three things about something, you probably know three thousand things about it. And since we don't have time to write about three thousand things this morning, let's just stick to three. Three things restrict your "amazing power to write endlessly". You stop at three. And your article outline is looking prettttty good.
Next time you want to write about any topic, pick three things.
Un, dos, tres. And away you go.
———————
"Did I get the Brain Audit straight away? No way!"
I've become pretty jaded with all the hoopla on line and the false promises so I wanted to 'try ' Sean out first. I joined his newsletter on Psychotactics and made a little folder in my inbox for when his articles rolled in. And they did. And I started to take notice. These were gooood. They were bite size pieces of knowledge that I could easily understand. Each and every one was good.
Anyway, long story short, after a couple of months of reading these articles and realizing that actually, Sean's a great teacher, and he share his knowledge in a way that means I can go and apply it, I took the plunge and bought the Brain Audit. It still felt funny to me as it was a lot of money to pay for an ebook. I mean who pays that for an ebook?! I've never done that before.
I started to read, and read some more. Then I read again and worked my way through the exercises. Then I read again and started mind mapping the information in the book. And then 'ding ding ding' lights went off in my brain. I had a direction again and could begin to see how I could start to work again on my website.
If you've not already purchased the Brain Audit I can't recommend it, or Sean, highly enough. I'd still be puddling along wondering what to do next without them!

Honor Dargan, Chief Creative, TokyoTopia
Judge for yourself
Read how The Brain Audit can help you.