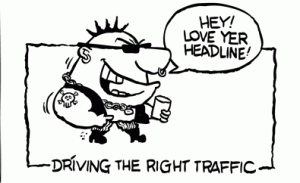 How do you write an email subject line that has been opened? What makes a good email headline? What subject lines get the most opens?
---
There's a reason for putting the brand name as well as the headline in the subject line of your email. It's called getting your attention.
See, customers subscriber, and then they forget you.
And yes, a great headline can catch their attention, provided you write a great headline. Most of us fall in love with our headlines, but believe me, headline writing is the hardest thing ever.
So your reader is not seeing your email in isolation. They're seeing your email headline with 200 other headlines. If the headline doesn't do the job, you've got a back up–your brand name.
The recognition of your brand name and the association with you, will get your reader to notice your email. And yes, there's another reason. It's called Spam. Every single day, readers go through the act of deleting it. Your email is sitting smack bang in the middle of all those emails. If I don't recognise your name (as in John Doe) then I've deleted the email without reading.
It's not a path you want to take.
The brand name + headline is effective as it gives a complete message and eliminates spam mistakes. The other option is to put the brand name in the name side of things.
For example: Sean D'Souza:Psychotactics
Subject: How to Write Psychological Headlines (And Why They Work)
That way, your brand name will always be to the left and your headline will always be to the right. And it's just as effective.
---