Remember last week's cartoon on 'Why Bats Don't Drink Coffee?'
Well, one of our subscribers Cesare Ferrari took that situation and  created a little tweak—and a punchline of his own. And it's hilarious! Well, that means Cesare wins a t-shirt from Psychotactics. And you can win too! And you don't even have to be a cartoonist. Just send in your punchline for the bat-cartoon (from last week) and if I like it, I'll do a t-shirt (yeah, one of a kind) just for you! So are you up to the challenge? You have nothing to lose and a cool t-shirt to gain! So post your replies in the comments section below. May the best one win.
And here's a link to last week's cartoon again. What I need is a funny caption for last week's cartoon. And yeah, post your caption below.
P.S. Note that Cesare's cartoon changed the situation. You don't have to change the situation at all. It just has to be a funny caption. And not even about coffee. Just something funny! So go for it!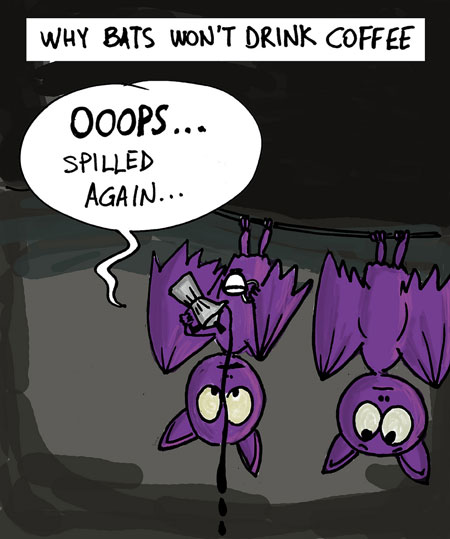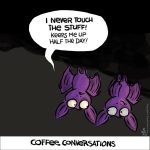 Here's last week's cartoon. Write a caption for this one! You can submit as many captions as you like. Um, don't spam the system. It's about quality, not quantity!