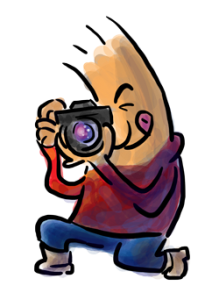 There are about seventeen ways to enter a house.
The door, the windows, backdoors—and as we know, in some cases, even the chimney.
And yet most of us gingerly avoid the chimney, heading straight for the door instead
Once we're in the door, we don't run madly through all the rooms of the house, but instead hang around in the lounge, finally sinking on a sofa.
This is approximately the route that most clients take when they look at your product or service. They get in through your door, sink into some content/products and finally are keen to explore the rest of the site. This is also why creating a niche for your business makes perfect sense. A niche provides a small, single entry to your business, but the moment the client steps through, and likes what they see, they want to explore everything else as well.
And while there are many ways to get a product going, the often overlooked route is the product-based niche.
So what is a product-based niche? And how can you use this branding strategy?
It's exactly as it sounds. It's the one thing that's going to attract a serious number of customers. Take for instance, the Louvre in Paris. You know what their big product is, right? Sí it's the Mona Lisa. All those 30,000 pieces of art that are hanging around the place, well, they're nice. Some of them are even big and mighty, but it's the Mona we're all rushing madly towards.
The Rijksmuseum in Amsterdam, doesn't depend on the itty-bitty painting. The "Nightwatch" is so massive that it was rumoured to have been cut (yes, cut) to fit in the town hall many years ago. And so both museums drive their audience by focusing on a single product.
If you have an information-based business, you can use the same concept
You create a niche of a niche, not just to get customers, but also strategic alliances to your business.
Let's start with customers, though. Let's say you're a photographer. Well, that's a nice service to have, but is it getting you customers by the truckload? So let's say you write a book that's kinda specific.
Maybe, just a book on 'how to shoot perfect photos in low light conditions'. Now you've gone into a bit of a niche product, haven't you? Other books on photography cover tons of stuff. Clients wanting to learn how to take better photos are inundated with every topic under the sun when they read photography books. Suddenly you've separated yourself from the herd. The customer comes in, wanting to learn how to "take low light photos" and then is exposed to all your other products as well.
And it's helpful for strategic alliance acquisition too…
If you're a photographer and I'm a photographer, and we're both in the same business, it's likely that I may not send business to you, my competition. But if you're dealing with a sub-set of the business e.g. low light, then I in turn can find something that I'm a bit of an expert at. Suddenly there's a ton of stuff that's niche. You don't believe me? Here's a list:
– Extending Dynamic Range with HDR & Other Techniques
– Understanding off-camera flash
– Before & After Images for Adobe Lightroom Presets
– TimeLapse Photography
– Exposure for Outdoor Photography
– Chasing Reflections
And yes, it's even possible that someone has written the book on exposure
So go deeper! Write about some sub-set of exposure instead. Someone has written about time-lapse photography, write something that is a sub-set of that topic. At Psychotactics, we use this concept of sub-sets a lot—yes, even with our own products. So The Brain Audit has been the flagship product explaining systematically "Why Customers Buy (And Why They Don't).
And yet, there are sub-sets of The Brain Audit itself.NThe Brain Audit talks about seven "red bags" that have to be taken off to get the customer to buy your product or service. Those "bags" are the problem, the solution, the target profile, objections, risk reversal, testimonials and uniqueness. And those "red bags" are explained in reasonable detail in about 160 pages of the book. But there are sub-sets of the book.
Here's a list:
– A 100+ page book on "The Secret Life of Testimonials"
– A Three Day Course on Uniqueness called "Pick One"
– A report on target profile.
– A mini-course on how to "Pick the Right Problem".
As you can see you can create niches by the dozen, if you choose
The niche is what attracts a client. When everyone else is trying so desperately to fit everything in their book/reports/courses, you create a tiny little sunshine spot of your own, which attracts both customers and alliances.
And once your customers are comfortable they explore more stuff.
You don't have to keep all your windows and backdoor open. Give customers a doorway that's interesting and evocative and you'll see customers responding better than ever before.
And oh, leave the chimney free for Santa, will ya?