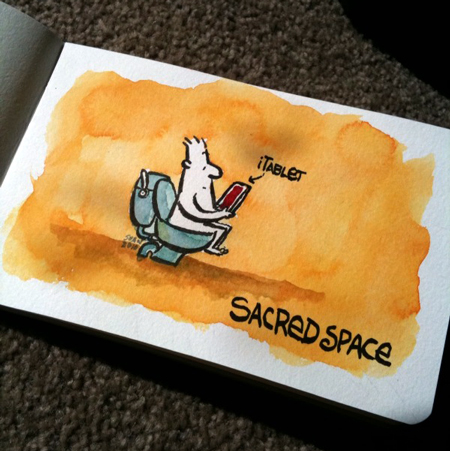 On December 25th, 2009, something quite remarkable happened at Amazon.com
For the first time in Amazon's history, the sale of e-books overtook the sale of physical books. And on that specific day the paper book downslide officially began. The Kindle officially put the early set of nails in the coffin. What the Kindle didn't complete, Apple's iPad (and other book readers) will be sure to finish off.
But surely books won't die.
The death of books have been exaggerated before and hey, they're still around. Surely books aren't going to die in a hurry.
Books won't die; the paper book will die.
Less than ten years ago, it wasn't uncommon to load up your car with dozens of CDs as you went on a trip. It wasn't uncommon to have a stack of CDs in your lounge. Where are those CDs now? They're all nicely ripped and sitting in your iPod, iPhone or at the very least on your computer. Only a dinosaur carries CDs around these days.
That dinosaur story applies perfectly to books
So you're headed on vacation, and you pick up a few books to read. You want to beef up on a specific topic? Again, you pick up a few books from the store or from the library. In a few years from now, that idea of lugging around books will seem kinda quaint.
Why would you want to have dozens of books stacked around taking up space, when you can have them all on your Kindle or your iPad? Sounds too sci-fi? Well the librarians don't think so. Across the planet, libraries have latched onto the digital media. One of the early libraries to lend out Kindles and Sony Readers was North Carolina State University Library. And the list of libraries giving out Kindles, Sony Readers and e-book readers continues to grow (here's a partial list).
If this revolution to digital media seems unreal, Apple just wait till devices like the iPad catch on.
Kindles set out to allow you to download books or newspapers from anywhere. This means you could read the New York Times or just about any book in the Kindle store without having any access to a wireless hotspot or internet connection. However in order to keep this download small, all the fancy colour and graphics were stripped out of the Kindle display. This meant of course that you were largely restricted to text in black and white.
Apple's iPad has no such restriction
Not only will the iPad work via 3G, but it will also easily work through wireless. Assuming Apple allows all of the apps to work on the iPad (as it does on the iPhone) what you now have is the ability to experience the best of both worlds. If you choose you can simply download the Kindle app onto your iPad and read a book (in a nice big font and size). If you choose to ignore the black and white, you may be able to download the book in full colour (Yes, publishers are already queuing up to have their books on the iPad). As if that were not dramatic enough, you'd be able to do it wirelessly through a choice of 3G or indeed over your wireless hotspot.
Digital books have existed for a while, but there's always been a problem
You could indeed take your PDF and try and read on a flight. Or you could download a magazine from Zinio.com and read it in bed. But you always had to contend with a laptop at the very least. And I don't know about you, but a computer doesn't exactly come close to the happiness you get when reading a book. On a Kindle or iPad that frustration goes away. Now instead of lugging a computer to bed, I can prop up my iPad and voila—I have the very same, if not an enhanced experience.
Enhanced? How could it be enhanced?
Already you can bookmark pages on a Kindle. That should be standard on a tablet device of the future. Underlining, scribbling on the book, doodling etc., is just a matter of time. But that's just the reading experience. What really kills the paper book is the storage experience. I can now store whatever I want in a tiny little device. And find the darned thing when I want to find it (As it is, I already buy books and store them on my iPhone Kindle app, just for reference purposes). With the iPad and future devices, this storage and convenience will become standard fare.
This news isn't for the sentimental folks
Most of us who are sentimental about paper and books will resist even the thought of the 'death' of paper books. This column isn't for the sentimentalists. It's about business and how it will affect your business. If you're an author, or if your company puts out documentation, it's a matter of time before you will need to put your information in an ePub (e-publishing) format. And no, it's not even PDF, though PDF may well do for the short term. You may be so in love with the paper book that you may see information like this as being overly sensational. And again you're missing the point. The point is simply this:
1)   Your business needs to understand the e-book format.
2)    It needs to be ready to publish in the ePub format.
3)   It may well turn out that you can continue to print a paper book as a collector's item or a special bonus, but the paper book will simply become unfeasible in the long run no matter how sentimental you feel about it.
The paper book will fade away.
Film in cameras faded away. CDs faded away. Horse and carts faded away. And paper books will have it's own ride into the sunset—still around—but niche and largely marginalized.
You may not agree with this assessment. But you have little choice in how history unfolds.
And Christmas Day of 2009 changed history forever.

———————
Next Step: Have a look at: Best Selling Product: The Brain Audit-"Sean has used every teaching method possible to make sure that you not only understand the sequence of elements needed to make people buy from… but the sequence soaks into your thinking pattern.
"I first bought the Brain Audit in 2002.  It was 32 pages long. And I thought it was the best damn book on copywriting I had read! It laid down the entire sequence of elements that any successful salesletter or presentation needs to cover to make the prospect say "yes!"
I really thought that Brain Audit could not be improved upon. But year after year, Sean has been proving me wrong.  He has improved upon it.  And improved upon it.  And improved upon it.
Sean's added more details to the Brain Audit.  More stories and analogies.  Better graphics (and fun cartoons!).  He has used every teaching trick possible to make sure that you not only understand the sequence of elements needed to make people buy from… but the sequence soaks into your thinking pattern.
Today, Brain Audit 3.2 is 157 pages long!  And its the best* book on persuasion you will ever read!
* Until Sean comes out with version 4.0 a year or 2 down the line. But you really can't afford to wait a year or 2 to take advantage of the Brain Audit, can you?"
Ankesh Kothari, Adventures of a serial entrepreneur, India
Judge for yourself The Brain Audit: Why Customers Buy And Why They Don't
———————
New Products: Introductory Price
1) Do you sometimes wonder if planning books are written just for the 'organised' people?
Learn Why Most Planning Fails: And The Critical Importance of Chaos in Planning
2) Do you want to put some sanity into your design even though you are not a designer?
Learn how, you can immediately improve your design with some really simple tweaks.
3) Yes, you needs visuals on your sales page, but how do you use visuals to immediately improve your sales conversion?
4) How to Create Powerful Testimonials To Sell Your Internet Marketing Product. Find out the sec'rets…
———————
Read to join a community of like minded people?
"I was worried that this would be yet another expense where I didn't end up using what I had bought."
"You guys are masters of making sure that we consume (what we've bought)! And so, I've learned a ton since I joined!
I love The Cave. I honestly haven't made the time to try out anything else or even look into anything other than the general discussion board! The other things I really like: Direct access and
insight from Sean, networking with other like-minded small business owners, the positive and encouraging vibe.
If you ask me: Would I recommend 5000bc I'd say: Of course! Because I've learned a lot!
One more thing I'd like to add. Thanks for being so dedicated to us. :)"



Marina Brito
Fairfax, Virginia, USA
Judge for yourself https://www.psychotactics.com/5000bc
———————