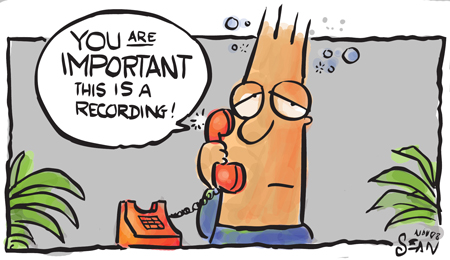 Let's say you have a dinner party.
You send out invitations.
You arrange for the catering.
You have the finest wine.

And when the guest knocks on the door, what do you do?
You send your 'personalised robot' to say hi and welcome the guest through the doors, right?
Just like you do with your autoresponder message every single day.

You spend all this time trying to get 'guests' to your website.
And what do you do?
Send them a crummy autoresponder, that's what. And pray how does that autoresponse make your guest welcome? They know you're using a robot. They know you're being impersonal. And you know it too. And guess what, it's the first impression!
And first impressions do count
Which is why when we started out in 2002, I used to respond to every single subscriber that ever subscribed. As soon as the email came through, I'd write a little note to the subscriber. And that little note changes the relationship between you and the subscriber. The subscriber becomes Mechele, or John, or Anita, or Karla. It ceases to be just another subscriber.

Oh I know you don't have the time
We get hundreds of subscribers. To me, it's not about having the time, but making the time. And the reason is simple. You spend all this time and money trying to get customers to your site. And when they get there, you don't even say hello.
So what's the result of a quick hello?
A chunky 20%-40% of the subscribers respond. And their response is warm, and engaging. Like Mechele's.
G'day Sean,

Found you this morning on Copyblogger, and after reading your comments, I quickly rushed to your site to sign up for your newsletter. After entering my email address on your website, I must admit I was expecting the usual ho hum, boring, and standard autoresponder message. (I am a copywriter by trade, and am numb to the salespeak, empty promises and marketing hype that I read on many blogs and newsletters.) However, your personal email this morning was refreshing and unexpected.

If this quick and personalized response is a preview of your great content, I honestly can't wait to read more of your wisdom and musings. I am a true believer that the personal touch goes a long way.

With this one simple gesture, you've already exceeded my expectations and I haven't read one word of your content.

To your success,
Mechele Pellebon
Let's face it.
You can spend all the money in the world.
You can do all the big alliances and all the fancy joint ventures.
But when it comes down to the brass tacks, your mum was right.
Say please. Say thank you. Say sorry.
And say hello.
P.S. We still send an autoresponder. But the hello is what we said in the year 2002, and six years later I still spend the time every hour to write back to new subscribers and say hello, and welcome to Psychotactics.com