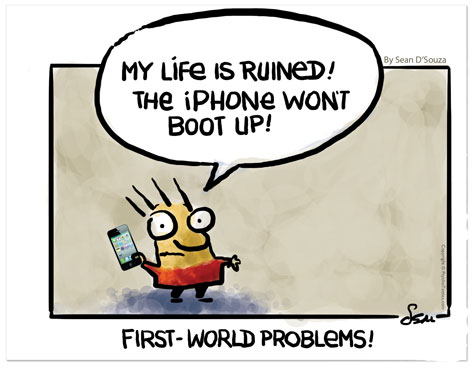 So my iPhone didn't exactly die. It just ran out of power.
Apparently dropping it didn't help because it blew up some stuff in the iPhone. I know, I know. It's just a phone. But I was distraught. After all I use the iPhone for almost everything but a phone. I use it to learn Japanese and Spanish on my walk. I use it to take dozens of photos. I upload stuff to Facebook via the iPhone. All my recipes—yeah you got it—on the iPhone. And my reminders—ooh the list goes on. So anyway I posted on Facebook about my, um, problem and got at least a dozen responses.
And one of them was from Shaun Robert Connell (thanks, Shaun—ooh, nice name) who came up with this punch line "First World Problems". It was too good a line to get buried in Facebook. So I decide to immortalise it a bit 🙂
There you have it. The full story.
Am I still distraught? No, because I followed up and hounded the repair shop until it was fixed. I picked up the iPhone at 7:30pm last night. Yes, about an hour and thirty minutes after they were supposed to close for the day.
And we all live happily ever after. Till the next iPhone incident 'ruins my life' 😉
Do you have an iPhone story? Or just a comment on how crazy I was? Let's hear it in the comments below.