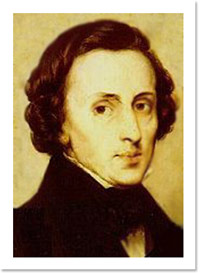 I may have heard Chopin's Prelude No.4 a least a dozen times.
Or may have never heard it at all.
I couldn't tell you for sure, you see.
Because there's all this classical music playing in the background when I go to hotels. And to airports.
And I'm not paying attention.
But there was this one time I did pay attention
You see, I was listening to a presentation given by Benjamin Zander.
And Benjamin Zander didn't just play Chopin's Prelude No.4.
He patterned it for me (and everyone else, of course)

So how did he pattern Prelude No.4?
Well he brought my attention to the composer.
And to the music he was about to play.
And then he played it.
And I went through the first phase of patterning: recognition.
I was hearing Prelude No.4 for the first time ever.
Or rather, actually listening to Prelude No.4, for the first time.
Then Msieu Zander did something magical
He repeated the music.
Over and over.
And recognition seeped into my classical-music-starved brain.
And we moved quickly to the layering
Suddenly I wasn't just listening to the music.
I was being shown specific notes.
Why one note made me feel happy.
Why the other note made me feel sad.
Why the Prelude seems to be struggling. Almost hitting bad notes.
How the Prelude hits so-called bad notes, and then hits the note we've been waiting for.
How that note gives me a sense of 'aha, finally.'
And why that 2 minute Prelude is now an integral part of me.
If I heard it on the street. Or at an airport. Or at a hotel, I'd stop.
And listen. And understand. And try to find more layering in that pattern I know so well.
And it's only because Benjamin Zander slowed down the pattern for me.
But he only slowed down the pattern for Prelude No.4.
I'm on my own for Prelude No.5.

Note: As a result of this one presentation, I went and bought over 80 classical pieces from iTunes. All Chopin, for starters. And to date, I've heard the same set over 30 times in less than five weeks. I put it on each morning as I'm writing articles, and imagine I'm this great pianist. I type faster when the music speeds up. And slow down when the music slows down. My life is richer because of Benjamin Zander's presentation. And because he took the time to slow down the pattern for me.

To see Benjamin Zander's presentation click here.