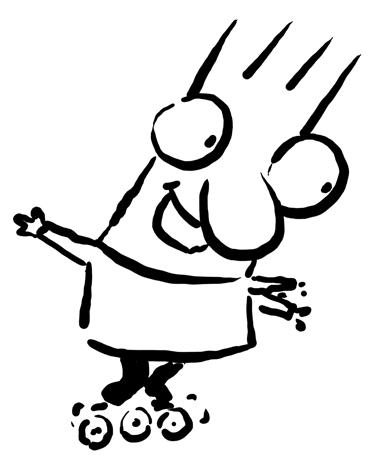 A local car wash ran a loyalty program
For every car wash you paid for, you got one stamp on your card. If you completed eight washes, you got one free wash.
Another set of customers also joined that very same loyalty program. But they didn't have eight blocks to fill on their card. They had ten blocks to fill. But there was a difference. The second set of customers had two stamps already filled for them in advance.
You see what's happening, right?
Both sets of customers have to fill in the exact same number of stamps to get the free car wash—namely eight washes. So which group did better? Yup, the second group. In fact 34% of the second group got to their free car wash vs. just 19% of the first group. So why did this happen?
It's called momentum
And it's a feeling you know exceedingly well. If you have to start a project, you dilly and you dally. You find every reason to avoid the project, because starting up is so hard. But once you've got about 20% of the project going, you feel the wind in your sails and you move groggily ahead, but at least you're moving. And this is what resistance hates the most.
It hates momentum, because momentum disregards the temptation to get easily distracted; it avoids those fervent pleas to just head to the cafe or do something that's not project-related.
Which is why you need to create momentum both for yourself and your clients
Let's start with your client. Let's say you want them to do something really big and momentous. Where do you start? You start with the tiny bits. So tiny in fact, that they're almost impossible to goof up.
So let's take an example. At a Psychotactics workshop, we want to create a safe zone as quickly as possible. But this is difficult if everyone just shows up on the day of the event itself. Everything is new; everything is different and hence quite intimidating.
So we have a meet and greet session the day before
What do they have to do for the meet and greet? Why, nothing other than show up. That's easy, huh? So they show up. And they don't show up in their regal outfits. Everyone's casually dressed. There are no speeches, no notes, no seats to find, nothing to do but show up.
And when they've shown up, we take them to the room and show them the room. They get a chance to see where they're sitting. They see the notes on their desk. And then we have a question session. If there are any questions, they can get it out of the way. Once they're done, we suggest they go to dinner together.

So what just happened there?
20% of the safe zone was created before the workshop began. When you watch the participants walk in the next day, they're not frozen. They're laughing, they're joking and they're having a great time. There's no fear and intimidation. And hence the momentum towards creating a safe zone is well on its way.
And no matter whether you're in consulting or training, you can knock out the resistance simply by getting stamps on their card. Once the client gets started, they continue to move along more efficiently than if they started from zero.

But how do you use this concept for your own goals?
Let's say you want to lose weight. What do you do? You need to get 20% on your card, right? Well, don't start with this big vigorous program of losing weight. Just focus on one thing you are guaranteed to achieve. E.g. No munching sweets after lunch or dinner.
Now this isn't about eating less, or exercising more or doing Zumba steps. It's just a little something that is almost like cheating. But it gets the momentum in place. A week of this simple activity and you're well on your way to getting 20% on your card.

But isn't this kinda sneaky, almost like fooling your brain?
Sure it is. But why do you care? You want to get the job done, don't you? So go ahead and fool your brain, if that's what it takes. And help your clients fool their brain. If you're running into clients that won't get their work done, won't do their assignments, don't implement things on time—then look for the blockage.

The blockage lies in them having to fill ten stamps on their card, instead of eight.
How can you fill two stamps in advance?
How can you get the momentum going?
Figure that out, and more clients will get to the finish line faster than ever before. And ironically, so will you!
How do you get momentum? Share your business or personal story here.
Product Offers: Links you should visit
---
"For the first time ever I think I have a clear picture of where our marketing and communications has to get to."
"If anything the quantity of marketing and business  books I had read;  and videos I had watched, had left me, while not confused, certainly unfocused. I felt I almost knew too much, and could not get any clarity.
I first came across The Brain Audit as a book review in a newspaper while on holiday. The Brain Audit was a revelation to me. The Brain Audit cut through all that and made such sense to me.
For the first time ever I think I have a clear picture of where our marketing and communications has to get to."

Brian Megaw
River Valley -Adventure Lodge, Rafting and Horse Back Riding
New Zealand
Find out how —The Brain Audit can help you
---
"I was wary of signing up and paying for a forum or another membership site"
"If you suspect that your business could be bringing in a lot more revenue but you don't have a clue how to make that happen without hype or hassle, 5000bc is a must-have resource."
"I honestly didn't see what 5000bc could offer me that I couldn't get from Sean's books. Besides, how could a bunch of people – most of whom are not business experts – help me build my business?"
I joined anyway because the price was right and I wanted the information that came with the premium membership. 😉
The information and support I received from Sean and my fellow "cavers" about a single Web page was directly responsible for selling $10,000 worth of books in less than two weeks.
Unlike many Web communities, 5000bc members are active and to the point. Sean keeps adding content that drills down to specific problems in business and then shows you how to solve them.
Try it. You won't regret it."


Molly Gordon, Master Certified Coach
Shaboom Inc, USA
Judge for yourself—How 5000bc can make your business succeed.
---
Products: Under $50
NEW! You already know that 80% of a sales letter depends on your headline.
So what's the remaining 20% that causes customers to buy? Find out more
1) Do You Often Hit A Wall Called 'Writers Block'?
Learn how the core elements of outlining can save you from the misery of writing your next article.
2) Do you know that visuals immediately improve your sales conversion?
Learn how to create drama and curiosity and help improve your web page conversion with visuals.
3) Do your websites, brochures, presentations, etc… confuse your clients?
Put some sanity into your design, even though you are not a designer?
4) Chaos Planning
Year after year you sit down and create a list of things you want to achieve. Then suddenly it's March, and you've not really moved ahead as you'd expected.
Learn Why Most Planning Fails: And The Critical Importance of Chaos in Planning.
5) Nothing bugs you more than a painful client.
A client who hassles you at every step of the way. Learn how to use the power of the 'six critical questions' to get incredible testimonials—and attract clients that make every day an absolute joy.
---
NEW PRODUCT! Black Belt Presentations: How do you create presentations that enthrall, hold and move an audience to action?
[next_step]