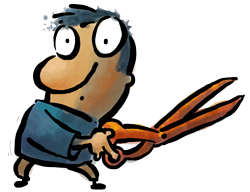 One of the things that most people tend to do at this time of the year, is create a list for what they will do in the New Year. My wife Renuka and I do something similar in November or December. We plan the entire year as well. But we do it slightly differently.
We start with a stop doing list
This doesn't have to be a business list, it can be a personal list as well. For instance, there is a tendency to wake up and check email or Facebook. This is because we now have iPads and iPhones right next to our bed. It's quite easy to switch it on and get connected. But Renuka read about how it was important to "wake up slowly". Switching on an electronic device and getting connected right away is probably the worst way to wake up.
This has caused me to switch off all the devices before I go to bed. This means I physically turn them off, so I have to physically turn them on. It's like getting on a flight and turning your phone off, and it takes a bit of time before it switches on. That time delay is enough for me to think about whether I really need it on or off. And usually the answer is I don't need it on at the moment I wake up.
This is the power of a stop doing list
Instead of listing all the things that you have to do, you list the things that you have to stop doing. It's incredibly important thing to do for your own sanity.
Another component of the stop doing list, is to stop working endlessly. One of the main factors of our planning is to work out our vacations.
You may think that you don't have the luxury to take a vacation, but you often don't have to take a long vacation.
The body and mind needs a break after about three months work. If you take even a couple of days off, it refreshes both the body and the mind as if you've been away for a week. So the first thing that we do is organise the mini breaks. These are little breaks after a month and a half. Then we organise the big breaks.
The big breaks are where we take a month long vacation somewhere in the world. However, the mini breaks are more important than the long breaks. The mini breaks are just after a month and a half, and they help us relax considerably.
For a mini break there are certain components that are important
1 – You must leave your home. You cannot have any kind of break sitting at home, no matter how hard you try.
2 – Switch off your phone and your computer. You are not that important. Set a message saying that you will be unavailable for two days.
3 – You may not be able to take a break every month and a half, but it should be a goal to do this at least every three months or so. In a world that is going crazier by the minute, you need to slow down and let your brain and body come down to a natural rhythm. And the way to get started, is to have a stop doing list.
Your stop doing list doesn't have to be complicated.
1 – Write down the things you are going to stop doing
2 – Plan your breaks in advance — yes at the start of the year. Then keep to it.
People often smile when I say that I'm taking a break
But my philosophy is simple. I have a choice: I can spend a few days sick in bed, or a few days at the beach/countryside.
I choose the latter.
---
Next Step: Links you should visit
1) Are you interested in taking your online business to the next level? Then you must have a look at 5000bc.
2)  Do you feel like banging your head against the wall when writing content for the important pages on your website?
Introducing: How to write compelling content for your key web pages. 
---
Top Selling Products Under $50
Testimonial Secrets: Powerful Techniques to Get Better Clients-And Sales
Story Telling Series: How to suck your audience right in, in a matter of seconds
Sales Pages: How To Write Benefits and Bullets That Speed Up Sales
Article Writing: How To Speed Up Article Writing With Simple Outlines
Visual Basics: How Visuals Help Increase Sales Conversion On Your Website
Design Clarity: How to put sanity into your design with some really simple tweaks
Chaos Planning: How 'Irregular' Folks Get Things Done
New! Critical Website Components: How to write compelling content for your key web pages
Free! Excerpt of The Brain Audit: Why Clients Buy And Why They Don't 
---

Black Belt Presentation Series: How to completely control the room-without turning anyone off?
Online Membership Website: How To Build A Powerful, Community-Driven Membership Website
[next_step]