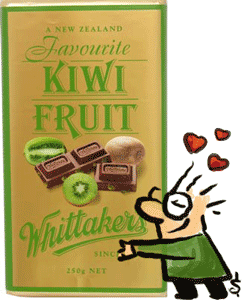 Here's a pop quiz.
If you sent out a product worth thousands of dollars.
And added a bar of chocolate.
What would the client remember?
The thousand-dollar product?
Or the $3 chocolate?
At Psychotactics, we often send out home-study versions of our courses.
Some of these courses are rather expensive (yes, there's a reason why), and therefore run into several thousands of dollars. And with that thousand-dollar package, we send out a bar of Kiwi Chocolate.
A bar that costs us $3.
And what do the clients get most excited about?
The thousand-dollar product?
Or the $3 chocolate?
Now, now let's not be cynical
The product has to be top-quality. The consulting has to be outstanding. The training really has to work.
You can't cover shoddy work with chocolate.
But yes, you can enhance great work/great product/great training with a simple gift.
A gift that makes clients smile.
That gives them an unexpected bonus.
This article isn't a sales pitch for chocolate.
It's a sales pitch for the unexpected bonus. Or in our case, the expected bonus (Clients complain if they get product without the chocolate).
So what's this teaching you?
Are you so focused on what you're selling that you can't understand human nature?
Do you think that the client wants only your consulting/training or product?
Or do you think they'd be more than happy to chomp into some chockies as well?