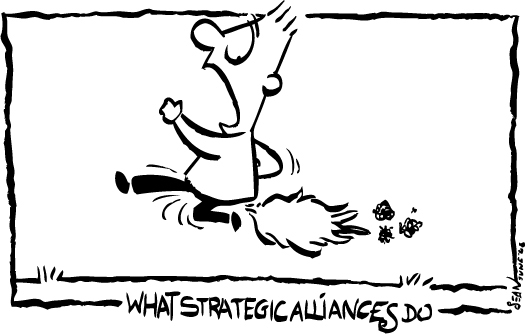 Nothing is more important to a business than strategic alliances.
And there's a reason why. When we started out, there was nothing. Vast emptiness. Sure we had five or ten pages of good content on Psychotactics. But other than that we had nothing. No subscribers. No visitors. Nothing.
What's critical is that we also had no money. (Sounds familiar, huh?)
Well what's a company to do to get off the ground?
Today you have many sources of driving traffic. You have pay-per-click, you have online PR, you have stuff going. Back in 2002, there was um, a lot of nothing. So we went with Strategic Alliances. Um, actually one strategic alliance. And from nothing, we started getting fifty, a hundred, sometimes two hundred subscribers a fortnight. And despite a crappy website, and even crappier name (we were called "millionbucks" at the time), we managed to get over a thousand people on our list–when we had nothing to sell.
It's easy to forget where you started
It's easy to get all excited about all the new gizmos; the social marketing; the yada-yada. It's easy to be all giggly about Web 2.0 or Web 3.17, for that matter. What really worked for us, and continues to work for us at Psychotactics, has always been a solid relationship with alliances. The alliances sent and continue to send customers our way. Never expecting reward. Never expecting payback, the relationship is based on trust, and respect.
Strategic Alliances are easily one strategy I'd choose time after time, after time.
And there's a reason why. They created something out of nothing. And that's why strategic alliances are the most critical component of our business.
Especially if you start off with nothing 🙂