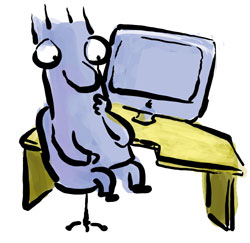 Most people say they're busy.
Hogwash!
They're just silly, not busy.
And here's why (and how) you can stop being silly—and quite so busy. I call it my 15-Minute Principle.
So what's the 15-Minute Principle?
When I'm working on a project, there's a point where I'll get stuck. It doesn't matter what I'm doing, whether I'm working with technology, or trying to work out a headline, or write an article.
Invariably there are times when I'll get stuck. And like most of us do, I'll try to solve the problem myself.
First I'll fiddle.
Then I'll fiddle some more.
Then I'll look at the clock.
Ooh, eight minutes have passed already.
So I'll fiddle even more.
But at the fifteen minute stage I stop fiddling
I do two specific actions at that stage.
Step 1: I'll go to a search engine, and look for my answer. If it's something to do with software, I'll almost always look up Youtube first. If it's not, Google will mostly do. And in many cases, I get my answer in minutes. And am able to solve the problem.
Step 2: If the clock is still ticking, then I head to the forums
(in my case, it's always to the forum at 5000bc.com because I always get an answer at 5000bc). And I ask the question on the forum. But in most cases, the forum may be my first port of call, and there's a reason why.
Why is a forum your biggest time-saver?
Google can only see your keywords. In most cases that's enough to get you the answer you're looking for. For instance, if you wanted to know how to create a button in Photoshop, there are more than twenty dozen tutorials online.
But in many cases, a forum saves time, because your query is being handled by a forum member who analyses the nuances of your question. This member may not only answer your question, but approach the answer from an angle you hadn't considered before. Or they may ask you a series of questions that enable you to re-think the challenge.
Let me give you an example…
At one point I was keen to get one of my books to the top of the bestseller lists. And so I asked the question on the forum: Do you know of any method to get to the top of the bestseller lists? And one member wrote back saying: Why do you want to get to the top? What's the goal?
I was astounded. I hadn't thought of the goal at all. Putting a book on the bestseller list often involves a spend of $100,0000-250,000 and about 3 months of promotion slog. And I wasn't prepared for that kind of time or money investment. What's more is that I was just going to use it to boost my ego. I had no future plans once I did get to the top of the list.
But I digress…
You're not reading this article to hear my story. You're reading this article to save time. And the best way to save time is to either get to Google, youtube etc. Or/And get to a forum like the one in 5000bc.
If you can't solve a problem in 15 minutes, it's time to ask for help.
I do. And that's why I have loads of time.
——————-
Next Step: If you don't want to waste time and get answers to your questions quickly, join us at 5000bc
"I was worried that this would be yet another expense where I didn't end up using what I had bought."
"You guys are masters of making sure that we consume (what we've bought)! And so, I've learned a ton since I joined!
I love The Cave. I honestly haven't made the time to try out anything else or even look into anything other than the general discussion board! The other things I really like: Direct access and insight from Sean, networking with other like-minded small business owners, the positive and encouraging vibe.
If you ask me: Would I recommend 5000bc I'd say: Of course! Because I've learned a lot! One more thing I'd like to add. Thanks for being so dedicated to us.:)"


Marina Brito
Fairfax, Virginia, USA
Judge for yourself  at 5000bc
——————-
Connect With Sean
Twitter: http://twitter.com/seandsouza
Facebook: http://www.facebook.com/sean.dsouza
You Tube: http://www.youtube.com/user/psychotactics
———————–
P.S. Do you have a question or comment? Write it here and I will respond