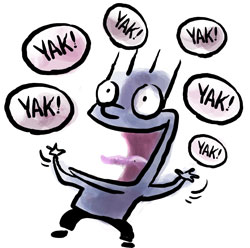 How many days does it take to recover from conducting a workshop?
Back in the year 2001, it used to take me about a week. Three days after the workshop, I'd be utterly exhausted. And it would be another four days before I could really crawl back to work at normal speed. And it was because I was doing something terribly wrong.
I designed my workshops around speaking
You know what I mean. The kind of workshop where the speaker loves his voice and slides so much that they keep going and going. And going. And going. As you can tell all this 'going' had a downside. I would get exhausted and the audience was not far behind. In fact I noticed one curious thing as well. The more information I gave them, the more they kept looking at the 'exit' signs.

It makes no sense: Why look at the exit signs?
If you ask any of the participants the reason why they're there at the workshop, you get a quick answer. They're there to learn, to absorb and to cram as much information as they can.
Yet the moment you say something like "…And now we'll go for a short break" you feel this sigh of relief. And if you're watching, you'll see a glimmering smile on the participant's faces as well. It's clear that they liked being outside the class more than being inside.

So we designed our workshops around the exit sign
But how do you do that? If the goal of the participant is to learn, how do you just let them roam free? That would cause a lot of folk to be upset and ask for their money back, right?
Not at all. You see there's a difference between letting an audience roam free, and letting them roam free with a purpose. When you roam free with a purpose, it's because you have an assignment to complete. You're still out of the range of that blah-blah speaker, and you've got an assignment to complete with a group of other participants.

We call this our 1:1:1 system
In the first '1' part, I speak for about 20 minutes. Then I give the participants an assignment. They spend the next '1' part doing the assignment. They then come back to the room, and we discuss issues relating to the assignment in the final '1' part. So instead of being chained to their seats, they actually learn. And more importantly it gives the brain some time to relax.

The brain doesn't work too well with constant stimulation.
All constant stimulation does, is force the brain to keep alert. This turns out to be counterproductive both for the trainer and the participant. But given time to exit the room at regular intervals lets the brain process the information, and then come back refreshed.
The fact that the concepts learned are discussed by the group also enables the brain to break up the learning at one level. And when the participants come back and discuss the concepts, the learning is broken up even further, allowing for even greater assimilation.

Incredibly, participants loved this system of 1:1:1

Participants would often mention that they learned more in the corridor than in the classroom itself. And as a trainer that should be like music to your ears, because it means your concepts are going home, instead of bouncing right over the participant's heads.

So we took this concept a whole chunk further

We started taking a whole day off. Yup, if the exit sign works, why not go whole hog? So when we conducted The Brain Audit workshops in the U.S. and Canada, we had a three-day workshop with a treasure hunt on Day 2.
Why would you pay for a three-day workshop, pay for an extra night in the hotel, plus food costs when the real workshop is only two—and not three days in reality? It's because you learn better. And the results were fantastic. The more we allowed the participants to play with the concepts, the more they learned.

And there was a big upside for me as well

Because I stopped yakking so much I didn't have ten thousand slides to prepare. And I was less tired. I found, to my surprise, that not only could I do two-day workshops, but once was able to do a seven-day workshop from one end to another. What's important to note is that at the end of seven days, the participants were fresh and still raring to go.

Hmmm, makes sense in retrospect, eh?

We go to a workshop to listen, absorb and learn. And if the teacher just yaks, then all we're doing is listening. There's very little absorption and almost negligible learning. And yet if the workshop is designed around the exit sign, we all have the opportunity to listen, absorb and learn.
So the next time you feel like yakking endlessly, take a look at that exit sign.
Because you can be sure your participants are looking at it anyway!
P.S. People love the exit sign more than you think. If your workshop is supposed to end at 5pm, tell the audience that if they finish their assignments on time, everyone can go home by 3:30pm. Then watch their faces as the smiles light up. Try it. You'll be amazed at how your participants adore the exit sign.
But don't believe what I have to say. Just look at your audience when you talk about the exit sign. That's all the reassurance you'll ever need to know that the exit sign works better than you ever imagined.
Now it's your turn. Share your business workshop experience or horror story here
---
Next Step
"There are marketing books and there are marketing books – I bet there are not many you have read many times over?"
The Brain Audit really teaches you the art of persuasion because it gives an insight into how people's brains work. I have used the principles in writing WebPages, writing articles, making presentations, networking, negotiating and even writing submissions for a judge!
But the best bit about the Brain Audit is that it actually works.The principles are easy to understand.
Would I recommend it to people serious about getting on in business? Absolutely.

Michael Smyth, approachablelawyer, Auckland
Judge for yourself —The Brain Audit: Why Customers Buy And Why They Don't
---
"I was wary of signing up and paying for a forum or another membership site"
"If you suspect that your business could be bringing in a lot more revenue but you don't have a clue how to make that happen without hype or hassle, 5000bc is a must-have resource.
I honestly didn't see what 5000bc could offer me that I couldn't get from Sean's books. Besides, how could a bunch of people – most of whom are not business experts – help me build my business?
I joined anyway because the price was right and I wanted the information that came with the premium membership. 😉
The information and support I received from Sean and my fellow "cavers" about a single Web page was directly responsible for selling $10,000 worth of books in less than two weeks.
Unlike many Web communities, 5000bc members are active and to the point. Sean keeps adding content that drills down to specific problems in business and then shows you how to solve them.
Try it. You won't regret it."


Molly Gordon, Master Certified Coach
Shaboom Inc, USA
Judge for yourself—How 5000bc can make your business succeed.
---
Products: Under $50
NEW! You already know that 80% of a sales letter depends on your headline.
So what's the remaining 20% that causes customers to buy? Find out more
1) Do You Often Hit A Wall Called 'Writers Block'?
Learn how the core elements of outlining can save you from the misery of writing your next article.
2) Do you know that visuals immediately improve your sales conversion?
Learn how to create drama and curiosity and help improve your web page conversion with visuals.
3) Do your websites, brochures, presentations, etc… confuse your clients?
Put some sanity into your design, even though you are not a designer?
4) Chaos Planning
Year after year you sit down and create a list of things you want to achieve. Then suddenly it's March, and you've not really moved ahead as you'd expected.
Learn Why Most Planning Fails: And The Critical Importance of Chaos in Planning.
5) Nothing bugs you more than a painful client.
A client who hassles you at every step of the way. Learn how to use the power of the 'six critical questions' to get incredible testimonials—and attract clients that make every day an absolute joy.
---
NEW PRODUCT! Black Belt Presentations: How do you create presentations that enthrall, hold and move an audience to action?
[next_step]