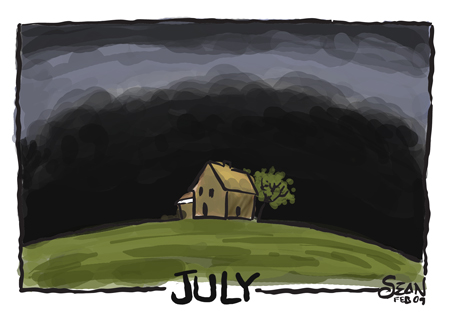 July was always the worst month of the year for me!
In the years 1997, 1998, 1999, I dreaded July. Because you see, back then I wasn't in marketing—I was a cartoonist. And somehow in July all the cartooning work mysteriously dried up. The phone would stop ringing. And it would stay dead no matter what I tried.
And boy did I try.
I'd go to meeting after meeting. I'd try to advertise in the Yellow Pages. I'd try pretty much anything to rustle up business. And business just sidestepped my doorway.
This of course drove me slightly insane
Till one day I was at my mother's for lunch, and grumbling about July. And she said: "Why don't you do something else? Why don't you upgrade your skills, since July is always so quiet for you?"
The year 2009, is a year filled with Julys
No matter where you sit on the planet, this year is going to be July. Starting with July. And then going to July, July, July, July, July, (July), July, July, July, July, and July. And there's diddly-squat you can do about it. You can be the president of the 'Law of Attraction' committee, and July is going to hit you like a Wabash Cannonball!
So what did I do back in the 90's when July hit us?
I took my mother's advice (in a way). I'd upgrade our computers. I'd buy new software. I'd buy books. I'd go to courses. And my staff (of three) and I would spend the thirty-one days learning, and implementing; and getting ready for August.
Because when August came, the phones would start ringing, and they wouldn't stop ringing all the way, um, till next July. But we'd be so much smarter because of all the hard work that we breezed through tons of new work.
In fact we started looking forward to July.
We'd spend most of our funds in July. We'd learn the most in July, because we knew that work was nowhere on the horizon.
And now in 2009, July rolls along again
And as I look around me, all I see is panic. People terrified about the 'July' that's about to envelop their lives.These people haven't been to my mother's house for lunch, and have no clue that July is but a month, even if it lasts a year.
And what will the rest of the world do? They'll cry. They'll grumble. They'll try to cut back. They'll complain about shrinking funds. They'll sit on their hands and do exactly what I did back in the 90's. And nothing will change.
This year called July is not for the weak-hearted.
It's not for the optimists. It's a year that's going to demand that you spend time learning. And implementing. And if you do, you'll come out on the other side, smarter than ever before.
So what will you do?
Will you whine like I did back in the 90's? Or will you take my mother's advice and do something instead?
It's a year of sowing.
A year where you're going to have to do all the hard work of learning. Of improving your website. Of upgrading your skills. Of getting better at what you do. So that when it's time you reap, you'll be first in line.
It's up to you.
It's going to be a long year.
Do you have a plan that will actually succeed?