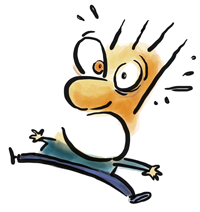 Haven't you ever been in a group where there's a slacker?
Everyone's working really hard, but there's this one person that won't do much, and so everyone else has to work a lot harder.
On a sales page, or in your brochure, you're going to have a similar problem if you have sugary testimonials
That's because sugary testimonials are just lazy. They just tell you that the product is "great or wonderful" and they're often hard to believe. But reverse testimonials are a lot easier to believe because they contain a critical element: objections.
When your reverse testimonial starts off with the objection, it immediately gets the attention of a prospect.
But how do you get the objections in the first place?
There are a couple of ways to achieve this goal.
Method 1: You can force an objection on a client.
Method 2: You can simply ask the client.
Method 1: You can force an objection on a client
Let's say you have a product (and yes, the same applies to a service), but getting back to the product. And if you're smart, you'll already know what objections your prospects have when considering your product. So they may have a list like:
– It's too big.
– It's too expensive.
– It's too blue.
– It's too noisy.
It's likely that you will be able to come up with about six core objections. And if you can't, it's not hard to ask around and get those objections from your client. And now that you have a list, and it's time to get a testimonial, you can simply call up your client and pick one of the objections from the list.
The conversation would go like this:
"Most peoples biggest objection when buying this product was that it was too blue. Was that your objection as well?" And if it is, then the client agrees. Now it's just a matter of digging deep and staying on that one objection.
"So why was the blue such a problem?"
"What did you feel when you realised it was blue?"
"What were the other issues with the blue colour?"
And you'll get rich detail spilling out like a gusher
And once you ask the question and get the answer, you can move onto the second question: "Now that you have the product, what has been your experience?"
And so, you've randomly picked an objection from the list, the client has agreed and then it's down to your questioning skills.
But hey, what if the client doesn't agree?
Well, that's easy isn't it? If they say: "No, blue was not an issue at all", then your next question would be: "So what was the biggest issue/objection?" And that answer will roll out and you've got the testimonial off the blocks.
But you don't always have to force the issue on the client. You can just ask.
Method 2: Asking the client about their objection
This is just like it sounds. You ask the client what was going through their mind before buying the product. And the objection they had to buying it. Was it their first experience? Was it the second experience and did they have a bad experience before? What was really going on in their heads at the time?
The second method may not always get results
Your prospect may not be able to remember the objection they had in the first instance. This is why the first method may work better, because it forces the prospect to reject (or accept) your objection. And if they reject it, obviously they have to come up with the objection they had in the first place.
Be sure to also listen for emotions, as the client speaks
You don't want to rush through your testimonial-acquisition process. One of the most critical elements isn't just getting the objection, but also the emotion behind the objection. And you should be listening for words like "frustrated, angry, demoralised, irritated".
If the objection comes up and you don't get a story with emotion, your testimonial will be less powerful. So make sure that you also ask the prospect how they feel. Your question would be: "So how did that problem make you feel?" And they'll be sure to tell you and give you that non-sugary testimonial that you were looking for.
Either way it's a win-win
The client gets to give a very authentic testimonial. And they're happier because at the very core they want to see you more successful. And you get a testimonial that's worth displaying prominently on your marketing material.
Slacker testimonials make every other element work harder. It's about time you got your testimonials to pull their own weight, eh?
Do you know why some businesses get wonderful clients, while others seem to get clients that are a pain in the neck? Don't you just hate painful clients?
Learn how to use the power of the 'six critical questions' to get incredible testimonials—and attract clients that make every day an absolute joy.