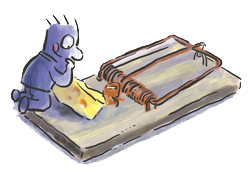 In 333BC, Darius, the ruler of Persia was sure of his victory on the battlefield.
After all, his soldiers outnumbered Alexander the Great's army by 2:1. And yet, Alexander used an unusual ploy. Instead of the usual strategy of both armies battling it out, he decided to just go after Darius. That single-minded command caused Darius to be outflanked and forced to flee.
That single-mindedness is something that every copywriter needs to focus on, when writing benefits and features. And the reason why you need to focus is because it's very easy to go off track when writing a three-four lines on a specific feature/benefit.
Let's take an example from the sales page of this book called "Client Attractors"
One the sales page we see features/benefits that read like this…
1) Big Brand Mistakes
Big brands make the same mistakes that small businesses do. In their hurry to create a sales page, they leave out critical information in their features and benefits. Learn how to avoid the mistakes—especially if you're a small business owner.
2) Powerful Graphics
Many writers pooh-pooh graphics, but did you know that some of the biggest and most successful brands online use graphics to consistently drive home benefits and features. But how do you use these graphics correctly?
3) Benefits With A Secret Weapon
It's clear as day once you know the secret, but some benefits are far more potent than others. The secret lies in how you insert a 'problem'. The 'problem' creates drama and makes a run-of-the-mill benefit stand out. Once you know how to use the 'problem' in benefits, you'll want to use it all the time.
So what three points did you get from those benefits/bullets?
The first one was specifically "big brand mistakes". The second was just about "graphics and how to use them" and the third was the "unleashing the secret power of the problem". In short, the benefits/features started out with one point and drove home that one point, without getting distracted.
But even so, it's easy to get distracted when writing a few lines of the benefits/features
So yes, this isn't a battle of "Alexander vs. Darius". It's just a sales page that takes a lot of effort and concentration. It's possible you could have slipped up and gone off on a tangent. So go back to your benefits and features. And examine them one by one listing the one point you wanted to make for each benefit/feature.
Does each of your benefits and features drive home a single point?
It should, because it's only when you singularly focused on driving home the point, will you get and keep the attention of the reader.
The copywriting battle isn't as easy one. But even when faced with incredibly uneven odds, you can still make every word on your page count.
Use single-mindedness as a strategy.
It worked for Alexander. It should jolly well work for you.
---
How do you get meaningful testimonials, without needing to bribe anyone for it?

Utilizing the easy to understand, easy to implement information in this book should bring in far greater revenue. And even better, it solves a problem for me of how to get real, meaningful testimonials, doing it legitimately-and without making anything up, or needing to "bribe anyone".
The best thing of all: I've learned how to get these testimonials long before anyone has bought the product!
Allen Weber
Jacksonville, Florida, USA
Judge for yourself: Testimonial Secrets
---

"The Brain Audit is not some 'how to' book– it's a way of thinking."
What The Brain Audit provides that was missing in all of the 'mainstream' teaching and training is the piece critical to all sales: how the brain perceives and processes information.
Susan Trinter, Corporate Dev. Programs
Washington D.C., USA
NOW available in Different Formats ! The Brain Audit: Why Clients Buy And Why They Don't.
---
Top Selling Products Under $50

---
1) Testimonial Secrets: Powerful Techniques to Get Better Clients-And Sales
2) Story Telling Series: How to suck your audience right in, in a matter of seconds
3) Sales Pages: How To Write Benefits and Bullets That Speed Up Sales
4) Article Writing: How To Speed Up Article Writing With Simple Outlines
5) Visual Basics: How Visuals Help Increase Sales Conversion On Your Website
6) Design Clarity: How to put sanity into your design with some really simple tweaks
7) Chaos Planning: How 'Irregular' Folks Get Things Done
8) Critical Website Components: How to write compelling content for your key web pages
---
1) Black Belt Presentation Series: How to completely control the room—without turning anyone off?
2) Online Membership Sites: How To Build A Powerful, Community-Driven Membership Website
---