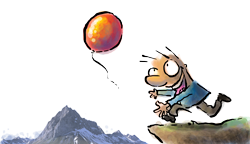 When you think about testimonials about a product or service, you think the client should talk about the product or service, right? Wrong—well, not entirely wrong, but not quite entirely right either. When a client reads a testimonial, sure they want to know about your product or service. But they also want to know about the ancillary issues. So you need to sidestep the product or service as well.
So what is sidestepping?
If you travelled to New Zealand, surely you're going there for the amazing landscape, the food, the wines etc. And so the main topic is indeed all of these elements. But if you simply stick to all of these elements in your testimonial, you'd be missing on the magic of sidestepped testimonials.
Sidestepped testimonials are those that don't talk about the main product or service at all. They skip the mountains, the scenery, the yummy stuff and go into areas that are slightly off tangent. Go for the experience, instead.
Let's take a look at this testimonial for instance…
Ok, here it comes…
I had to kick and scream at myself for a day or two, before I decided to go for the (name removed) workshop!
The first thought I had was: "Ugh! I had just cleared my schedule of travel… I want to stay at home." I'd had a schedule the last five years of travelling once a quarter for a week or more, and I thought that was all over. When (name) announced the workshop, I said to myself: 'I don't want to travel – this was going to be my first quarter off!"
But, the only reason that thought came up was because I knew I had to be there- it wasn't really an option to not go- and I just had to kick and scream to myself for a day or two. 

But once I was at the workshop, I found so many things
Validation for the path I was on, plus concrete new steps and clarity on the larger picture, and seeing parts of my business strategy that were missing that I had no idea I needed. Amazing. Incredible! Better than 'Cats'.
What made this workshop different was the heart
Yes there was useful, mind blowing information- great- but I've encountered mind-blowing information before. But the caring that (name) brings to the work is so evident- he wants us to succeed so much, you can feel it with every fiber of your being.
What can I say? (Name) is a madman
A lovable, effective, irrepressible, genius of a madman, but a madman nonetheless- and his system of training brings sanity to the madness in a delightful way- it works extraordinary well. I found myself swept along, engaged from the very get-go, and productive, too. Mad, he's raving mad… and the world would be better off with more nutters like (Name).
So what was the name of the workshop?
You don't know, right? You don't know the name, the name of the presenter, the contents of the workshop, where it's being held, what's the price and if it's within your budget. And yet, you feel this magnetic pull towards the event. And that's because the testimonial has almost completely sidestepped the product itself.
Now instead of feeling the pull of the content, you feel the pull of the teacher. You feel the frustration of the attendee. You feel all of this stuff that you're kinda feeling and it has diddly squat to do with the product itself.
This is what you call sidestepping
This is what you need to get from your clients. What really matters to you is the product, product, product. What really matters to the client is experience, experience, experience. They don't want to be sold to, they want to buy into something. And the best way to create experience is to specifically ask the clients that are not related to the product or service itself.
So how do you do you figure out the questions you need to ask about?
Your product, service, workshop or course will have elements. Let's take a course at Psychotactics for example. The lis of elements would run like this:
– The material itself.
– How it was presented
– The different media and how it helped (audio/video/text)
– The groups (why they mattered)
– The forum design (how the groups worked together)
– The teacher
– The system used
– The safe zone (how safe and encouraged did they feel?)
– The pace
– Their before and after situation
We could go on, couldn't we?
But surely clients won't answer all of these questions. I mean that's a lot to cover. And no they won't. If you're a scam artist, just putting a course together and then not being around to help, to answer questions, you're going to get a pathetic response.
Most people out of courtesy will say nothing to you. They may not complain or ask for their money back, but they won't feel obliged to give you a testimonial, let alone a testimonial that sidesteps you into a whole new experiential zone.
But doing a really good job of your product/service/course is not enough
You need to analyse the elements of the product/service and specifically ask questions  about those elements. That's when the client's real experiences come to fore. That's when you get the magic you've been looking for—and more importantly the client has been looking for.
When we think of testimonials, we think of product, product, product.
Sidestep a bit, will ya?
---
Next Step
If you haven't read the free report—Why Do Most Headlines Fail? (And How To Create Headlines That Work Every time), subscribe to get your copy.