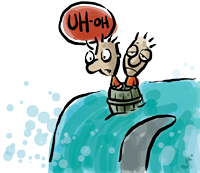 When do most people drop out from a course?
The answer may surprise you.
It's not in the middle of the course, or at the end. Incredibly, it's right at the start
Right at the start of the course, is when you see (and feel) the most enthusiasm. Everyone's been held back by those barriers and like athletes they're eager to rush down the track to the finish line. But the problem is that a course is almost never like a 100-metre dash. It's almost always like a marathon in which you have to pace yourself.
And so we slow them down
There are many reasons for slowing down the participants, but the biggest reason is to get them familiar with:
1) The software and hardware
2) Where everything can be found
3) Overcome the hurdles they run into
1) Let's start with the software and hardware
If your course is being done on a forum (or any other similar system), there's a good chance that a huge chunk of participants are completely at sea with the software. They don't know how to do a lot of things that may seem simple in retrospect. Every move, from making a new post, to replying to a post, to adding a quote, to putting in a smiley—it all takes a bit of learning.
Even if you're a pro in another forum, it still takes time for you to orient yourself to a new type of forum.
And that's only part of the problem
There may be other software or hardware involved. For instance, in the cartooning course, you have to take a picture (that requires either a camera phone, camera or scanner). And then it needs to be uploaded to a picture-sharing site e.g. Flickr, or Facebook etc. And then embedded back into the forum.
And I know, I know—your eyes are glazing over.
And they should, unless you've been through this experience and know that all of this usually takes no more than a few minutes (and especially if you have the right software, hardware combination).
In the past, we'd give instructions and expect participants to follow them
Of course some do, and some don't. And the ones that don't are usually the ones that are most hassled with technology. So they get confused, they try and fail, try and fail. And by this time the course is well on its way. And then they give up. Which is crappy, because they've tried and failed at technology, not the course.
So instead of rushing through it all, we slow it down. The first week, in many courses, is just about orienting yourself with the technology. But of course, that's only part of the puzzle. The second part is to locate the resources and instructions of the course.
2) Locating the instructions and resources
In any course, you need to have instructions and how-to sections. A how-to section can contain (well, should contain) the following:
– How to upload your photo into the forum
– How to resize the photo
– How to embed files/upload files into the forum
– How to navigate through the forum quickly
– How to link an external photo
– How to embed a URL
– How to mark a post unread.
These are only the technology part of the instructions. There are other instructions too. Like how to post your learning every week. Or how to comment on your group's work.
And the list goes on and on. Without time to process this, and without specific instructions, the participants feel intense pressure.
And if they can't find their way around, or can't do stuff "right", they give up.
The important point here, is that the participants aren't expecting a course like yours
Most courses are hack-jobs. They simply have someone called the 'teacher'. There are videos, there are audio files, there is some learning material. And there may be a forum. And that's it. There's no system, no slowing down. Everyone's charged anything between $200-$20,000 and herded around like cattle. The more expensive courses will make you feel a little better, simply because of the big bucks involved, but if it's a cheaper course, well, you're on your own.
And you shouldn't.
There should always be the factor of care, guidance and protection. And one of those elements of care, guidance and protection is to give everyone time so they find their way around, without feeling like they're intruding—or worse, acting like buffoons. And this intimidation is only limited to the things we know—like technology and where to find our places and things in the course. There's also the factor of the unknown.
3) Dealing with the unknown
We don't know what we don't know, right? And unless you make space for this chaos, it's almost impossible to have time. Both for you as the trainer and for the participant as well. Having space and time to deal with chaos that may just pop up, is critical. We didn't always follow this system, of course.
It took us years, and hosting many courses before we realised that the unknown does pop up. Maybe a participant can't login. Or maybe there's something else that's slowing them down. Having space is critical to resolve these issues.
If a course is well run, dropouts don't occur at the end, or in the middle
The biggest number of dropouts are almost immediate. If the course is extremely difficult e.g. The Article Writing Course, then the dropout rate is marginal, because the price of the course is high, and the group is expecting to run into a ton of hurdles.
But if it's a course like the cartooning course, where the price is a lot lower, and the importance of the skill is not quite critical, it's easier to run into bigger dropout rate.  While we've had a maximum of 20% dropout of the Article Writing Course (which is pure hell, I can assure you), the drop out rate in the cartooning course has been as high as 70%. Then the next year down to 50%. And down it comes, year by year, as the systems get put in place.
Learning to slow down the first week is critical, of course
And there are three big ogres you have to tackle, just to keep your participants involved.
1) The software and hardware
2) Where everything can be found
3) Overcome the hurdles they run into
Slow down.
There's no hurry.
One more week won't make a difference to your schedule. But for the nervous student, it's a matter of staying in or bailing out.
P.S. Do you have a question or comment? Write it here and I will respond.
---
---
Top Selling Products Under $50

---
1) NEW! The Story Telling Mini Series: (How to suck your audience right in, in a matter of seconds)
So what are the elements of a well-told story? And why have they been playing hide and seek with us for so long?
2) You already know that 80% of a sales letter depends on your headline.
So what's the remaining 20% that causes customers to buy? Find out more
3) Do You Often Hit A Wall Called 'Writers Block'?
Learn how the core elements of outlining can save you from the misery of writing your next article.
4) How do you use visuals to help conversion?
Learn how to create drama and curiosity and help improve your web page conversion with visuals.
5) Do your websites, brochures, presentations, etc… confuse your clients?
Put some sanity into your design, even though you are not a designer?
6) Chaos Planning
Year after year you sit down and create a list of things you want to achieve. Then suddenly it is February, and you've not really moved ahead as you'd expected.
Learn Why Most Planning Fails: And The Critical Importance of Chaos in Planning.
---
Black Belt Presentation Series: When you make a presentation, wouldn't it be amazing to completely control the room—without turning anyone off?
Learn how to create presentations that enthral, hold and move an audience to action.
---
[next_step]