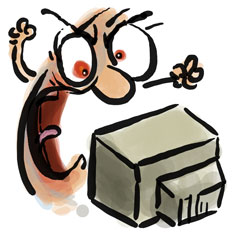 It was the year 2012. There we were in Washington DC doing a three-day workshop on Uniqueness.
And among the group of about 35 people, there was one person who was being disruptive. She casually interrupted the presentation to ask bizarre questions. She wouldn't co-operate within the group. In short, this person was that pain-in-the-butt-client that you don't want around. But you may want to stop and ask: Whose fault is it that this person showed up in the first place?
The surprising answer is: It's your fault.
In this case it was our fault
No matter whether a client is doing any of our courses, or workshops or even membership to 5000bc, we insist on one thing. That they own (or have at least read a copy of The Brain Audit). And when you think about it, it seems senseless. What has The Brain Audit (for instance) got to do with an Article Writing Course? Or in this case, what does The Brain Audit have to do with the Uniqueness workshop? So we let it slide. We didn't insist on the document-based barrier.
So what is a document-based barrier?
A book like The Brain Audit is a document. And when a client is required to read that document, as a prerequisite, that document becomes a barrier. It separates those who simply want to show up vs. those who are so motivated that they will read through an entire document (be it a book, or a video or a audio) just to be part of your event/course.
Document-Based Barriers are critical for at least two core reasons
1) They get rid of 95% of your audience
2) They help to forge a specific terminology
1) They get rid of 95% of your audience
The moment you put any barrier in place, it gets rid of about 95% of your audience. And only the most determined stick around. So for instance, when we say, you have to read The Brain Audit to attend a course, those who haven't read The Brain Audit automatically disqualify themselves. And most folks will tell you that it's a bad idea to get rid of such a huge chunk of your audience.
You should make it 'easier, not harder', you will be told. But in fact, getting rid 95% of your audience is a very good idea indeed. Because the 5% that remain are extremely motivated. The more motivated your audience, the higher the chances that they'll achieve their goals, be cooperative and yes, not be disruptive.
2) They help to forge a specific terminology
Within any document you'll find specific terms. In The Brain Audit for instance, you find terms like 'roller coaster' or 'target profile'. And those who've read the document are aware of the context of the words and the importance as well. And so it enables them to work together more effectively. When you get someone who hasn't read the document, you get disruption.
They don't understand the concepts or the context, and will constantly be seeking clarification. This is extremely annoying to those who are in the know. And it sucks up precious time as well. So yes, having the document (and having specific terminology) alienates a large part of your audience, but unites the audience that most care about you and that you most care about.
But surely it's OK for me to tell you to put a barrier in place, now that our business is well on its way…
In fact, the opposite is true. Way back in 2002, when we first wrote The Brain Audit, it formed the basis of the barrier. When we started 5000bc.com (our membership site) in 2003, we had very few members, but that didn't stop us from putting the barrier in place. And since then, almost every course and workshop has required a reading of The Brain Audit.
So it's not that we just made it up recently. It's been there from the very start. And it seems illogical, doesn't it?
Logic will tell you that you need to appeal to the widest possible audience. Friends and advisers will tell you that you need to appeal to the widest possible audience.
Ignore them
Put a document barrier in place.
And you'll get a better class of customer. More cooperation and amazing results.
And best of all, it will keep the disinterested and the pain-in-the-butt clients away!
P.S. Do you have a qualifying process in your business? Tell us about it.
Why You Need The Brain Audit

---
"I purchased The Brain Audit and have increased my clientele two-fold."

As a Results Coach, I am always looking for ways to up my own game and provide more value for my clients. I came across some promotional material for the Brain Audit and was impressed almost immediately! I started reading through Sean's PsychoTactics material and was even more impressed.
His conversational approach, his practical strategies that WORK, and his dedication to making marketing and customer attraction easier and more understandable make me not only a customer but a fan!
I purchased The Brain Audit and have increased my clientele two-fold. Buy The Brain Audit…Read it…Apply the principles…Watch your business grow!
Sean is a breath of fresh air. His strategies, principles, and advice work! I highly recommend The Brain Audit.
Dawn Langerock ~ Results Expert and Coach
Synergy Coaching and Consulting, Austin, TX, USA
Read more at https://www.psychotactics.com/brainaudit
---
Top Selling Products Under $50

---
1) Don't Miss! You already know that 80% of a sales letter depends on your headline.
So what's the remaining 20% that causes customers to buy? Find out more
2) Do You Often Hit A Wall Called 'Writers Block'?
Learn how the core elements of outlining can save you from the misery of writing your next article.
3) Do you know that visuals immediately improve your sales conversion?
Learn how to create drama and curiosity and help improve your web page conversion with visuals.
4) Do your websites, brochures, presentations, etc… confuse your clients?
Put some sanity into your design, even though you are not a designer?
5) Chaos Planning
Year after year you sit down and create a list of things you want to achieve. Then suddenly it's January, and you've not really moved ahead as you'd expected.
Learn Why Most Planning Fails: And The Critical Importance of Chaos in Planning.
---
Black Belt Presentations: How do you create presentations that enthrall, hold and move an audience to action?
---
[next_step]