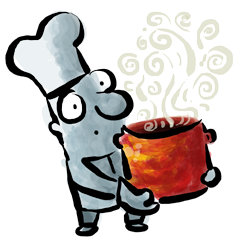 If you were to look at Picasso's work, you could spot it anywhere.
If you were to listen to Sting's music, you'd know it was Sting.
If you were to read Dan Brown's book, you'd know it was Dan.
So how come these folks have a style, and you don't?
You know you don't have a style, because if you took your cartoon or your article and placed it amongst another person's work, no one would be able to pick out your work as unique. And that's because it's not.
Imagine you're trying to learn how to cook a yummy dish like biryani
Now biryani tends to be a very complex, almost scary type of rice dish. It's filled with a list of ingredients as long as your arm, and the process can be intimidating. But if you're determined to crack the 'biryani code', you're going to follow the instructions in great detail. The exact ingredients, sequence and methodology must be followed to ensure that you replicate the dish.
And this means you're copying
When you're copying, you're replicating the style of the person you're copying. But if you make this dish several times, additions occur. You may read about another type of biryani or may watch a few videos. And suddenly, instead of boneless chicken, you're using chicken with bones. Or instead of chicken, you're using veggies instead.
Sooner or later dropouts occur as well
You stop referring to the recipe because you're comfortable with the sequence and ingredients. And then you create your own kind of dish. But you may forget some ingredients, add others, or do something quite different altogether. And if you mix, mingle, and keep learning how to make this dish, you soon get your own style.
Style is not about invention
Style is about copying. About 'tracing', and 'copying' and 'then rendering from memory'. The more you trace, copy and render from memory, the more the concepts mix in your brain. And eventually one day—and that day isn't very far—you'll have a style of your own.
But you need to practice and mix and mingle
If you slavishly copy one person's style, you'll soon become a replica of that person's work. When I first started out in cartooning, I used to copy Hagar the Horrible. And my work was a replica of Hagar the Horrible. But then I added other cartoons, like Dennis the Menace, Calvin and Hobbes etc. And my work became my own.
Today I have a distinct writing style, drawing style, speaking style etc.
And so can you. You already have a style that's quite your own in many areas of your life. And it's time to port over those concepts so that you can apply the style to your writing and your drawing as well.
So practice away.
Copy a lot.
Trace a lot.
And render from memory a lot.
And yes, make sure you copy from different sources.
And then, about six-nine months from now, you'll have a style that's quite different from anyone else. But if you keep doing what you're doing, without copying, you'll just become a copy—of yourself. If you want to continuously evolve, you need to keep tracing, copying and then rendering your own impression. That's the only way you'll keep learning and evolving your style.
So that when you make biryani, they'll say you made biryani.
But when I make biryani, there's a certain point of difference that makes it quite my own. Make it your own.
Start today.
P.S. Copying is different from plagiarism. If you're not clear about the difference, look up the dictionary.
P.P.S. Do you have a comment or a recipe you would like to share? Write it here and I will respond.
Why You Need The Brain Audit

---
"The first thing I noticed was that the 'Brain Audit' had 68 reviews with a five- star rating. And here's the thing: they weren't canned, they were the real thing."

"The first time I heard about the 'Brain Audit' is when I was trying to learn something about 'Why People Buy'. So then I googled 'marketing' and the results were staggering. I kept at it for hours until I finally happened on the 'Brain Audit'
What I got was that The Brain Audit book was basically a story about seven red bags that explained marketing in a simple yet carefully structured way that anyone could understand. It didn't seem possible. But how was I to argue with 68 people? So I bought the book.Then I read it in one sitting (took me about four hours). And it was everything they (the 68) said it was.
What I did after reading the book was to apply it to just about everything I saw on TV, magazines, and info-memorials and on. After a while it gets a little weird looking at a commercial and saying to yourself….mmmm…pretty good, but why didn't they cover the hidden risk?
It really needs some risk reversal. Or why didn't they cover more objections? They left themselves vulnerable. And that's the way they set up the testimonials? The six questions on page 89 would've worked perfectly there…plus, they're one bag short."
See what I mean? It gets too you.
Read the book, you'll see what I mean. It'll get to you too."
Marty Shea, San Jose, CA
Read how The Brain Audit can help you
https://www.psychotactics.com/brainaudit
---
Top Selling Products Under $50

---
1)  Announcing! How To Put That Zing-Kapow In Your Articles (With StoryTelling)
So what are the elements of a well-told story? And why have they been playing hide and seek with us for so long?
2) You already know that 80% of a sales letter depends on your headline.
So what's the remaining 20% that causes customers to buy? Find out more
3) Do You Often Hit A Wall Called 'Writers Block'?
Learn how the core elements of outlining can save you from the misery of writing your next article.
4) Do you know that visuals immediately improve your sales conversion?
Learn how to create drama and curiosity and help improve your web page conversion with visuals.
5) Do your websites, brochures, presentations, etc… confuse your clients?
Put some sanity into your design, even though you are not a designer?
6) Chaos Planning
Year after year you sit down and create a list of things you want to achieve. Then suddenly half the year is over, and you've not really moved ahead as you'd expected.
Learn Why Most Planning Fails: And The Critical Importance of Chaos in Planning.
---
Black Belt Presentations
How to create presentations that enthral, hold and move an audience to action.
---
[next_step]