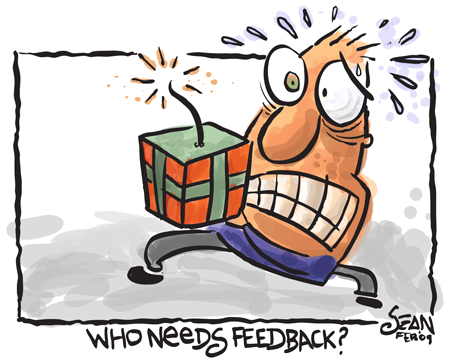 As you chomp into any dish, something happens in your brain.
Your brain analyses the contents of the dish, compares it what it knows and then spits out a critique.
So the dish could be too salty, too sweet—or, or, or,—it could be just right, or even better than you've ever tasted before.
In a matter of seconds, we have feedback.
Whether we choose to voice our opinion or not, is totally our call.
And sometimes we don't. And sometimes we do.
So should you be a critic?
The answer is yes. And no.
I remember my own pronunciation mistakes.
And as I grew up, I'd picked up several words from teachers, friends etc. And I'd pronounce those words incorrectly. So I'd pronounce the word 'question' as 'ques-sin'. Or Tibet (as in the place, Tibet) as 'Tib-it'.
My favourite series was the 'tion' series. Words like 'consumption', for instance. I'd use the 'z' sound, so it sounded like 'con-zum-shun'. Well, let's just say, that from time to time, a lot of folk here in Kiwi land would do a double-take when I spoke certain words.
The point is, I wanted to improve
So I appointed my friend and super-critic, Chris Parkinson, to pick up the glitches. If you know Chris, that's what he'd do for a living. But anyway, he critiqued, and I fixed it. But there was a difference. I wanted to be critiqued.
I couldn't hear myself, and even when corrected, I still had to work quite hard at pronouncing some very basic words like 'industry, electricity' and probably every word that started with 'v' (I'd say it with a 'w' sound).
But there's a point that is important to note: I asked Chris to critique me.
Most of us don't take critiques well, and unless asked for, critiques are often disregarded, even shunned. So the basic rule of critiquing is, don't give advice unless asked. Don't critique unless asked.'
But even when you critique, a rule should be observed
Let's say for instance, in 5000bc, we have a critique section. In that section, every one who posts their website or article knows they're going to be critiqued. But even when you're asked to critique, you must only critique ONE thing at a time.
If you're asked to critique a sales page, and you go nuts on that page, it's not only too much for the person to take, but it's also too much to fix all at once.
Therefore, even when critiquing, you need to make sure that you critique just one thing at a time.
And if you've been on a course with me, or watched carefully, I'll tend to critique just one thing. In the Article Writing Course, for instance, there are several elements that we have to consider: Connectors, disconnectors, first fifty words, visual impact, blah, blah, blah.
But I will focus on just one thing to the exclusion of all others. This enables the person being critiqued to work on that one thing, fix it and move ahead.
So to be clear, don't tackle more than one thing at a time. And only critique when asked.
But this rule changes under certain conditions
It changes when you have a common frame of reference. So, for example if everyone in the room has read The Brain Audit, and you're on The Brain Audit course, then you're expected to work with your team of 4-5 people.
You're expected to critique as part of the course. If you don't critique/help the other person, they actually feel neglected and hurt. And there's a distinct possibility that they'll drop out of the course.
Why? Because you can't keep saying "great job" every single day. When you're learning, you want to improve. But because you have a small group and because you have a common frame of reference, you can point to that frame of reference.
The frame of reference is extremely important
Because everyone has read The Brain Audit (on that course) they know what you're referring to. They expect to be critiqued by the small group they're working with. And most importantly, even if they don't feel they're qualified to critique, I have to let them know it's okay to critique.
Because I'm reading every post and if the critique is off-target, I'll get things on target. Or it may lead to an interesting discussion and we'll all be the better for it.
But as you can see, there are several elements in place such as common frame of reference, expectation of critique, small group and most importantly that someone is overseeing every tiny post you make on the forum—and can direct you if you go off course.
I've been a critic
I thought it was normal to be a critic.
Obviously not.
In many cases people want you to just say 'wow'.
In other situations, a 'wow' is wonderful, but the critique is expected as well.
You have to know when to do what.
And what is expected of you.
You may think that the better thing to do is just shut up and not offer any critique at all. And that's a bit off the mark. Instead ask the person if they'd like a critique from time to time. If they trust you, they'll say yes. And then please, don't over do your critiques. Pick on one thing. And don't be a pest. Intersperse critiques with praise.
Being a critic is a good thing. But as you've worked out, it depends on the circumstances.
P.S. Yes, you can critique anything we do or say at Psychotactics. Yes, anything. We want to fix things all the time. We even occasionally offer chocolate bars for your critique.
Do you have a story to share? It might earn you a chocolate bar. And New Zealand chocolate is really good. Post your story here.
---
Next Step
"There are marketing books and there are marketing books – I bet there are not many you have read many times over?"
The Brain Audit really teaches you the art of persuasion because it gives an insight into how people's brains work. I have used the principles in writing WebPages, writing articles, making presentations, networking, negotiating and even writing submissions for a judge!
But the best bit about the Brain Audit is that it actually works.The principles are easy to understand.
Would I recommend it to people serious about getting on in business? Absolutely.

Michael Smyth, approachablelawyer, Auckland
Judge for yourself —The Brain Audit: Why Customers Buy And Why They Don't
---
"I was wary of signing up and paying for a forum or another membership site"
"If you suspect that your business could be bringing in a lot more revenue but you don't have a clue how to make that happen without hype or hassle, 5000bc is a must-have resource.
I honestly didn't see what 5000bc could offer me that I couldn't get from Sean's books. Besides, how could a bunch of people – most of whom are not business experts – help me build my business?
I joined anyway because the price was right and I wanted the information that came with the premium membership. 😉
The information and support I received from Sean and my fellow "cavers" about a single Web page was directly responsible for selling $10,000 worth of books in less than two weeks.
Unlike many Web communities, 5000bc members are active and to the point. Sean keeps adding content that drills down to specific problems in business and then shows you how to solve them.
Try it. You won't regret it."


Molly Gordon, Master Certified Coach
Shaboom Inc, USA
Judge for yourself—How 5000bc can make your business succeed.
---
Products: Under $50
You already know that 80% of a sales letter depends on your headline.
So what's the remaining 20% that causes customers to buy? Find out more
1) Do You Often Hit A Wall Called 'Writers Block'?
Learn how the core elements of outlining can save you from the misery of writing your next article.
2) Do you know that visuals immediately improve your sales conversion?
Learn how to create drama and curiosity and help improve your web page conversion with visuals.
3) Do your websites, brochures, presentations, etc… confuse your clients?
Put some sanity into your design, even though you are not a designer?
4) Chaos Planning
Year after year you sit down and create a list of things you want to achieve. Then suddenly it's January, and you've not really moved ahead as you'd expected.
Learn Why Most Planning Fails: And The Critical Importance of Chaos in Planning.
5) Nothing bugs you more than a painful client.
A client who hassles you at every step of the way. Learn how to use the power of the 'six critical questions' to get incredible testimonials—and attract clients that make every day an absolute joy.
---
Black Belt Presentations: How do you create presentations that enthrall, hold and move an audience to action?
[next_step]