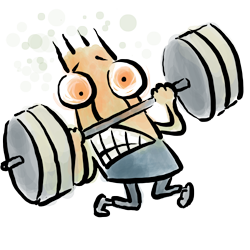 Gravity.
It's working against me.
Gravity.
It's trying to bring me down.
Twice as much ain't twice as good.
And can't sustain like one half could.
It's wanting more than brings you to your knees.
(This is a song by John Mayer)
Exactly.
Gravity is a pain.
It also happens to be a boon.
If you let it, it will take over your life. You'll never change, never take off, never see the clouds from above. And so, fighting gravity is a part of what we need to be. When we learn something new; when we do a course that puts us even more demands on us; when we take on a new challenge, it's all about the war on gravity.
I went through this exercise myself about a month ago
My life is very, very good right now, but that doesn't mean that I can't secure it in a different way. And so we decided to make some big changes, including upgrading the software of our websites, next we work on the design and then we work on the direction.
All of this is like fighting gravity. It's a ton of work on top of the work you're already doing. As if that were not enough, I've signed up in a course to learn more about photography. And another one to learn about InDesign and the possibilities. All of it sucking up time, money and resources.
The world is split up into two kinds of people
The excuse makers and the non-excuse makers. A client of mine has a brain issue. She has this growth in her brain and in a while, not very far in the future, it will affect her life in ways she can't imagine.
Even now, it's affecting her. She finds herself making crazy comments that embarrass her, and everyone in the room. She finds herself doing things that are weird. So there's a gravity pushing against her at high speed.
So what does she do? She learns cartooning. She takes on a blogging course and learns to blog. She's not an excuse-maker. She's not part of the whiny, "I'm sick, I'm busy, I'm tired" brigade.
We're all tired, we're all busy
But the non-excuse makers realise that gravity is a great competitor. And if you and I make excuses, gravity wins. You stay rooted in one spot. This is why people achieve little or nothing. You can't be anything but relentless against gravity. But just piling on the work isn't going to help either.
It's about a sort of forward-management of learning, improving, changing your situation for the better. As the song says: Twice as much ain't twice as good. And yes it's not twice as good, if it's a permanent feature in your life. If you're always overworked, you're doing something wrong.
If you always have to whine and complain, you're doing something seriously wrong.
So how do you get twice to one half?
That's the irony of gravity, isn't it? If you fight long and hard against it, you can pull away high enough. So when you're learning a skill, it's pure madness. You struggle like crazy. So when I first started to write articles, it was sheer torture. Two whole days of torture.
And at the end of those two miserable days, I couldn't even tell if I would have an article that was solid; an article that would empower my audience. All I felt was drained and frustrated. And now, just this morning, I've written two articles. And I wrote one yesterday and the day before. I also wrote a 40-page book last week complete with illustrations and graphics.
You can tell, can't you? I've pulled away from the forces of gravity
I'm in the one-half zone. Maybe even in the one-sixteenth zone. Instead of battling it out against article writing for 16 hours, I can do better than before in less than an hour. And this is gravity in a nutshell.
Gravity doesn't care. It continues to pin you and me to the ground. We can whine. We can complain. We're sick, we're tired, we're busy.
And whining is the symptom that you're losing the battle against gravity
Whining is a sure-fire way to know that you're on the wrong side of the fence. And the problem with whining is that it's become such a habit that you use it as a crutch, to get sympathy. To tell yourself you're okay. To let others feel sorry for you.
And people don't feel that sorry if you're a perpetual whiner. They understand how gravity works, and they understand they've got to win their own battle against gravity. If you stop the whining and get on with the battle, they'll help you too.
Are you a whiner?
Or a gravity-fighter?
Gravity, it's working against me.
Gravity, it's trying to bring me down.
Gravity, stay the hell away from me
Gravity has taken better men than me (how can that be?)
——-
Gravity
Writer(s): John Mayer, John Clayton Mayer
Copyright: Sony/ATV Tunes LLC, Specific Harm Music, Goodium Music, Reach Music Publishing-digital O.B.O. Goodium Music
---