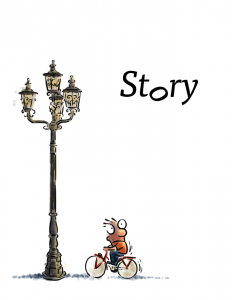 Over $600,000.
One book alone has made us over $600,000 in nett profits.
That book is called The Brain Audit.
Interestingly, it's never been on any bestseller list
We've never bothered with any joint ventures to help us sell the book. No advertising, no affiliates, not even any adwords of any kind.
No book tours, no razzmatazz, no hoopla.
So why does this book continue to be so incredibly popular?
The answer partially lies on Page 2, 3, 6, 7, 8, 9, 10, 11, 12, 13, 15, 16, 17, 18 and 19 (And this is in the very first chapter that consists of 21 pages).
Every one of those pages has a story, case-study or analogy
Compare this with the books you read, and you'll quickly see why the book gets so much reader-love. It's not just a book anymore; it's a friend. A friend that teaches you solid principles through story-telling.
You see, most of us have information in our heads
And we tend to put this information in our books, our articles, our presentations, podcasts—pretty much everywhere. But the information itself is hardly a hook because as humans we learn best through storytelling.
– Storytelling is memorable.
– It gives us breaks between the information.
– And it humanises your business in a way that information simply cannot do.
– Yet, the most important reason is that it's a fun, fun, fun way to learn.
You should check out the first chapter of The Brain Audit.
It's free. And you'll see how you're hooked, wanting to read every single of those 21 pages.
Well, at least pages 2, 3, 6, 7, 8, 9, 10, 11, 12, 13, 15, 16, 17, 18 and 19
Then once you experience the magic of story, it's time to look at the storytelling workshop.
Prices go up stage by stage on:
October 4 and October 25. Then again on November 15—and then finally climbs to its highest price. A workshop at Psychotactics is like no other. You get your notes a month in advance.
The workshop is for learning, for implementing.
It's not just more blah-blah. Which is why it's worth the travel.
Judge for yourself at: The Story Telling Workshop
Warm regards,
Sean-
P.S. And here is the free Brain Audit excerpt.