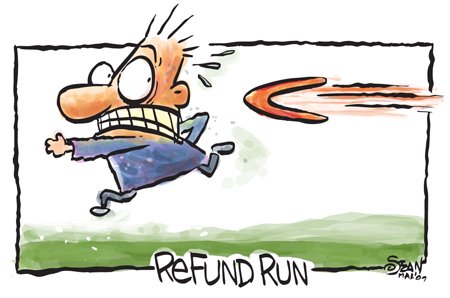 How "do" you deal with refunds?
Here's how we deal with refunds.
Technically speaking, any product has a 30-60 refund policy. And legally speaking, you're within your rights to stick to your policy if you choose to do so. After all, when a customer agrees to the purchase policy, they're "signing a virtual contract".
But in reality, no customer argument is worth the trouble.
While refunds are now rare, I'll make sure that any refund is first attended to, before anything else. There are those who are serial-refunders, and you trying to hold back the money (even after 30 days) won't stop them. They'll go after you, they'll contact your merchant provider, even go after their own credit card to retrieve the payment.
So yeah, it's impossible to deal with impossible people. And that's why I suggest you always refund the money, wherever possible. There are exceptions, however.

We've had serial buyers.
They're so weird, they'll even buy the same product twice. And when we notice this, we first warn them that we will not refund their money. Another method we use is to take any sort of serial-refunder off our list. We also work with our merchant provider and inform them about serial-refunders.
In many cases, your merchant account can enforce the 30 day cut off limit, and refuse to refund the money, based on the terms of purchase. If someone is bugging the hell out of us, we'll go to that stage, though rarely.
In summary:
1) Keep a 30 day period. That should be fine. Though 45 days is good too. 60 is even better.
2) Refunds are to be dealt with quickly. And first thing in the morning.
3) Serial refund folks are kinda professional. They know how to recover their money. And if they're within the limit, there's nothing you can do, except warn them (if they make the same purchase) or knock them off your list.
4) Serial refund folks don't always win. With the right merchant account you can indeed enforce the terms of the agreement or sale.